For Chad Bentley, completing an Ironman race "is all about controlling your emotions and thinking positively."
So when he found out today's flight from Vancouver to Hawaii was cancelled because of Hurricane Lane, he channelled that same control to wrestle down his disappointment, his wife Mary-Jo Dionne says.
The Deep Cove athlete is about to become the first Canadian to attempt five back-to-back Ironman-distance races in an event called EPIC-5.
With the first EPIC-5 Challenge Hawaii event slated for Tuesday morning, he was scheduled to fly out of Vancouver on Friday. WestJet, however, cancelled its flights to Hawaii because horrendous wind and rain storm pounding down on the Pacific islands.
He's now — fingers crossed — booked on a Saturday evening flight.
Asked if her husband was concerned the delay would affect his ability to bounce back from the time change, Dionne says "the first event starts at 5:30 in the morning, which is 8:30 here, so he's really not worried about it at all."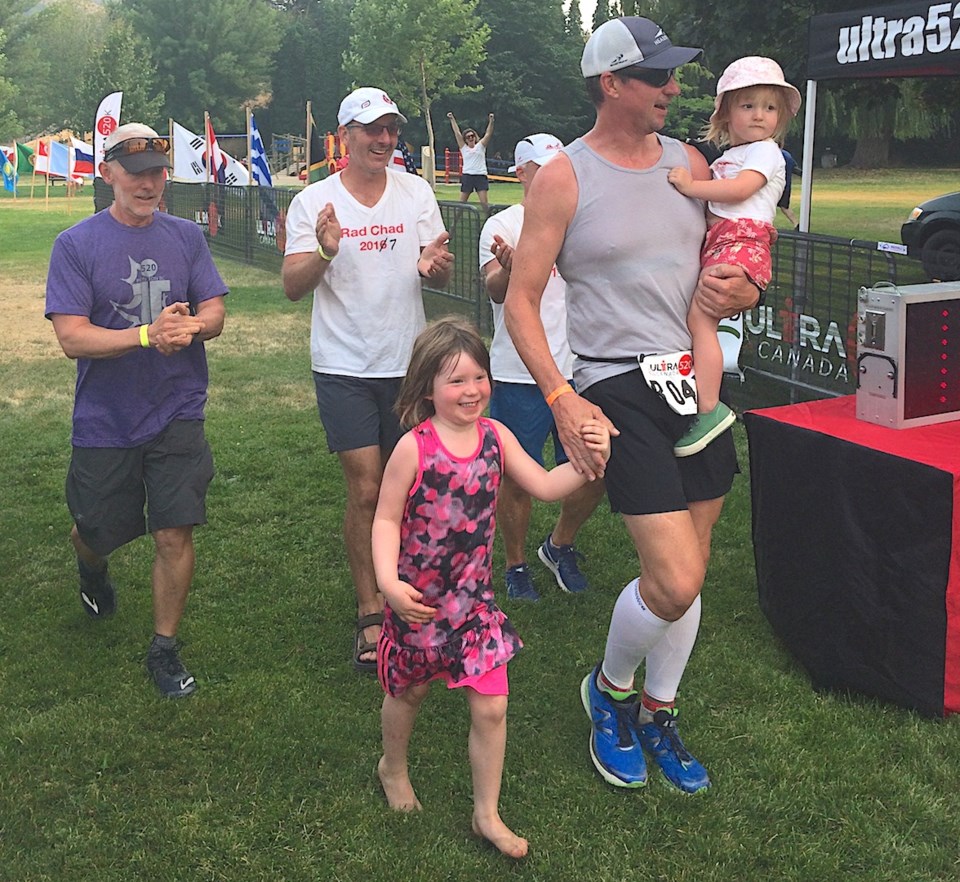 Dionne and their two daughters, five-year-old JouJou and three-year-old Birdie, are flying to Hawaii on Wednesday. As they do with every race, they will join him for the last 100 metres so they can cross the finish line together. However, with five races on five islands in five days, that we're-in-this-together moment will be saved for the last event.
JouJou is also going to start the last race with him.
His daughters provide a large part of the motivation for Bentley who, before he was an Ironman, was a cigarette-smoking, alcohol-loving, fast-food-eating Everyman.
"He's very intrinsically motivated," Dionne says. "Because he's transformed his life, he's really motivated by what is possible. The extrinsic motivation is our five- and three-year-olds. They are surrounded by paradigm busters. While they don't quite get it now, there will come a day when they get to the finish line and say, 'Oh, that's what it is all about.'"
Asked about her dedication to a husband who is ultra disciplined in his training and takes on seemingly impossible challenges in far-away places, Dionne laughs. "This is our Disneyland," she says.
Chad Bentley is raising money for five charities as part of his participation I the EPIC5 Challenge Hawaii:  Canuck Place Children's Hospice; the Millipede Project, which aims to get 500 Vancouver-area children in need a new pair of back-to-school shoes; CNIB's children and youth programs, for families dealing with vision loss; the Minerva Foundation's Indigenous roots program, which supports leadership training for Indigenous girls; and the Terry Fox Foundation's PROFYLE project, which gives children, adolescents and young adults who are out of conventional treatment options another chance to beat their cancer.
Donations for each race can be made on Bentley's website, which he recently created as a part of his endeavor to become a plant-based nutrition and life coach.
With files from Becca Clarkson