Blink and you'll miss it. Blink again and you'll miss the next one two seconds later.
As another blur of colour crosses the screen with a roar, spectators sitting too close to the action react in awe. This is the International Isle of Man TT motorcycle race, an annual two-week event that features a 37-mile mountain course weaving around the outside edge of the island that sits between Great Britain and Ireland.
A seven-minute YouTube video, which has more than 32 million views, features impressive footage from the race starting with a harrowing shot of fans lining the sides of a two-lane country road as racers fly by at speeds between 180 and 200 miles per hour. The riders are reduced to a flash, a flurry. The video ends with an exhilarating POV helmet cam tour of part of the course.
Considered one of the top three international motorsport events, the Isle of Man TT attracts only the most experienced riders.
"Just to get in to this event is a big deal," notes Darren James, who this week is fulfilling a lifelong dream to compete at the race. "I've been preparing for this, to be honest with you, my whole life."
Raised in Deep Cove, James still lives there with his wife and 11-year-old twin daughters. He will be the only Canadian competing at the Isle of Man this year.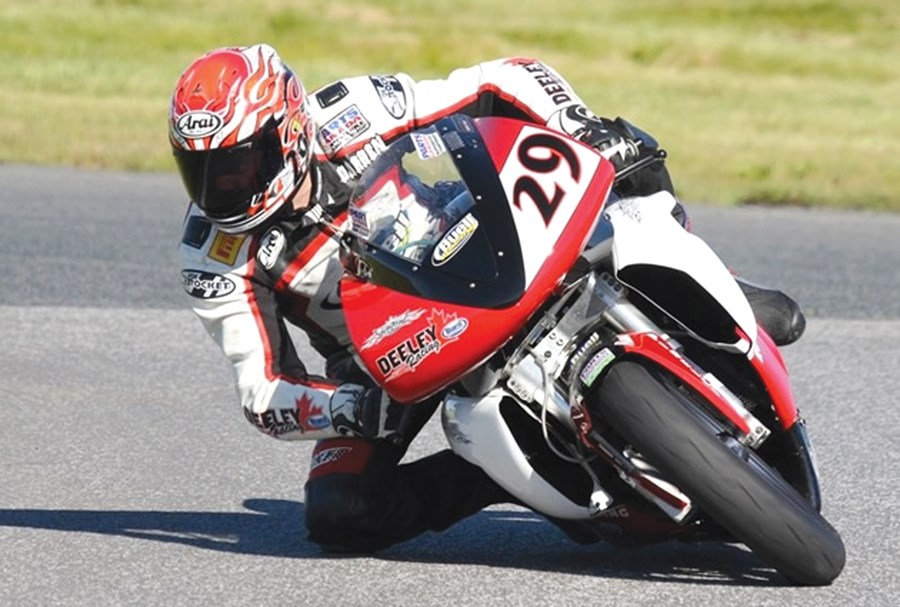 The race runs May 28 to June 10 and features one week of practise sessions and one week of racing, with multiple bike classes including a Sidecar category. This is not a track race. This is a road race (public roads are closed for the event), and the route includes more than 280 corners, along with plenty of natural bumps and some stone walls and poles peppered throughout for good measure.
"For me as a newcomer I have to approach this very, very carefully," explains James. "You really have to build into your speed at this place because the speeds are so great."
The consequences of making a mistake are serious. Between 1907 (when the race started) and 2015 there have been 141 competitor fatalities during official practices and the race.
"If they had asked me 15 years ago to come and do this I'm sure my sponsors and everybody around me would have said 'hell no' because I didn't have the race craft that I do now," says James.
At 39, James has numerous national championships and top North American and international finishes under his belt. But in his first appearance at the Isle of Man he is considered a newcomer.
"The guys that go fast here are guys who have been coming here for five to 15 years. Newcomers like myself do not show up and win. It just doesn't happen."
In a recent phone call from Ireland where he has been for a few weeks leading up to the race, James says he has simple goals for the event including getting home safe.  
"I'm confident in my abilities. I've been doing this a long time and I have race craft and I'm a little bit older so I have some self-preservation in mind also," he says. "I feel really good. This is the kind of place that if you had doubts in yourself and your abilities you really, really, really, and I can't stress this enough, you should not be here."
The Isle of Man TT is a time-trial format, so racers compete in qualification order and results are based on overall average time.
"It's more that you're racing the mountain and the circuit as opposed to battling with the guy next to you," explains James. "The biggest thing about racing a race like this compared to racing any other race is when I go to a short circuit I attack, and I mean I attack. I go as hard as I can into every corner, I go as deep as I can on the brakes . . . you're pushing absolutely to the limit of your motorcycle, your abilities, your tires, everything. In this riding (at the Isle of Man) you build into it. You go out there and you have to build into your speed."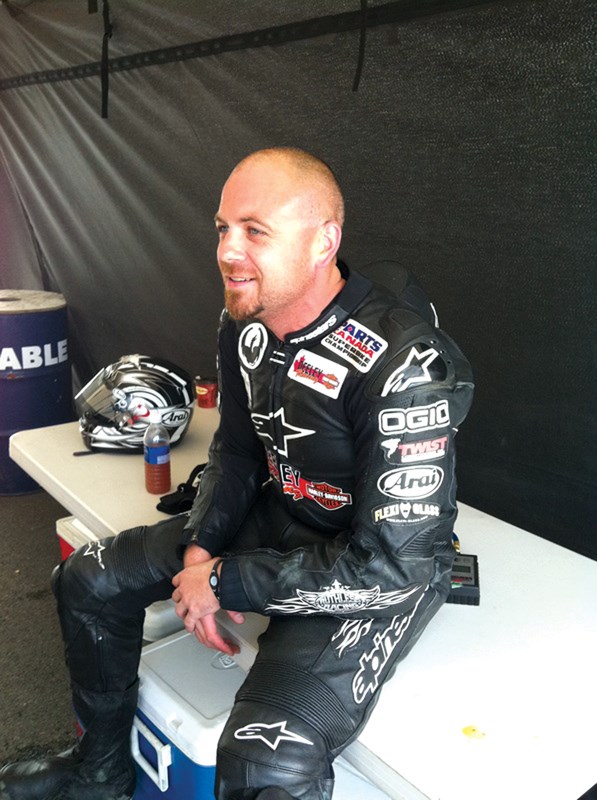 Although he grew up as part of a motorcycle family, James was a relative late-bloomer when it came to racing. (His father is Canadian Motorcycle Hall of Famer Don James and his godfather is fellow hall-of-famer Trevor Deeley, who together grew Vancouver's Trev Deeley Motorcycles and Harley Davidson retailers across the country.) Riding bikes since he was five, the junior James was exposed to the industry at an early age, but racing came much later.  
James says he got into some trouble when he was a teen and by 16 was encouraged to find something to do during the summer away from Deep Cove. He found work travelling cross country with the Harley Davidson Canada demo program.
The five-year gig was his first hands-on exposure to the industry and a stint with subsidiary Buell Motorcycle Company followed that included a year in the U.K. as a comparison rider for the company. His exposure to the track in Europe continued when he returned to Canada and landed in Ontario before heading back to the North Shore. At a friend's urging he competed at a nearby national race track in the area and finished fifth.
"I was hooked," notes James. Racing became his new focus. "The first three years were full of broken bones and lumps and bumps but then I started winning," he recalls.
After five years competing as an amateur, he went pro in 2005. He is a four-time Canadian Thunder Champion among other titles, and is now the racing co-ordinator for Deeley Harley Davidson Canada and the owner of Ruthless Racing Inc. (named after his mom Ruth).
"I'm very fortunate in my racing career, I've been surrounded by some amazing racers," says James, noting Jeremy McWilliams and Ryan Farquhar (both well-known in racing circles) as two of the impressive names on his list of teammates and mentors. But his biggest support is closer to home.
"My biggest fan and my manager is my wife Caroline," says James. "Without her and her support I would have failed at this years ago. I could never have done it without her."
Despite his need for speed on the race track, James says he isn't a thrill-seeker or adrenaline junkie in general.
"I really love my little quiet lifestyle in Deep Cove with my wife and kids."