This past Labour Day at 9 p.m. marked the end of an era on Capilano Road when a local institution quietly closed its doors – for now.
"I have been coming to this restaurant since I was a kid," reads a nostalgia-tinged online review of Capilano Heights Chinese Restaurant.
Chances are you celebrated a family birthday, wedding or anniversary here, too. Or maybe it was Mother's Day or Christmas Eve. Those were owner Kathleen Sun's busiest and most memorable occasions in this expansive restaurant, known for its glass atrium in the dining room offering views of the surrounding trees.
It was love at first sight when Kathleen's father, C.C. Sun, first set eyes on this property that basks in the view of snow-capped, majestic twin peaks.
C.C. had immigrated to Canada when he was 19 and spent most of his young adulthood toiling under artificial light in a produce warehouse in Vancouver. He later dipped a toe in the local hospitality industry, working as a bartender at the popular Chinese restaurant, Lotus Gardens.
From behind the bar C.C. made mental notes of what his dream restaurant would look like. He was prompted to act on his culinary fantasy when a pink slip arrived in his box at work.
Kathleen has committed to memory this part of C.C.'s story – one that's steeped in perseverance and some luck. 
"And he says: 'What do I do? I'm forty-something. I have three kids and a wife and I've never done anything else.'"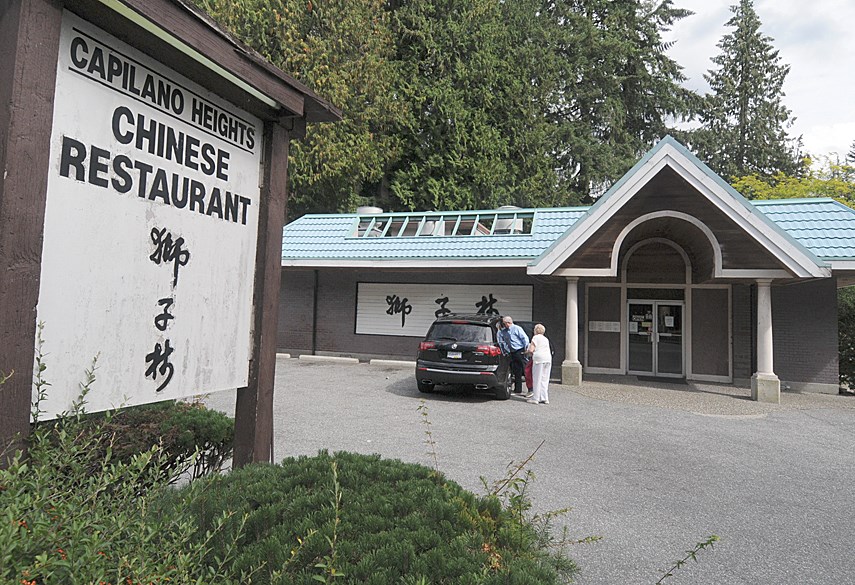 Well, C.C. took a chance. He opened his first restaurant, in Chinatown. But something still didn't feel right about it. C.C. was always under the thumb of his landlord and his customers struggled to find parking in congested Chinatown.
"He said, 'One day I'm going to find a place that I can own,'" recalls Kathleen.
Driving around the North Shore one day in 1972, Kathleen's parents spotted a shuttered restaurant – departed British roast beef joint, Hadrian's Garden – on Capilano Road. There was a sign on the building that said "Sold."
"Well, my mom said: phone (the Realtor) anyways ... because sometimes things don't work out. And that was the beginning (of Capilano Heights)," says Kathleen.
One of the first touches C.C. added was black Chinese characters on the exterior entrance of his restaurant; he christened it, "Lions Forest."
C.C.'s opening day was smack in the middle between Christmas and New Year's Day. It was a humble, unadvertised event.
"The first night two couples came in, and they told their friends and they told their friends. And by the end of the week, that was it – it was lined up out the door," says Kathleen.
At the same time C.C.'s daughter's life was taking off in many directions. Kathleen was a legal secretary, sold cars and worked for a notary public – eventually becoming a mother of four.
But she always checked in with her dad on northern Capilano Road.
"Do you need me to come and work with you?" Kathleen would ask.
C.C. always declined the assistance – until he had heart bypass surgery.
Starting in 2005, Kathleen learned alongside her father in the restaurant. Eventually, she took over the reins and carried on C.C.'s legacy at Capilano Heights.
Surveying the room, in the fading hours of the restaurant's great room, Kathleen shares some of the stories she has collected. Many brides and grooms chose her place for their wedding or rehearsal dinner.
After hearing news of the closure, longtime customers dropped by the restaurant or called to reminisce with Kathleen. Faithful patrons savoured their last lemon chicken meal.
"The main thing I've been hearing is: This is the place for all their family celebrations," says Kathleen. "Every birthday, every anniversary, every get-together is here. And I think that's why the sentiment is running so high."
That sentiment is echoed online in cascading complimentary reviews for Capilano Heights.
"Order the lemon chicken and the 'this and that' chow mein – you will not be disappointed."
Or: "Their ginger beef and sweet and sour pork are really second to none."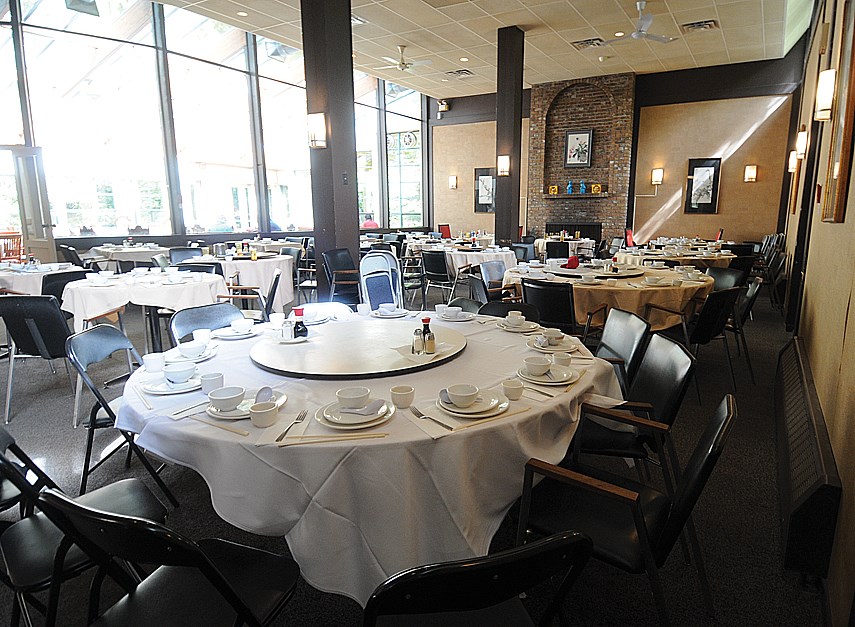 Kathleen has a customer who drives to Capilano Road from Portland for her deep-fried garlic pork fix.
Then there are the regulars from Maple Ridge who make the trek to North Van – just for takeout from Capilano Heights.
This summer Kathleen broke the news to her "unbelievably loyal" customers. She was going to close the restaurant, but with a plan to rebuild it – plus add residential around the site.
A reimagined Capilano Heights site would have four condos on top of the restaurant and 12 townhouses lining a central courtyard towards the east side of the property.
"The residential is large – it's meant for the missing middle," explains Kathleen. "The four condos on top of the restaurant are three-bedroom and about 1,800 square feet ... and they have rooftop patios."
The proposed four-bedroom townhouses would be close to 2,000 square feet spread over three storeys.
All the parking will be going underground, for both the restaurant and the residential – the latter separated by a security gate.
In its new iteration, the Chinese restaurant will be fronted by floor-to-ceiling glass and retractable doors that can be opened for al fresco dining. The plans also call for an outdoor patio facing Capilano Road.
Inside the new restaurant, which will be about 3,000 square feet, Kathleen is aiming to keep the original ambience but add a modern flavour. Her vision is to create a flexible space, achieved through moveable dividers. Kathleen can see a lounge upstairs and perhaps a coffee/bubble tea/gelato nook in a bottom corner of the building.
"The big restaurant prototype is now passé almost," she explains.
Asked why she wants to get into the housing game, Kathleen says revenue from the residential will off-set the cost of the new restaurant.
Kathleen set the plans in motion two years ago, tapping Ciccozzi Architecture for the project. In 2016 two public meetings were held before a redevelopment application was sent to the District of North Vancouver that December.
While the application is still in planning purgatory, Kathleen decided to close the restaurant before getting the green light from the district, "because, well, my place is falling apart." The process of waiting for a permit could take a long time "with a great deal of uncertainty," and that's unfair to her longtime staff, says Kathleen. One server in particular, Daisy, has been part of the family at Capilano Heights for 33 years.
District of North Vancouver spokeswoman Kamilah Charters-Gabanek confirmed the 5020 Capilano Rd. application is currently under staff review. A formal public information meeting to introduce a more detailed plan was held on Jan. 18. No other neighbourhood meetings are scheduled at this point, according to Charters-Gabanek.
Some concerns district planning staff have received to date, through the public input process, include the need for a zoning variance to allow ground floor residential and a desire to retain mature trees on the site. Parking and traffic in the area were also brought up as concerns, specifically sightlines at the intersection of Capilano Road and Clements Avenue.
On the subject of green space, Kathleen explains there are trees on the lot where the townhouses are proposed to be built.
"This is a sore point with some neighbours, but there is a whole mountain full of trees just above us and a whole lot across the street at the (Cleveland) Dam and trails," says Kathleen. "We are trying to preserve some (trees), but their root systems are huge and I don't think they would survive with the parking underneath."
Kathleen's hope is to pass the apron on to the next generation. The plan is to have her son and daughter-in-law at the helm of Capilano Heights 2.0.
Kathleen says for six years the couple ran a successful restaurant in Taipei, called the Drunken Monkey, which is featured in the Lonely Planet travel guide book.
Ultimately for Kathleen, rebuilding is about carrying on tradition. C.C. passed away in April 2013 at the age of 85.
"We just really want to come back to preserve my dad's legacy and to keep up the community thing that we are," says Kathleen of Capilano Heights.
Affixing the familiar "Lions Forest" lettering will be the first order of business.