Business owner Peter Young remembers when the switch from paper to plastic was first made at his parents' family shop.
At one point in the 1970s, he says, his parents, who had started the former Queens Market in Edgemont Village the decade prior, happily made the transition along with other businesses. Plastic bags, they reasoned, offered a cheaper and lighter alternative compared to paper bags, and they also didn't take up as much space in the storefront.
"This box here holds 2,000 plastic bags. Five-hundred paper bags is a bundle about two and a half times the size," says Young, gesturing to one of the final stashes of plastic bags his business is likely to harbour.
He acknowledges there will be challenges when it comes to switching once again, this time back to paper bags, but knows the benefits to the planet and the environment make it more than worth it.
Young has since taken over the family business, now called Columbus Farm Market, and is one of almost 60 Edgemont Village businesses that have pledged to ditch single-use plastic bags come March 1.
"The reason I was on board personally is because I read the news, I know what's going on with plastic found in oceans," says Young. "It goes along with our morals and beliefs."
Many of Young's customers already shop using their own reusable bags, he says. For those that forget their reusables at home, Columbus Farm Market, at least for the time being, will have paper bags on hand.
"Our customers have asked us to switch," says Young. "If we didn't get on board, we would certainly hear from our customers."
The voluntary plastic bag ban initiative coming later this month was brought forward by Ocean Ambassadors Canada, with support from the Edgemont Village Business Association, who are hoping the whole community can get behind the businesses as they transition away from single-use plastic bags.
"A really big emphasis is on not just switching to paper, but switching to reusable – getting customers bringing their own bag," says Alison Wood, co-founder of Ocean Ambassadors Canada, a North Shore-based organization dedicated to combating the scourge of plastic garbage in oceans through education as well as local environmental initiatives.
Since December, Ocean Ambassadors representatives along with volunteers – many of whom are still in grade school – have been spreading the word about the coming change every Saturday at a station in the middle of Edgemont Village.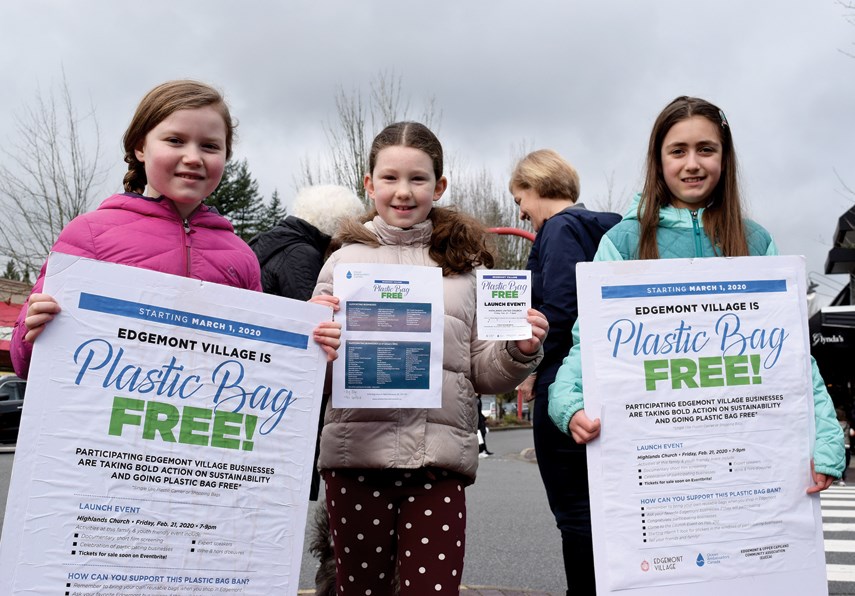 "The idea is if we educate the public then they're going to encourage the businesses," says Wood. "Since then, we've been working with individual businesses. We have a toolkit that we've been providing businesses to give them information about different single-use items, and then just really getting people on board."
While there are currently several bag-ban bylaws before B.C. municipal councils, only a handful of cities throughout the province have enabled single-use plastic bag bans. There is currently no provincial legislation when it comes to banning plastic bags or other single-use plastic items, though the federal government wants to ban harmful single-use plastics as early as 2021.
In the meantime, Ocean Ambassadors are helping communities that want to voluntary ditch using single-use plastics, according to Wood. The organization helped install a voluntary plastic bag ban in Horseshoe Bay last summer, as well as a plastic straw ban in Deep Cove in 2018.
Among the many local small businesses, such as Columbus Farm Market, that have bought-in to the bag-ban, there is also at least one chain store participating as well. The Edgemont Village COBS Bread Bakery, a chain which operates 130 bakeries across Canada, plans to participate in the bag-ban as well, according to COBS spokeswoman Yvonne Anderson.
"We have been working on that and moving to more sustainable packaging for all of our products," says Anderson. "Our plan is to launch paper bags for all of our bakeries, but they're just a little ahead of the curve on this one."
A launch event is planned in anticipation of Edgemont going plastic bag-free at Highlands United Church on Feb. 21 from 7 p.m. to 9 p.m. Visit oceanambassadorscanada.org/community-initiatives for tickets or more information.
There are 85 businesses in Edgemont Village, according to the Edgemont Village Business Association. The association will be debuting a new Edgemont-branded reusable fabric bag at the Feb. 21 event.
On a recent Saturday, Mackenzie Campbell, a Grade 4 student at Montroyal Elementary, was in Edgemont Village helping Ocean Ambassadors Canada get the word out that many neighbourhood businesses would no longer be providing single-use plastic bags to customers.
The majority of the people in the community seemed very receptive to the endeavour, she says, adding her reasons for wanting to help spread the word were simple: "I really want to help the oceans be plastic-bag free."