Most of the tenants had experienced adversity long before the fire broke out at the Lions Manor – including a hero that day.
While distressed residents were ushered out of the smoky building, left behind in a suite was an uneaten grilled cheese sandwich – the first meal in more than a day for one of the seniors. Having a roof over her head outweighed the hunger.
Each tells a different story about how they wound up in the Cove.
They share this commonality: a small weight was lifted from the seniors' shoulders when they got their key to Lions Manor. 
Irene Gyselinck showed up here five years ago after her husband passed away unexpectedly.
"I had no income, no insurance, no nothing," she says.
At first, all Gyselinck could afford was $150 each month for rent, and she was still counting every last dime. In this provincially subsidized housing complex, the seniors pay 30 per cent of their income for shelter.
When the fire alarm rang out on July 24, Gyselinck was laid up in her apartment with a broken foot.
She hobbled into the hazy hallway and to the top of the staircase. Desperate to escape, Gyselinck contemplated sliding down the four storeys on her bottom.
"When I saw the wall of black smoke I've never seen in my life, I knew it was hopeless," recalls Gyselinck.
She shuffled back into her apartment and screamed for help from her balcony. Soon two young men, who scaled the building from the outside, appeared through the thick smoke.
"They were like angels," says Gyselinck.
As the fire started to pick up speed, neighbours arrived with a ladder. The two men helped manoeuvre Gyselinck onto the ladder.
"With my foot injuries every step on the rung was excruciating," describes Gyselinck, who was wearing a cast.
After Gyselinck was safely on the ground, the Good Samaritans still had work to do.
As the fire raged through the building there was a senior resident on the fourth floor who had nodded off in front of the TV.
The next thing she knew: "There was this young handsome guy in an orange T-shirt standing over me saying, 'You've got to get out - there's a fire.'"
The senior, who prefers to remain anonymous, tried to negotiate with her rescuer, asking to take the stairs instead of the balcony route. 
"I won't let you fall," the young man said to her, as he coaxed her onto a flimsy patio chair and told her put her leg over the railing.
Again the senior bemoaned her bad back.
"He said, 'I'll hold onto you, I won't let you fall.'"
Two childhood friends from Abbotsford were part of a hero trio who put their lives on the line at Lions Manor that day.
Justin Brake and Noah Wiebe, both 20, were driving to their job site on Banbury Road when they spotted black smoke pouring out of the seniors' complex and no one outside.
Brake jumped out while the truck was still moving and ran toward the building, quickly joined by Wiebe.
Choked by thick smoke and haze, the Good Samaritans started pounding on doors to get the seniors out, one of whom was resisting.
After being overcome by the smoke inside, Brake and Wiebe ran around to the back of the building and started climbing up into the noxious vapour.
"But up there it was really hard to breathe," recalls Wiebe. "There was a lot of black smoke. A lot of stuff of that you're not supposed to breathe in."
The men pulled their shirts up over their faces and went to work.
"Our main concern was getting the lady with the broken foot off of the top floor," says Wiebe.
Meanwhile, time was running out for all of them up here.
"I couldn't breathe," says Brake. "I was in the fetal position on top of the deck waiting for her to go down the ladder. Smoke was getting in my lungs."
The heroes were eventually taken away in an ambulance to Lions Gate Hospital and treated for smoke inhalation.
Wiebe also cut his finger and sliced his arm while smashing a piece of glass to access another balcony.
Painful memories motivated Wiebe to jump into action that day. Eight years ago his family home burned to the ground.
And then a couple years ago Wiebe's brother died in an electrical fire accident.
"It just felt like it was something I was supposed to do – go make sure people were safe," says Wiebe.
One of the seniors rescued from the fourth floor balcony is grateful to her "Spiderman hero," well aware the outcome could have been different had he not shown up.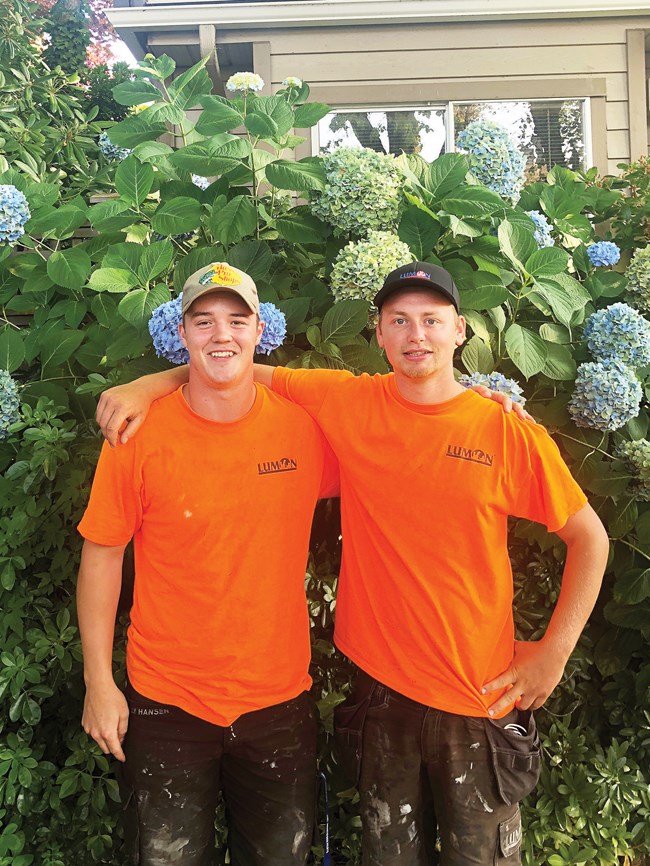 The Cove business community has also offered a lifeline to the seniors, even before the fire was extinguished.
Ashifa Saferali says she smelled the smoke from the back kitchen of Honey's and ran towards the fire.
Saferali positioned herself at the bottom of the ladder to guide the seniors to safety and helped make sure everyone was accounted for. She stayed at the scene for two to three hours, "before they took me away."
Saferali was treated at the hospital for smoke inhalation. She has since offered free meals at Honey's for the displaced seniors who Saferali says have become like family to her in the Cove. 
On the Saturday morning after the fire, displaced residents were reunited outside their fenced-off home.
Gentle requests were made of the hazmat crew to retrieve precious memories and personal items from the heavily damaged suites.
Community members were there to greet the fire victims and offer anything they could, even just a comforting embrace.
A worker emerged from the charred building with a hand-carved mask he salvaged from artist and Lions Manor resident Richard Cochrane's apartment.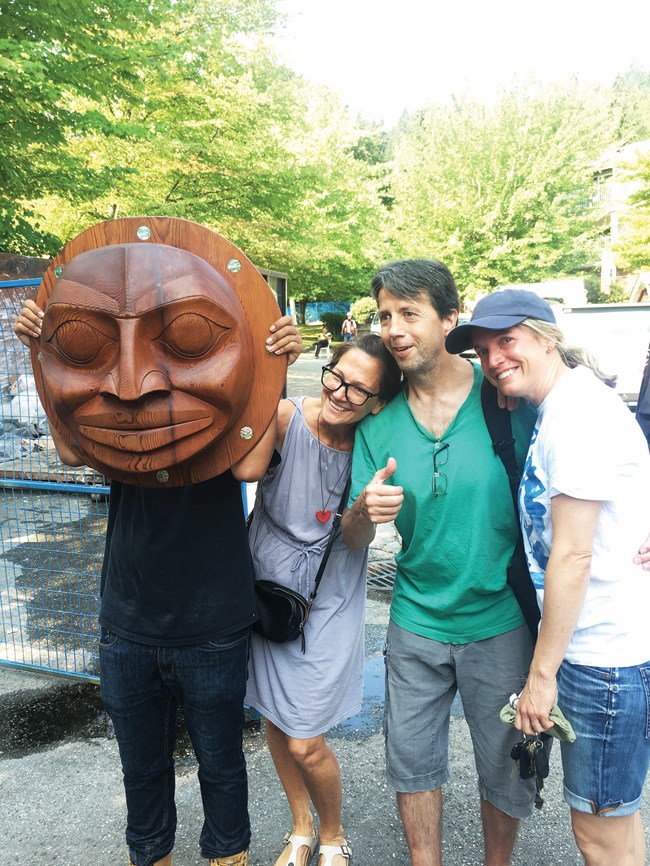 Cochrane suffers from Parkinson's and lives on a fixed income. Tears welled in his eyes when Cochrane saw his "Grandmother moon mask," which inspired a commemorative silver coin from the Royal Canadian Mint.
"I was worried about it," says Cochrane of his irreplaceable art.
The cause of the fire has been ruled as accidental, according to Haida Siegmann, assistant chief, public safety, with District of North Vancouver Fire and Rescue Services.
While there were no sprinklers in the 31-year-old complex, Siegmann says fire walls in the building helped contain the blaze.
Fire investigators were able to narrow down the origin of the fire to one suite on the fourth floor, but can't say definitively what caused it due to extensive damage.
"There's no indication that it was related to building maintenance," says Siegmann. "What we are left with is something that happened accidentally in the suite."
The centre section, comprised of 22 units, was most damaged by the fire. Of those 22 units, the six on the fourth floor are heavily damaged "and there's likely nothing that is salvageable," says Siegmann.

The main concern now is finding accommodations for the seniors of this 60-unit complex, many of whom have mobility challenges.
Residents have been told it could be up to a year until they can move home, maybe longer.
"We are seeing quite a wide range of insurance coverage with this event," says Fiona Dercole, director of the North Shore Emergency Management Office. "Some people are very underinsured and some people are OK."
Gyselinck falls into the former category. Her tenants' insurance expired months ago and she hadn't gotten around to renewing it.
She is part of small group of Lions Manor residents who have been taken under the wing of the Red Cross.
While the majority of displaced seniors are staying with family and friends, there are a few "complicated cases," says Dercole.
Some of the seniors are being temporarily put up in motels and assisted living facilities spread across Metro Vancouver.
While emergency housing provided by the province has now ended for the seniors, their files have been transferred to the Red Cross, according to Dercole.
B.C. Housing has provided a transfer form for Lions Manor residents to complete that will help expedite their cases through the system and perhaps get them into another subsidized building.
Facing zero availability on the North Shore for affordable, short-term accommodations, some of the displaced seniors are feeling the desperation.
Heather Mclachlan survives on a disability pension and is offering free pet sitting in exchange for a place to stay. She says her insurance will only cover her for up to $5,000 for life.
"That's it, for accommodation," she says. "So that's going to last about four months."
Erin Smith, manager of seniors' services at Parkgate Community Centre, is part of a team working tirelessly to connect the fire victims with offers of local assistance.
The aid team hopes to uncover any suites in the Cove-Seymour area sitting empty to keep the seniors in the community.
Looking at the makeup of the Lions Manor, Smith says there are a number of eldery residents over the age of 80 and a small percentage of adults, who might have disabilities, between the ages of 50 and 65. 
Smith is worried these residents, many of whom attend programs at Parkgate, will be shipped out of the community and become disconnected from their support networks. 
Monetary donations for the fire victims are being accepted through myparkgate.com. Anyone with accommodations to offer can call 604-990-2444.
Meanwhile, Cove business owner Megan Curren has started a buddy registry for the fire victims, to match a person/family in the Cove with a senior to make sure "they're well cared for" during reconstruction.
Examples of buddy services, says Curren, include shopping, moving/packing assistance, running errands, navigating through stacks of complex paperwork, driving to appointments or "even just meeting up for a tea ... really, whatever our buddy needs."
Those interested in becoming a "buddy" can fill out an application through myparkgate.com.
Seeing the Cove community rally around the seniors is not surprising for Curren. 
"My friend Jen (McCarthy of Bluhouse) stepped up right away to help Richard and all the fire victims. We are so lucky to have someone like Jen in our community," says Curren.
The friends have seen their first buddy success story. They found Richard a suite in the Cove, thanks to Curren's "awesome neighbour" who offered his empty suite.
"We'd love to see this model applied to other seniors in our community and it sounds like we have more amazing residents who are stepping up to offer space in their homes," says Curren.
A barbecue fundraiser has been organized by District of North Vancouver Firefighters' Charitable Society and Cobbs Bread for Aug. 11 from 11 a.m. to 3 p.m. in the community plaza at Parkgate Village.
In the evening the Cove business community is putting on a charity event at the Deep Cove Yacht Club at 7:30 p.m.
The event will feature live music by the Scott Riddell Band, snacks and a silent auction, with all proceeds going to the myparkgate.com fund in support of the fire evacuees.
Tickets are available here. Silent auction items can be donated through Erian Baxter, who can be reached at baxter.e@telus.net.
For one Lions Manor resident, the fire may have tested her resiliency but has failed to shake her spirit.
"I'm absolutely positive. I'm a survivor," says Gyselinck. ■