The entire Mt. Seymour ski area will be Olivia George's personal art gallery this winter.
George was chosen by Mt. Seymour to design their new season passes, which will offer a splash of colour against the snowy white backdrop. She pictures thousands of skiers and snowboarders wearing her art as they glide down the slopes this winter.
"It's really huge," says George. "When I do my art I expect it to be going to one person – not thousands."
The young Tsleil-Waututh artist created eight designs featuring animals and natural elements found on the local mountain and the surrounding area – sun, wolf, salmon, raven, eagle, frog, butterfly and bear.
Individually, each piece of art intricately symbolizes respect for the land, and celebrates each animal's unique qualities. Then when placed together, the passes form a rainbow of colours.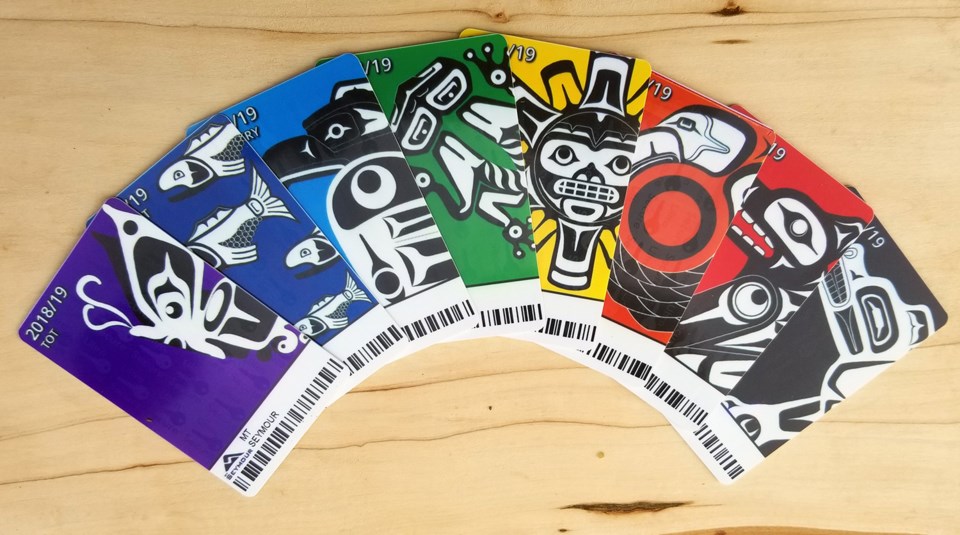 "I've been told I have more of an older look to my native designs," describes George.
While she has a broad appreciation for art in its many forms, George gravitated towards the First Nations genre in her last year of high school at Seycove. Her art mainly consists of acrylic paint on canvas, reflecting nature and traditional First Nation beliefs and stories.
"I kind of get my inspiration from everywhere – not a specific person right now," says George, when asked if she's influenced by fellow artists.
Her collaboration with Mt. Seymour has been in the works since February, with the passes recently unveiled to the public. 
"What we really wanted to do was kind of create a sense of place for Mt. Seymour, and part of that is recognizing that we are on Tsleil-Waututh territory," said Mt. Seymour spokesperson Simon Whitehead, adding they are thrilled with the resulting art.
The Museum of Vancouver has requested a copy of each of the ski passes which will become part of a permanent collection of Indigenous urban art.
"That's really cool," says George, who was surprised by the news. "I never thought the passes would be going into a museum."
A completion of a graphic design diploma program has led George to be able to create her art and designs digitally as well.
Her creativity caught the eye of the sporting world earlier this year, when George was asked to design the gold, silver and bronze medals for the HSBC Canada Rugby Sevens tournament held at BC Place in March.
The gold medal features an eagle, a sacred symbol of the Tsleil-Waututh Nation, representing the ability to soar and inspire like all great champions do.
Meanwhile, the silver medal design depicts a wolf – an animal revered in Tsleil-Waututh history for being strong, courageous and loyal – like a solid teammate.
Finally, the bronze medal symbolizes a salmon – a staple fish for the "People of the Inlet." 
George was invited to the final game of the international rugby tournament, where she got to witness the athletes wear her art as a symbol of success and achievement.
"It was very surreal," she says. "It was really cool just to see (my art) in a different medium – on a medal."
After the game, George went down to the field and took some pictures with the players. It was the only time she got to see her medals in person.
And now they are proudly displayed at the athletes' homes in Fiji, Kenya and South Africa – the teams that claimed gold, silver and bronze respectively in the tournament.
When she's not creating art, George works as a graphic designer from her home surrounded by nature. 
Mt. Seymour gifted George with a couple of season passes as a token of their appreciation.
"I've only been skiing once," she says.
But George promises to make an appearance at her art gallery this winter – maybe even on skis. ■