Note: This article has been amended since first posting as new data became available.
Just in time for the holidays, the Omicron Grinch is paying a visit to the North Shore with a gift nobody wants: a surge in North Shore COVID cases.
Recent statistics from B.C.'s Centre for Disease Control the North Shore currently has among the highest rates of new COVID-19 infections in the Lower Mainland.
Data showed 378 new cases in ther period Dec. 13 to 19, almost five times the number of new cases the week before. Those include 290 cases in North Vancouver and 88 cases in West Vancouver.
That is the highest number of new cases reported on the North Shore since the pandemic began - surpassing even the highest weekly case count of 339 cases during the third wave of the pandemic in April 2021.
All of the North Shore is now showing high infection rates - ranging from 24 new daily cases per 100,000 in parts of West Vancouver to 34 daily cases per 100,000 in parts of North Vancouver.
The increased case count on the North Shore comes at a time when more cases of the highly transmissible new Omicron variant are being reported in B.C. and cases are rising rapidly in the Vancouver Coastal Health area.
The North Shore has high vaccination rates, with between 90 and 94 per cent of people over age 12 fully vaccinated. A relatively high proportion of older residents have also received booster shots already.
Omicron, however, is proving much more resistant to vaccines.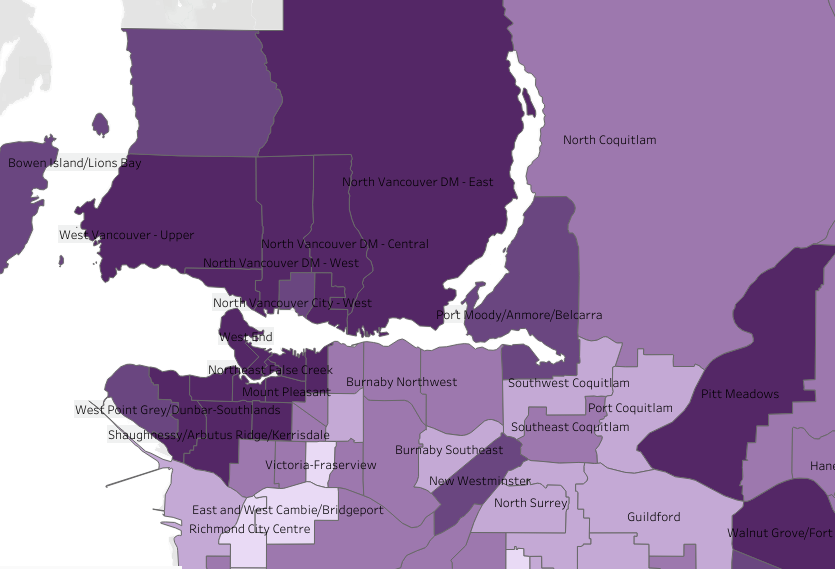 On Monday, concern over the increased case count on the North Shore was evident in a 3.5-hour lineup to get a COVID test at the former ICBC claim centre site on Lloyd Avenue, with approximately 100 cars snaking around several blocks by 9 a.m.
Several North Shore residents reported over the weekend that they had been given an option of using a rapid test – either at home or while in the line-up – by staff at the testing centre, with instructions to come back for an official PCR test if the rapid test was positive.
Karen McClusky, of West Vancouver was among those offered a rapid test while in the line-up on Friday morning.
McClusky said she and a family member went to get tested after developing symptoms including a sore throat, fatigue and headaches after being informed they had been exposed to the virus by another person who had tested positive.
"They were very busy," she said of the staff at the test centre.
McClusky said they were offered a rapid test but eventually opted to stay in the lineup for a "gold standard" PCR test. Fortunately, both she and her family member received negative results in 36 hours.
McClusky said she did see a number of people taking the rapid tests offered and pulling out of the lineups.
Vancouver Coastal Health spokesman Jeremy Deutsch said Monday the health authority is "exploring ways to make the testing process as efficient as possible . . ."
Deutsch said people without symptoms should not seek a test, even if they are a contact of someone who has tested positive.
"VCH does not provide testing for travel or for people seeking reassurance before holiday gatherings," he said.
B.C.'s health officer Dr. Bonnie Henry has faced criticism recently for the province's reluctance to use rapid tests in more settings.
Some people who were able to buy rapid tests online before they sold out from most suppliers have reportedly been using those rather than sit in multi-hour lineups at official testing centres, casting some doubt on the accuracy of official case counts.
On Monday, new restrictions came into effect in B.C. limiting the size of indoor gatherings and events and scrubbing all sports tournaments.
A COVID outbreak was also declared last week on one of the units at North Vancouver's Lions Gate Hospital on Dec. 16.
Henry and Health Minister Adrian Dix are scheduled to give an update on the pandemic on Tuesday.