Helping small business to recover from the COVID pandemic, and solving transportation gridlock and housing affordability were among the key topics as five candidates for Burnaby North – Seymour squared off in an online candidates' forum hosted by the North Vancouver Chamber Wednesday morning (Sept. 1).
Over 80 per cent of the 56 local business owners and managers who responded to a recent chamber survey put economic recovery from the pandemic as their top issue, said Patrick Stafford-Smith, Chamber CEO.
COVID recovery a key issue
Kelsey Shein, Conservative candidate for the riding, stressed that as a North Vancouver small business owner, she's lived the economic problems that COVID has brought first-hand over the past 18 months. "We've had these same problems, supply chain issues of getting actual product into our stores and being able to hire staff," she said. Shein said the Conservative plan to help business focuses on getting people back into the workforce by paying up to 50 per cent of salaries for new hires. "The engine of our economy really works when we get people back to work," she said. Conservatives also plan to make December a month with no GST, said Shein.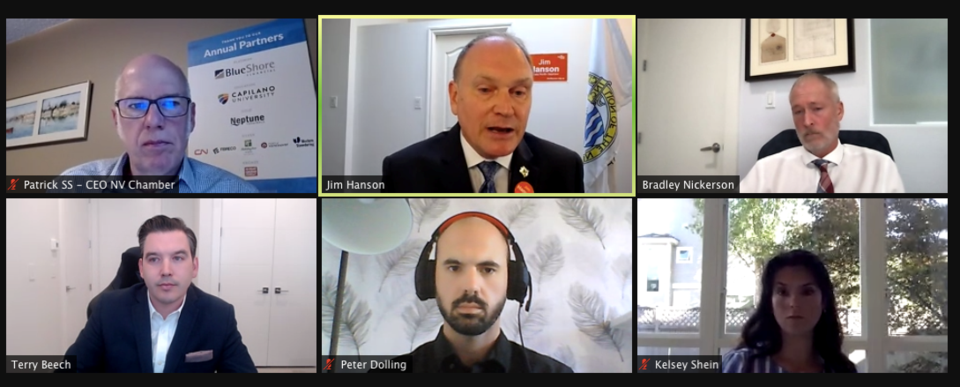 Liberal incumbent Terry Beech said while "the pandemic has been difficult for everyone," the federal government's actions to put money into supporting businesses and families helped cushion the blow. "If we refused to act, tens of thousands of businesses would have been closed and millions of jobs would have been lost," he said. "So the federal government stepped up in a big way and used our triple A credit rating to finance the cost of the pandemic. So businesses and families didn't have to do it personally."
Beech said Ottawa was only able to do that because of the government's past prudent fiscal management.
People's Party of Canada candidate Bradley Nickerson questioned pandemic measures such as business shutdowns ordered by health officers, calling them "flawed public policy."
NDP candidate Jim Hanson called for lower tax rates for small businesses while making bigger companies pay more. "Let's tax the big earners," he said.
Peter Dolling of the Green Party said the changes brought about by the pandemic are a chance to "re-envision what business looks like."
"We don't necessary have to go back to the way things were prior to the pandemic," he said.
Businesses point to problems hiring staff
Candidates also addressed the difficulty businesses are having hiring skilled staff.
Beech said that often comes down to "quality of life factors" including "not being stuck in traffic all day."
He said getting rapid transit to the North Shore is key to that.
Beech said the Liberal government is investing in skills training as well as recognizing credentials for foreign workers who can fill job vacancies in sectors like health care, information technology and skilled trades.
But Shein said one reason businesses can't hire staff is they're "competing with a government paycheque." She pointed to a Conservative plan to offer double apprenticeship job creation tax credits to boost hiring into "high-paying jobs."
Hanson said the NDP is also committed to training and would allow people to collect EI benefits while retraining.
Dolling stressed the need for more affordable training and the need for jobs to provide good benefits, wages and a workplace culture that meets their needs. Without those, he said, workers "are always going to be looking for the next best thing."
Transportation, affordable housing perennial issues
Candidates also addressed the need for more affordable housing and better transportation as part of what's needed to keep staff.
Hanson took aim at the Liberals, saying "We've seen virtually no federal investment in transportation in our riding."
"Transportation infrastructure is the same as when I was a child, and I'm 60," he said, adding improving public transit across Burrard Inlet is a priority.
On the issue of housing affordability, Shein said the Conservatives plan to build "one million homes in three years" and will free up 15 per cent of federal land for housing. The party will also ban foreign buyers for two years, she said, "to get this market under control."
Hanson said he's felt the issue personally, with children in their 20s "who are unable to afford housing in the community they grew up in."
Under the Liberals, housing costs have risen 50 per cent in Burnaby North-Seymour, he said, adding, "there's no point expanding housing supply" if people can't afford it. He added if elected, the NDP will build 500,000 affordable homes, leveraging federal lands towards that. The party would also put a 20 per cent tax on foreign buyers, he said.
Beech pointed to the federal government being "out of the housing game for almost 30 years" which has resulted in a housing deficit. Ottawa is now working on a $72-billion housing plan, he said, to build more supply. He said Liberals will also "dis-incentivize" the use of housing "as an investment vehicle instead of a place to live."
Nickerson said the government also needs to stop "transnational criminal interests" using real estate for money laundering. "How many empty homes are there in the Lower Mainland?" he asked. "Do we even know?"
Dolling said the Greens would also support putting more restrictions on foreigners who buy homes as investments. He said government also needs to do more to address homelessness. "We have awful homelessness crisis in the Vancouver area," he said. "That is simply just a failure of all of our communities, all of our governments."