British Columbia is no stranger to wildfires. The province's diverse landscape, coupled with a changing climate, has made it a hotspot for these destructive events.
Many experts point to 2003 as a wake-up call for provincial authorities. That summer was one of the driest summers on record. When wind fanned the Okanagan Mountain Park fire, it quickly threatened the nearby communities of Kelowna and Naramata.
In the end, more than 33,000 people evacuated and 238 homes burned.
Nearing the fire's 20th anniversary, Lori Daniels, a researcher examining the impacts of climate change on forests at the University of British Columbia, said we still haven't learned all the lessons from that fire.
"Fifty per cent of fires in Canada on average every year are human ignitions and of those human ignitions — I think the percentage is over 90 per cent are in the wildland-urban interface," said Daniels.
"They're in the places where we live and recreate, which are typically closest to our homes."
In more recent years, the province has witnessed the most explosive fire seasons on record. The three biggest fire seasons by area burned occurred in 2017, 2018 and 2021 — together accounting for nearly 35,000 square kilometres of burned forests.
That's like burning an area larger than the country of Belgium.
And this year, only a week into June, the Donnie Lake Wildfire north of Fort St. John is already the second largest in the province's history. By June 7, it had burned nearly 3,108 square kilometres, and remains only surpassed by the 2017 Plateau Fire.
B.C.'s wildfire history
Wildfires have been a part of B.C.'s ecosystem for centuries. However, the frequency and intensity of these fires have increased dramatically in recent years.
According to an analysis from researchers at the Canadian Forest Service, the number of big fires in Canada have doubled between 1959 and 2015. The study found the annual area burned across most of Western Canada, northern Ontario and Quebec, is trending upward, while the fire season is starting a week earlier and ending a week later.
In B.C., the worst year on record was 2018, when 2,117 wildfires burned a staggering 1,354,284 hectares.
Weather was a key driver of fire activity. In late July, "more than 70,000 lightning strikes lit up the province between July 31 and Aug. 1," according to the BC Wildfire Service.
In 2021, the southern half of the province faced drought conditions that were later made exponentially worse when a historic heat wave led to extreme fire danger levels in late June. A day after setting a Canadian temperature record, the town of Lytton burned in a wildfire.
Across the province, the situation was so dire that an average of 40 new wildfires started every day in the first two weeks of July.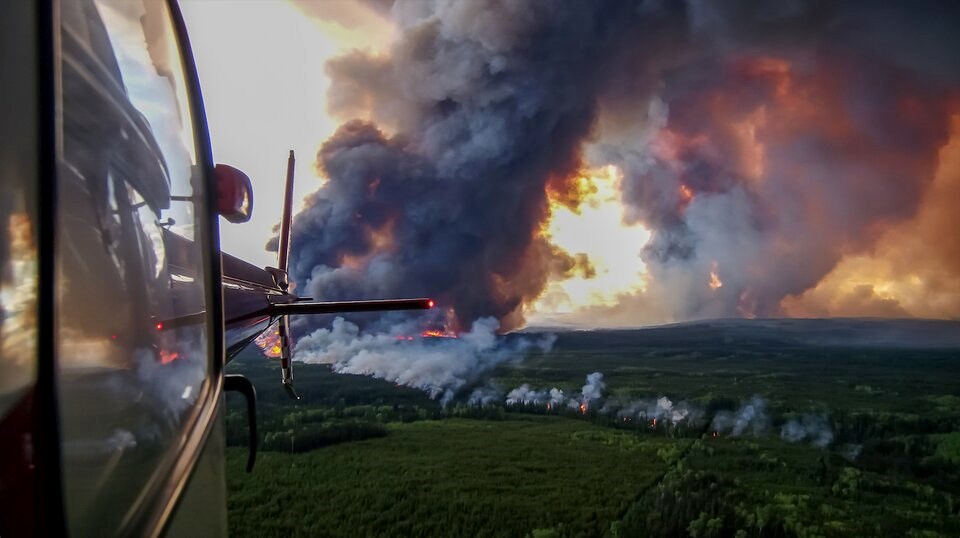 Logging practices and wildfires
B.C.'s logging practices have been a contentious issue in the context of wildfires. Clear-cut logging, a common practice in B.C., involves removing all trees in a particular area. While this method is efficient for timber harvesting, it can exacerbate wildfire risks by leaving behind debris that can fuel fires.
Moreover, it disrupts the natural ecosystem, making the landscape more susceptible to fires.
The province's own data shows emissions from forestry operations turned B.C.'s forests from a carbon sink to a carbon emitter in 2003. That's only added to the millions of tonnes of carbon added to the atmosphere by wildfires every year.
Cultural and prescribed burns
Cultural burns, a practice used by Indigenous communities, and prescribed burns, a method employed by forest managers, are being increasingly recognized as effective tools for wildfire management.
These practices involve intentionally setting small, controlled fires to reduce underbrush and deadwood, which can fuel larger, uncontrolled wildfires. Some studies have shown prescribed fire could help lock carbon into forest soils and reduce overall emissions from forest fires.
Evidence of the effectiveness of Indigenous burning practices is growing, both in B.C. and overseas in countries like Australia and across the Mediterranean.
Like anything, it requires well-trained people. The First Nations' Emergency Services Society of BC has been working to increase Indigenous firefighting capacity, with hundreds of Indigenous wildland firefighters receiving training.
But others say the B.C. government is not moving fast enough to train people and reduce red tape to keep up with demand.
Too much dead wood
Many experts who back prescribed or cultural burning acknowledge there's so much woody debris built up in B.C.'s forests over the years that even large fire seasons will take decades to restore an equilibrium.
"We can have 13 more years like this before we run out of fuel," said Andreas Hamann, a professor studying climate and forest ecology at the University of Alberta. "Temperature warming is inevitable. This will come."
Hamann pointed to some parks in the Rocky Mountains, where he says campers can find an endless supply of firewood.
"There are dead trees everywhere. You can get a 50-tonne pile of free firewood for every camper," he said. "If this goes up in flames, you're living in an apocalyptic world for a summer."