British Columbia's appetite for authentic Mexican cuisine has steadily increased over the past decade, quickly becoming one of Vancouver's most rising food trends; taco Tuesday has essentially risen to weekly staple status.
Unfortunately, access to high-quality Mexican food items and ingredients has not always been readily available, whether for store owners, restaurant owners, or home cooks.
Luckily, Don Chendo has been filling that void since 2014, carrying Canada's largest selection of genuine Mexican and Latin American food products, with more than 1,000 and counting.
The business's founders and owners, Zaira Herrera and her husband Francisco Sanchez, immigrated from Guadalajara to North Vancouver in 2001 and became Mexican food importers. They opened their original wholesale business in Burnaby, supplying grocery stores and restaurants in addition to providing a retail component in their shop for consumers.
"My husband grew up eating great Mexican food and always had the inclination to cook," explains Herrera. "He was an engineer for 20 years, but in 2013 decided to pursue his dream to become a chef, like his father Rosendo (nicknamed Don Chendo)."
"He studied at the Pacific Institute of Culinary Arts on Granville Island, and when he graduated, we found out there was only one Mexican supplier that served Vancouver and the Lower Mainland. So, we put the restaurant idea on hold and decided to pursue the wholesale food industry."
Today, they supply authentic Mexican food products to 90% of the restaurants in Metro Vancouver.
New North Vancouver location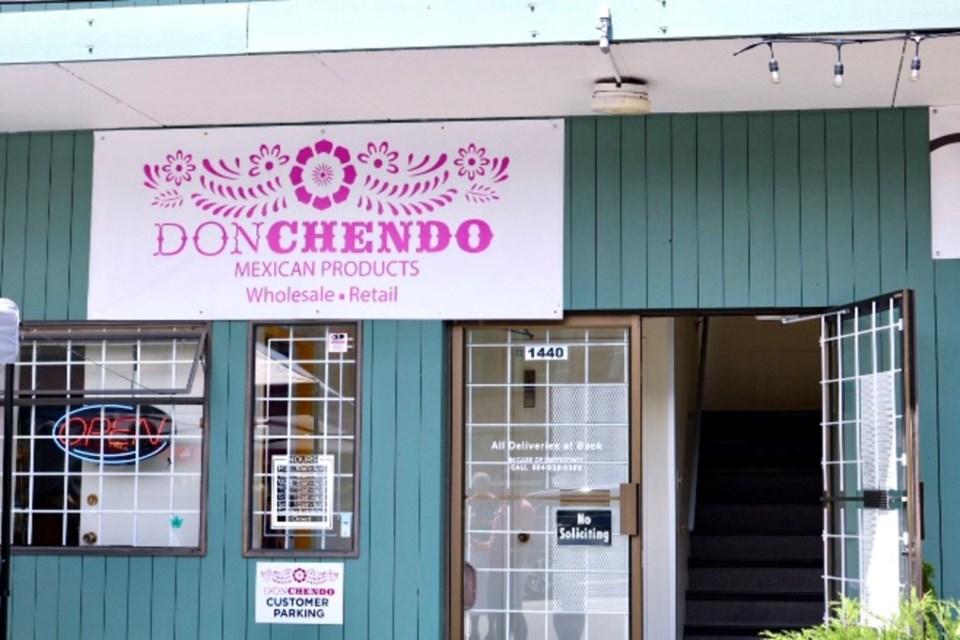 Located at 1440 Rupert Street in North Vancouver—expected to open in July—the approximate 500-square-foot shop will follow the same model and layout as the Burnaby space—a warehouse in the back and a store in front.
"We're very excited to be able to work in North Vancouver, having lived here more than 20 years, and show our community what we can bring to them," says Herrera.
She continues that they chose the new North Shore location out of convenience for their clients.
"We have a lot of wholesale customers from Squamish, Whistler and Pemberton, so we're much more accessible to them now."
Herrera is also quick to point out that they're more than just a wholesale company.
"Whoever comes through our doors, you're welcome to purchase one jar of salsa, one bag of beans, or anything, whatever you need, at a really great price."
With the advantage of not having to pay intermediaries, Don Chendo connects directly with Mexican producers and as a distributor, offers you the lowest price and highest quality possible.
High-quality Mexican products
The beauty of Don Chendo is that they simplify making Mexican and Latin foods available to you. Their trucks deliver throughout Greater Vancouver and the Fraser Valley, as far as Chilliwack, and ship throughout B.C. and Alberta.
Whether you're shopping for yourself, your restaurant, your store or an entire supermarket chain, you find your favourite brands and a wide variety of products.
Not only that, but Don Chendo also carries a private label line of dry beans and grains, spices, and dry chiles. The dry chiles are the finest quality, dehydrated under the Mexican sun and harvested at the peak of freshness.
"We grew up eating the Mexican snacks, candies, juices and foods that we bring in," says Herrera. "Being away from Mexico, we crave those items, and people are so happy to find the great selection we provide."
They sell chorizo, as well as their prepared food line of meats, which are incredibly popular, pastor meat (slow-cooked pork shoulder), carnitas (seasoned pulled pork), and beef barbacoa (delicious filling for tacos). They also provide mouth-watering dinner solutions for their retail customers who shop in-store.
"We're a hard-working family business trying to provide as much high-quality product as possible," reveals Herrera.
"With our many years' experience in Burnaby, we look forward to showing our neighbours in North Vancouver what we can offer the community. A lot of people love Mexican food, and we are very grateful to be able to bring our culture here."
For more information, visit donchendo.com.