Keep a keen eye out for the cheerful window vinyls soon to beautify The Polygon Gallery, a sign of the holiday spirit that's set to be released inside the annual Holiday Shop.
Beginning November 15 through January 7, it's easy to shop local for everyone on your list, with a convenient one-stop curated gifting experience. If you haven't already made this a shopping destination on your Christmas to-do list, it's time to make it a tradition.
The ground floor lobby of The Polygon Gallery will transform into a welcoming community festive hub, showcasing one-of-a-kind artisan gifts from independent local and Canadian makers and guest vendors, plus weekly interactive activations.
You'll feel the yuletide spirit envelop you with their exciting décor—rich cobalt blue and bright fuchsia, kissed with silver touches. A festive floral and dried greenery ceiling installation, courtesy of The Wild Bunch, adds to the seasonal ambiance.
"Our focus this year is that the shop be a community space, and to have these events bring the space to life," says Chris MacKay, head of guest experience and retail operations, The Polygon Gallery.
"The lighting of the outdoor tree on December 2 always draws a big turnout. The entire Shipyards get really active, there's free hot chocolate, and we're going to have a wine event inside—a sip and shop of sorts—so it should be quite busy and lots of fun."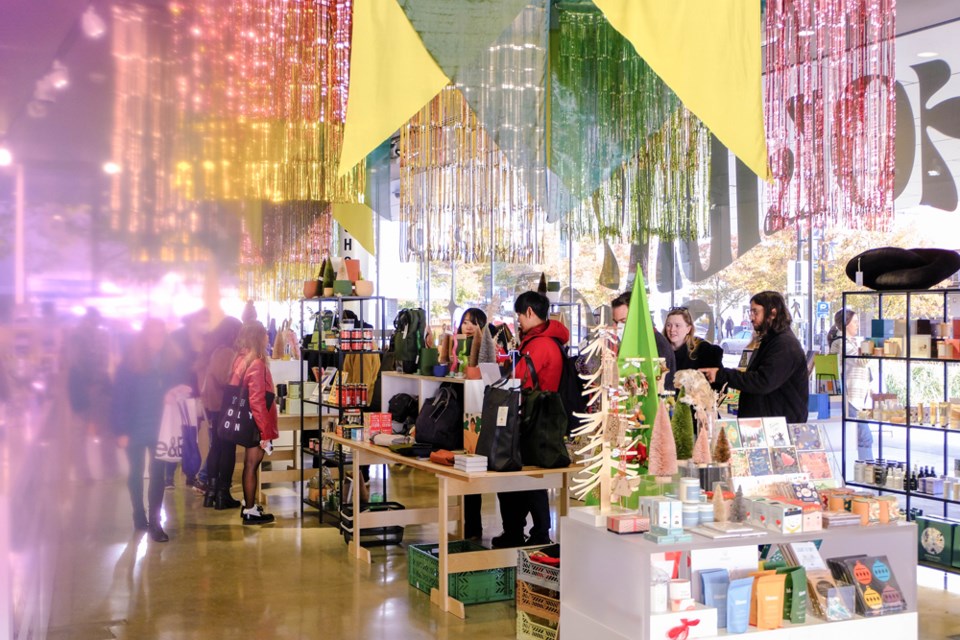 Canadian and regional brands
The Gallery's new retail buyer, Marie Ng, has worked tirelessly to fill the shop with numerous local brands, with an emphasis on showcasing Canadian-made products that will sit alongside established international labels.
"We're offering a wide range of price points from affordable stocking stuffers, which will leave a big impression, to unforgettable splurge-worthy items," says MacKay.
"For the art-lover, our internationally acclaimed Diane Evans Bookstore offers countless rare, unique photo books that are impossible to find anywhere else," she adds.
The lineup of local purveyors includes women-lead, BIPOC vendors and creatives, something The Polygon endeavours to focus on within their buying structure.
"We strive to have a good amount of diversity because there's so many amazing female, BIPOC and Canadian artists we work with that we're really proud to showcase," reveals MacKay.
A handful of Canadian vendors from an extensive list include:
Beta5 Chocolates
DW Leatherworks
Homecoming Candles
Lisa Warren Ceramics
Warren Steven Scott Jewellery
Creative and local programming
Throughout the event, you will encounter fun holiday activations, Saturday afternoons and two Thursday evenings:
Saturday, Nov. 18: Floral arrangement workshop, with The Wild Bunch*
Sunday, Nov. 19 and Saturday, Dec. 23: Bannock Bake Sale, courtesy of the Métis Bannock Queen
Saturday, Nov. 25: Wreath-making workshop, with Flower House Studios*
Thursday, Nov. 30: Neighbourhood night, with in-store discounts, free gallery admission; plus, a bar and guided tour of the winter exhibition, From Slander's Brand
Saturday, Dec. 2: Natural wine pop-up during The Spirit of the Season Celebration tree lighting event
Saturday, Dec. 9: Customized leather goods by DW Leatherworks
Saturday, Dec. 16: Tintype Vintage Pet Photography sessions, with Geoffrey Wallang*
Thursday, Dec. 21: Free the Tipple cocktail book launch, with author Jennifer Croll
*Advance registration required at www.thepolygon.ca.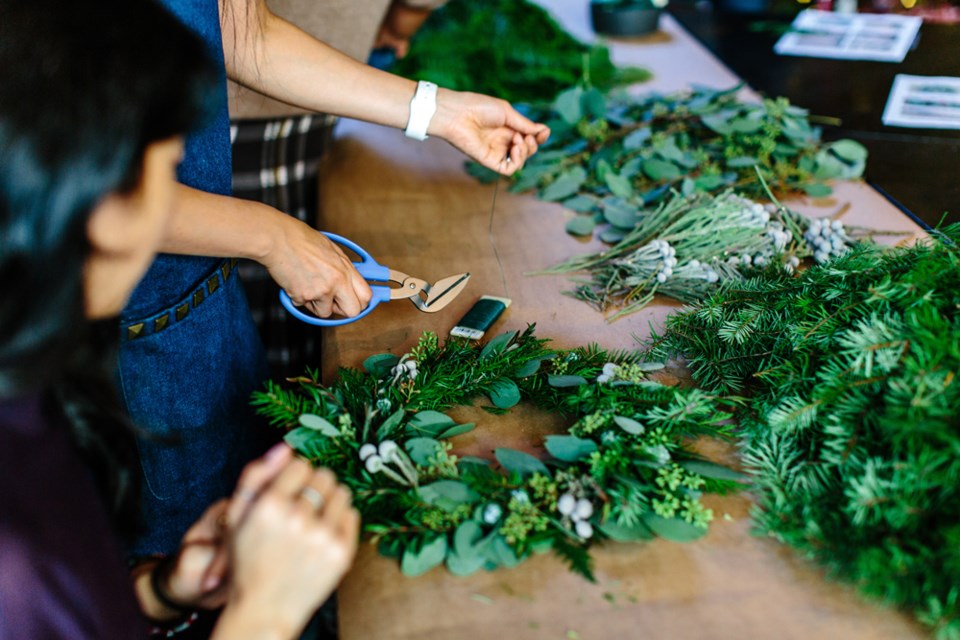 "We encourage people to visit our blockbuster winter exhibition From Slander's Brand," says MacKay. "The show features three monumental works by internationally acclaimed artists Hannah Darabi, Rachel Khedoori and Ron Terada. It's one of the biggest exhibitions the Gallery has ever mounted, and we're very excited for the community to see it."
"Providing accessibility to art for everyone in the area is something that's really important to us, so we're always admission by donation," she explains. "All purchases from the shop support our exhibition and family programming at The Polygon."
"We also want to acknowledge that the Holiday Shop is made possible thanks to our key sponsor, the North Shore News."
For hours and more information, visit thepolygon.ca.