When you hear "retirement residence" and think "nursing home," it's time to experience Hollyburn House in West Vancouver firsthand to understand it's nowhere near the kind of sterile senior facility you might recall from previous generations.
"It's important to see retirement communities through the 2023 lens—they're so different now—they're beautiful homes," says Nicole Shandler, sales consultant, Hollyburn House.
"It's independent living and assisted living, not just long-term care, and it can all be a lovely lifestyle."
For 35 years, Hollyburn House has been the epitome of elevated West Coast living, and last year a bright and stylish renovation raised the comfort level and lively atmosphere, yet still cozy and homelike.
"Residents say they love how open and bright it is; it's a fresh feeling," says Shandler. "The vibrancy of the building now ties in with the vibrancy of our residents when they're in programming or enjoying meals; there's lots of conversation and interaction."
Whether you or your parents are soon to embark on a new chapter in life, getting a sense of your retirement lifestyle options, including your living space, physical health, and emotional wellness needs, is key to being prepared when the time comes to act.
Making the decision to move from your family home can be an overwhelming undertaking; however, if you empower yourself with knowledge and plan for your future, you'll have a better picture of what peace of mind will look like in your golden years—living life to its fullest.
"We plan for our retirement savings, and we plan for the end of our lives, but we don't plan for what can be an incredibly full and rewarding period of life," reveals Shandler.
While it's easy to procrastinate, since aging happens gradually, the need for assisted living or long-term care can often arise abruptly and unexpectedly.
Your health may change or you could experience any number of losses: mobility, your driver's license, or a spouse. Don't wait for those challenges before putting a good plan in place. It's more prudent to make a proactive decision rather than a reactive one.
Continuum of support
"For children, you'll be able to better support your mom and/or dad if you take that extra time to do the research and learn about the different communities, the wait lists, and costs, rather than making decisions under pressure," Shandler says. "It's about figuring out what community is the best fit."
Explore the continuum of support available at Hollyburn House, which includes 66 beautifully appointed independent and assisted-living apartments, conceived with purposeful design. For more specialized support and supervision, there are 36 long-term care suites.
Initially, Margery was a resident in the care centre and can attest to the flexibility Hollyburn House offers, having since transitioned to independent living. "Everyone was compassionate and patient with me while I was living in the care centre. Eventually, I was able to move to an independent apartment and improvements are now gained daily."
"We had that happen several times last year," says Shandler. "Folks were really struggling on their own, and just needed the extra support until they got strong enough to make that move to independent or assisted living in our apartments."
Active living, community engagement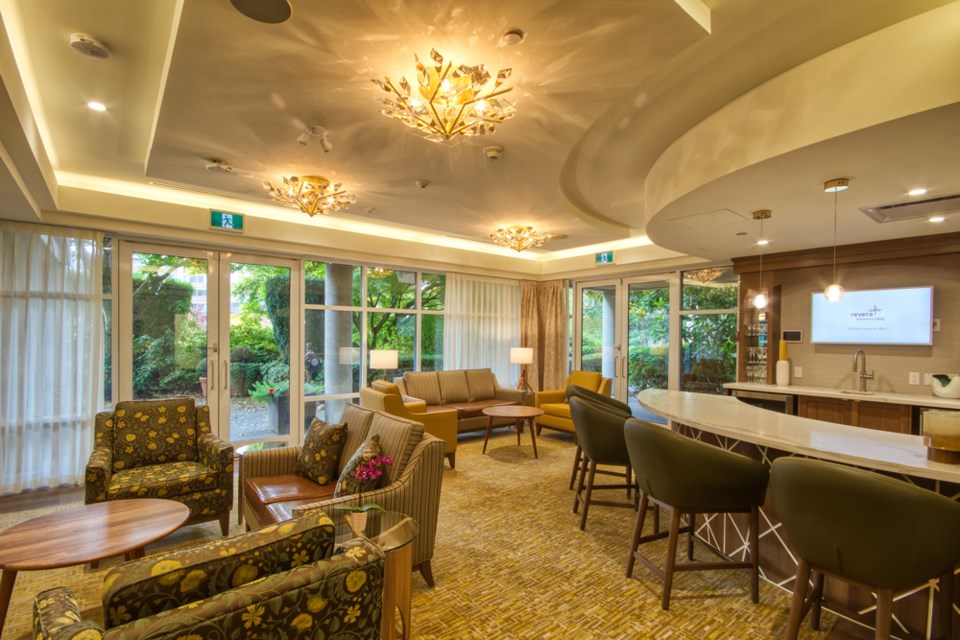 Hollyburn House takes a holistic approach to life based on the six dimensions of wellness: physical, social, intellectual, emotional, spiritual and community engagement.
You'll walk through the doors and know your neighbours instantly. Your bridge club lives here, your golf partners live here, and they would love to see you here.
Experience afternoon high tea, or partake in a lively happy hour. Enjoy culinary excellence and chef prepared meals with your guests in the Cypress private dining room or with your neighbours in the elegant Caulfield dining room.
Activities and outings are plentiful, like museum and theatre trips, summer picnics, wine tasting, and themed parties. "If there's a reason to celebrate, we will," says Shandler. "We know how to have fun. Last year, Ellen, our director of active living, asked a resident if she had a bucket list – she did and soon found herself flying high above the Lions in a helicopter.
"Make 2023 the time for change and let's have a chat," she says. "Let's just start by building up a relationship for when you are ready."
For more information about Hollyburn House, visit reveraliving.com.