Your alarm goes off. If it's a sunny Vancouver morning, you might have some pep in your step. Grey and raining? Okay, maybe not so much.
But just as the weather can elevate your morning mood, so too can the right song—or the perfect song. You know, the one that turns grooming with your hairbrush into grooving with your impromptu mic.
Radio personality Tara Jean (TJ) Stevens on Wave 98.3 FM, Vancouver's Coolest Vibe, knows mornings well; she's been waking up Vancouverites and her wide-reaching audience, weekdays from 5:30 a.m. to 10 a.m. since the station flipped the on-switch July 18, 2022.
TJ's morning programming transfers energy from one song to the next. Whether it's a contemporary tune, an R&B classic or a smooth instrumental, the music is always stylish and, sometimes, downright funky. "They all have what we describe as a groove," says TJ. "Having a gig at the Wave has taught me that music that gets you moving doesn't always have to be a full tilt, energetic banger."
"When I'm playing a song, I know in my heart I'm playing the best song on Vancouver Radio at that moment, and it really lifts me up. If you only listen for 15 minutes every morning, I want to ensure you're hearing fresh tunes."
Taking calls, responding to texts and often just forming radio friendships with listeners means that TJ's a touchpoint for people in the morning. "I've always fostered a really interactive relationship with my listeners, as many as want to reach out to me."
From her studio on the second floor at 555 West Georgia, the Randall Building, a 1929 Vancouver Heritage building, her view of Georgia affords her a connection to the city.
"First thing I do is figure out what the city's talking about, what happened overnight," she says. "I'm just thinking, how can I have a conversation by myself that feels like you're in the room with me."
You'll be informed about what's making waves in Vancouver, shared at the top and bottom hour.
"Being able to see the city and reflect that on-air has been absolute bliss for me," she admits. "We're right here in the heart of the city, reflecting what matters and what's happening."
TJ's picks: morning grooves that'll make you move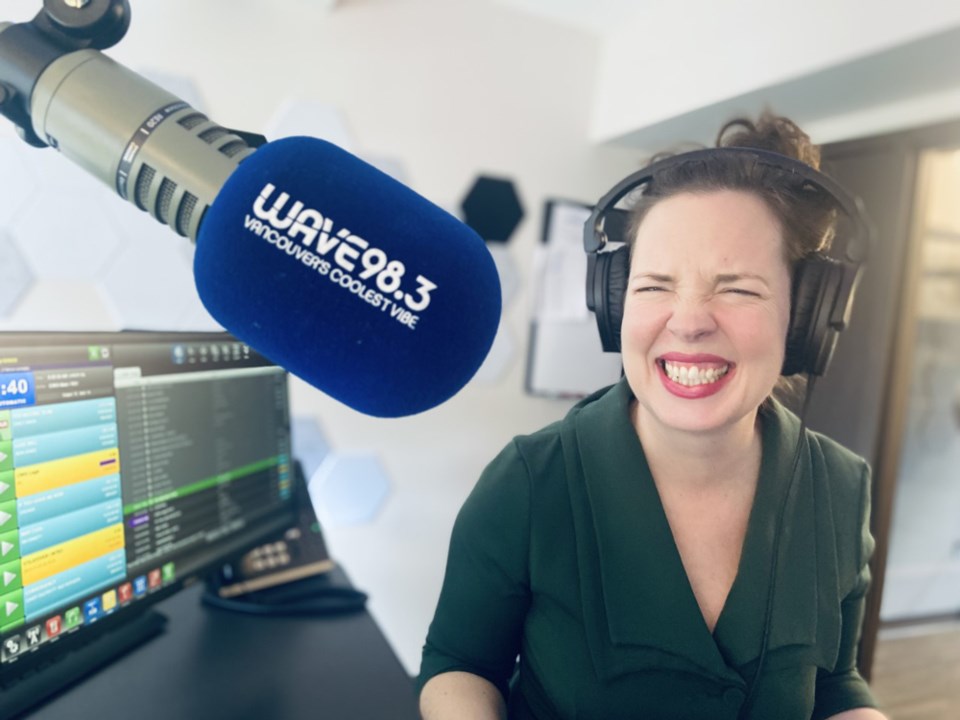 Here are five song selections, including TJ's personal insights, chosen for their rhythm and their ability to deliver the same kind of pick-me-up as your morning cuppa joe.
1. "Let's Groove" – Earth, Wind & Fire
"Earth, Wind & Fire always provides a groove that can get me going, even when I'm not in the mood. There's something in the rhythm that triggers something in us that makes everything seem all right—even when it isn't."
2. "Sweat" – Alexander Zonjic
"Alexander's a Grammy nominated Canadian flautist, and the second you hear his flute come in, it's like a beckoning call to get up and start moving. It's an absolute bop! There are certain songs like this that remind me, oh yeah, I should eat some breakfast."
3. "Baby You've Got What It Takes" – Michael Bublé, with Sharon Jones & the Dap-Kings
"It's been covered for decades by beloved artists like Van Morrison and Jerry Lee Lewis. It knocks it out of the park with its retro vibes. If you love the swinging sound of the sixties with a modern twist, it's definitely a song to get you moving."
4. "Give Me the Night" – George Benson
"This song not only makes me feel, but it gets in my body, mind, and emotions, and gets me on my feet every single time. If there's ever a point during my show where I think we need to up the energy, I'll lean on "Give Me the Night" and know the job will be accomplished."
5. "Paradise" – Sade
I feel like she invites us all to just groove with her wherever we're at, at any point in our day, whether we're high or low. And "Paradise" really accomplishes that for me. [Psst!] It's rumoured she's back in the studio with her band, releasing new music soon."
For more information and to listen live, visit wave983.fm.