As the end of summer moves into September, buyers and sellers in the real estate market are holding their breaths to see what will happen next.
Sales traditionally pick up in September, but this year, the summer months have seen record low levels in North and West Vancouver real estate. "The number of sales are off substantially," said Calvin Lindberg, a real estate agent with Angell Hasman in West Vancouver.
Brent Eilers of Re/Max Masters Realty in West Vancouver agreed, saying June, July and August on the North Shore saw the lowest numbers of sales in four decades.
Rising interest rates are a key factor, say both agents. That has impacted both buyer's ability to pay monthly mortgage costs and the kind of borrowing they can qualify for under the government's "stress test" rules.
"Even though the prices have come down, they haven't come down as much as interest rates have gone up," said Eilers.
Lindberg said he still sees buyers coming to open houses, but many times they say they're going to wait a few more months to see what happens in the market.
Even municipal elections can impact sales, said Lindberg.
"People back off. They don't want to make the big decisions with big purchases while there's uncertainty in the air."
So far, listings continue to be substantially down in September as well, said Eilers.
That said, there were still some homes being bought and sold in August.
Here's a look at some of the cheapest and most expensive detached homes, townhomes and condos sold on the North Shore last month.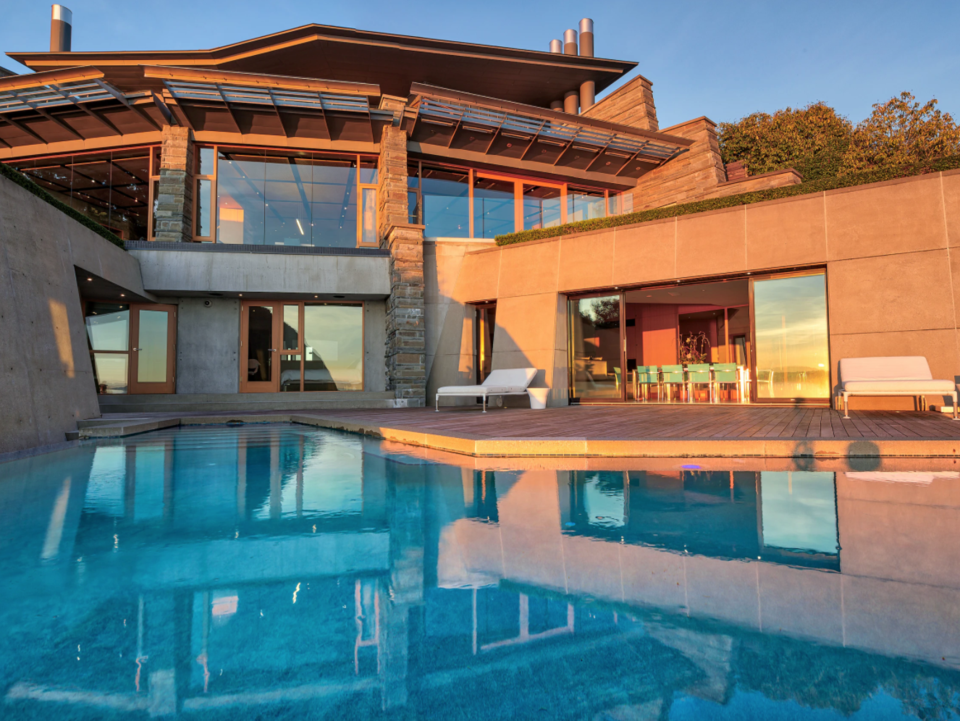 Most expensive detached house
Surprisingly, considering slumping sales in August, the single biggest sale on the North Shore so far this year happened last month.
That was when an iconic five-bedroom, seven-bathroom luxury estate at 2910 Park Lane on the Altamount waterfront sold for $21.5 million on Aug. 10.
The 14-year-old, 9,400-square-foot home sits on a lot of almost half an acre of high-bank waterfront, including 98 feet of shoreline and spectacular 180-degree ocean views.
It has B.C. history built right in – built in 2008 on the site of an apple orchard formerly owned by a member Vancouver's notable Woodward family.
The home was built by its former owner Mossadiq Medaly, a former chair of BC Hydro and a leader in the renewable energy industry with stints at companies including Ballard Power Systems. Accordingly, the home also has energy-efficient features like geothermal heating and cooling.
Designed by architect Peter Grant, the house incorporates concrete and Pennsylvania bluestone, with a zinc roof designed to collect rainwater.
During the winter months, residents can warm up at one of five fireplaces or maybe even in the steam room. Other luxuries include an elevator, indoor-outdoor speaker sound system, in-floor heating system, heated driveway, infinity pool, floor-to-ceiling windows and a professional music room.
The luxury home, assessed last year at $14 million, was originally listed for sale at about $30 million. Annual property taxes on the home were $65,000 last year.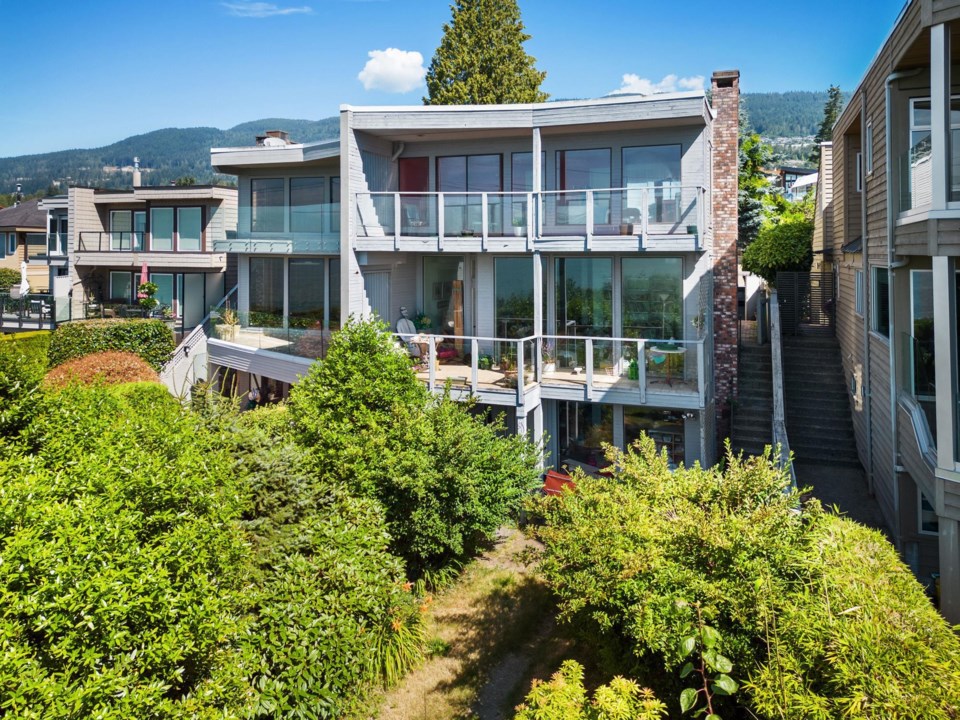 Most expensive townhouse
The most expensive townhouse sold on the North Shore in August was a four-bedroom, four-bathroom half "duplex" at 2318 Bellevue Ave., steps from the waterfront in West Vancouver's Dundarave neighbourhood. The 46-year-old, 3,400-square-foot home sold Aug. 13 for just under $4.3 million.
The south-facing location overlooking the West Vancouver Seawall features panoramic ocean views along with a south-facing deck overlooking a private garden. A large master bedroom with a fireplace adjoins an ensuite bathroom with solarium and ocean-view balcony.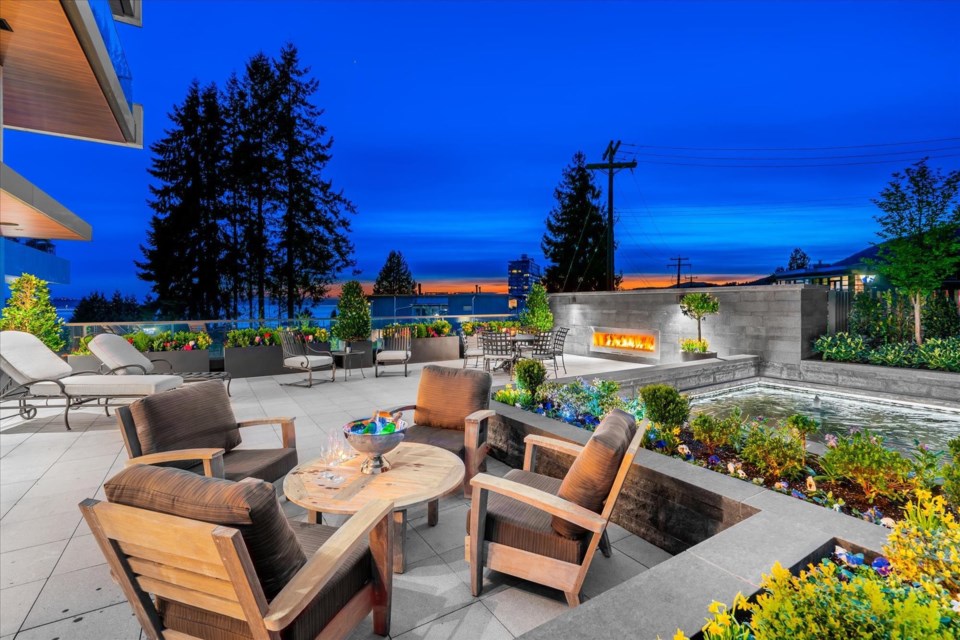 Most expensive apartment
The most expensive apartment sold on the North Shore in August was a 4,400-square-foot luxury condo and walk-out terrace garden in Cressey's "The Bellevue" building at 2289 Bellevue Ave. in West Vancouver.
The four-bedroom, four-bathroom ground-level end unit steps from Dundarave Beach sold Aug. 2 for $6.5 million. Features include a media room, study, elevator, air conditioning, power shades and a private three-car garage. Amenities in the building include an indoor pool, spa, gym, as well as steam, sauna and yoga rooms and a concierge service. Property taxes on the three-year-old condo were about $35,000 last year.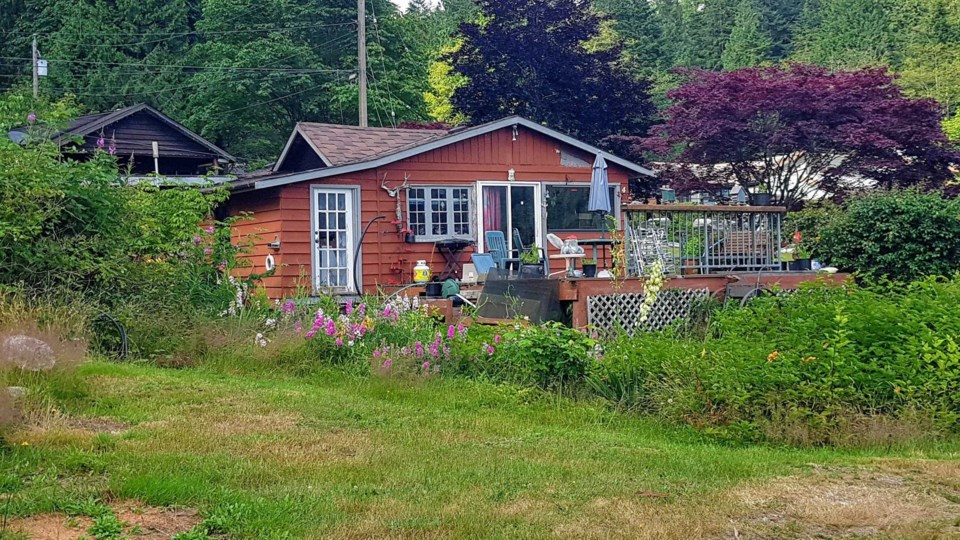 Least expensive detached house
Sometimes you have to think out of the box to get a deal. In this case, the least expensive detached home sold on the North Shore last month was a two-bedroom, one-bathroom, 1,000-square foot home on Brighton Beach up Indian Arm. The 54-year-old, water-access-only cottage is part of Brighton Beach Properties and sold for $360,000 on Aug. 2.
Brighton Beach Properties includes 22 similar small homes on 30 acres, which function essentially as a co-operative, with common outdoor and yard space. The buyer of this cottage bought a share of the co-op, serviced by both Hydro and internet with drinking water from a local creek.
The cottage itself is positioned near the front of the community with mountain and and water views. The home itself is "in need of significant work but has the potential to be restored to its original glory," according to the real estate listing. Groovy!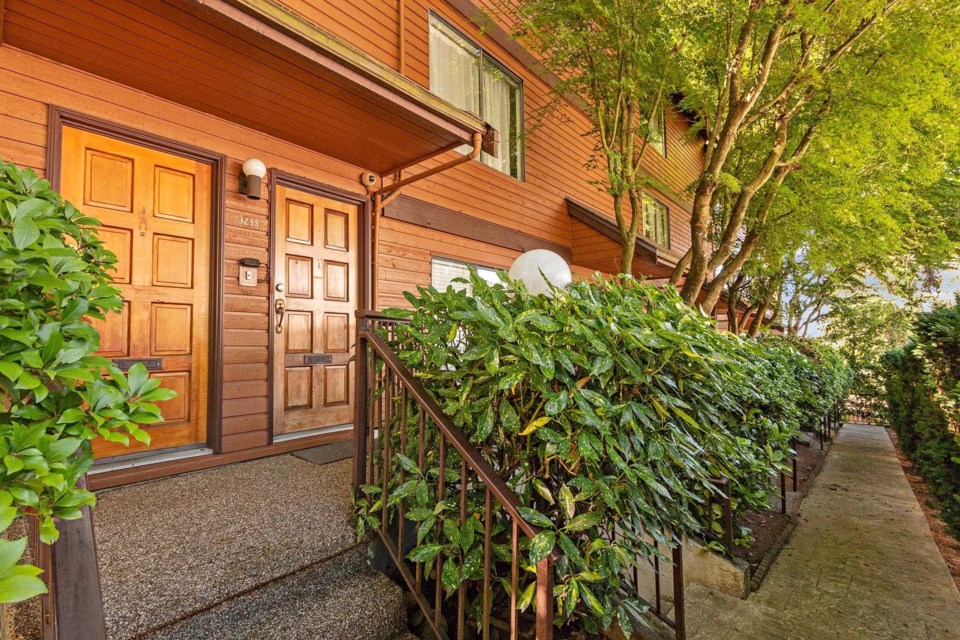 Least expensive townhouse
The least expensive townhouse to sell on the North Shore last month was a three-bedroom, three-bathroom unit in a 44-year-old Upper Lonsdale building at 3235 Lonsdale Ave. It sold Aug. 8 for $825,000 – over its asking price – after just 11 days on the market. The townhouse features plenty of storage, a large living and dining room area and large balcony. The top level as access to a roof deck. Other drawing cards include being steps to the Queen's Cross Pub plus a "massive storage locker" with room for bikes.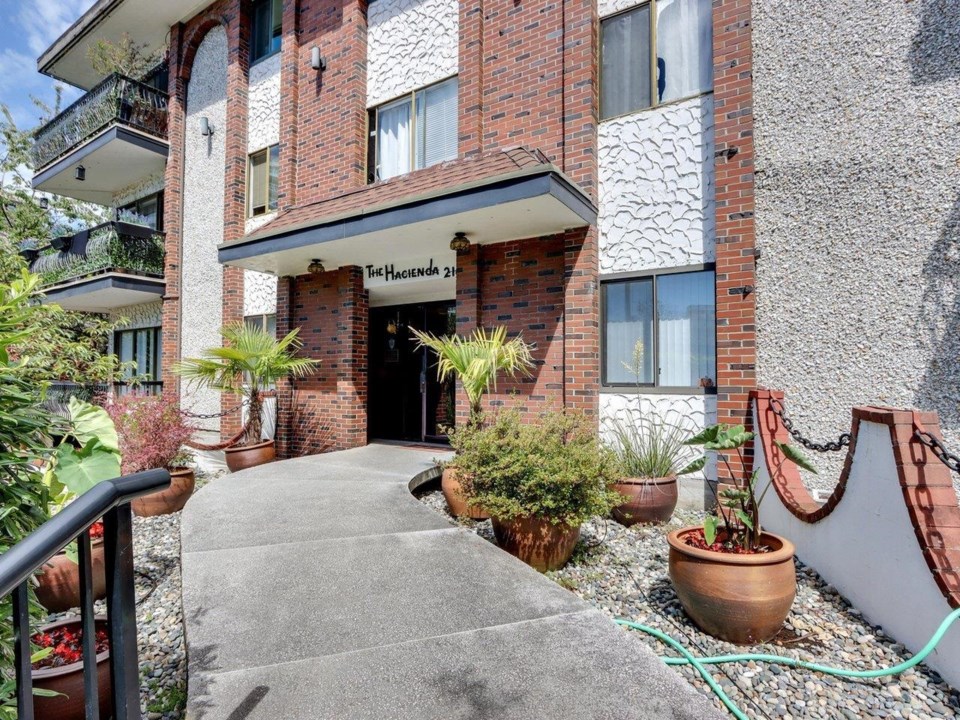 Least expensive apartment
The least pricey apartment to sell last month was a one-bedroom, one-bathroom, 670-square-foot condo in North Vancouver's Hacienda building at 206-214 East 15th St.
Described as a "darling" apartment in a "charming walk-up building," the condo sold for $425,000 Aug. 9 after only three days on the market.
The east facing unit is within easy walking distance of Central Lonsdale restaurants and shops, and allows "two cats or one dog." Meow!
jseyd@nsnews.com
twitter.com/JaneSeyd
​