At the tail end of a slow spring for B.C. real estate sales, 8,837 homes exchanged hands on the Multiple Listing Service in May, down 28.7 per cent from May 2017, the British Columbia Real Estate Association (BCREA) reported June 15.
Each of the 11 real estate boards across the province that make up the BCREA's monthly report cited annual sales declines. These range from the relatively minor 6.3 per cent year-over-year decrease seen in the B.C. Northern area that includes Prince George, up to 38.9 per cent down from last year, in Powell River. However, Powell River's market is small and therefore subject to wide percentage variations, so this doesn't indicate a trend. Of the larger markets, the Fraser Valley saw the biggest annual decline, down 34.8 per cent, followed by Greater Vancouver.
The average MLS home sale price in May was $739,783, 1.7 per cent lower than in May 2017. This is despite the BCREA asserting in April that the persistent seller's market would see average sale prices in 2018 higher than in 2017.
Because of this average price slide, combined with a sharp drop in transactions, total sales dollar volume was 30 per cent lower than in May 2017, at $6.54 billion.
The number of homes for sale across the province, as of the end of May, was up 18.7 per cent year over year, because of the slower absorption. Despite this increase, said the BCREA, "total active residential listings in the province are still relatively low by historical comparison."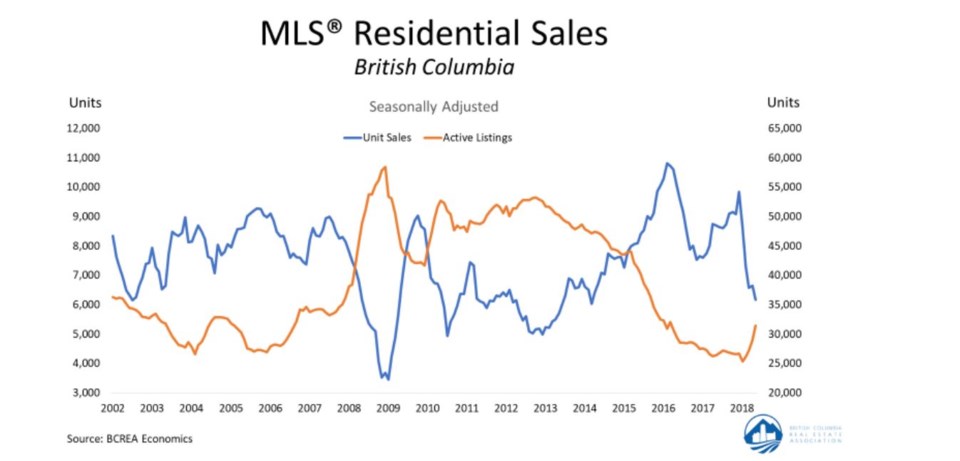 The province's sales-to-active-listings ratio, which one year ago stood at 43.7 per cent, was 26.2 per cent at the end of May 2018. That is still a seller's market but creeping towards the balanced territory of between 12 and 20 per cent.
The BCREA said the primary reason for the loss in sales activity this spring was the impact of the strict new mortgage qualification rules, known as the "stress test," which came into play in January.
"B.C. home sales continued to slow in May because of more stringent qualifications for conventional borrowers," said Cameron Muir, BCREA's chief economist. "The changes in mortgage policy are taking their toll on housing demand, not only in British Columbia, but across the country by reducing household purchasing power and housing affordability."
The mortgage rules typically reduce a buyer's purchasing power by as much as 20 per cent, meaning that many buyers have had to purchase less-expensive homes or stay out of the market entirely.
Check out the full report with individual board breakdowns here.