Imagine not being able to hug your own young children for six years.
Imagine the changes kids can go through in a year, let alone a half dozen. That was the heartbreaking daily situation that North Vancouver resident Stella Ita found herself in, after she made the agonizing decision to leave her native country of Cameroon in equatorial Africa to seek a better life in Canada.
The plan was that Stella would find a good job here and, once settled, bring her kids over. Stella figured that the entire process would take about two years. Never would she have imagined it would take six.
"I actually didn't know anything about Vancouver when I decided to move to Canada," Stella admitted to me. "In 2011, I had a vivid dream that I was flying to an overseas country. When I woke up, I immediately went to get a passport. Two weeks later, my cousin in the U.S. told me about the Live-In Caregiver Program in Canada and encouraged me to pursue it."
At the time, Cameroon was becoming an increasingly volatile place. A civil war was heating up, and unemployment was at 60 per cent and rising. In Stella's words, "economic hardship was everywhere." It took Stella three years of hard work in Cameroon to eventually find an accepting family in Vancouver. Then there was another year of paperwork.
In March 2014, Stella painfully left her two young children, Ken and Angel, ages 6 and 5, in the care of her sister. Stella's trip from Cameroon to Canada was her first-ever flight. It was overwhelming, and she was thrilled when she landed.
"It was such a beautiful place," raved Stella. "I was so impressed with Vancouver's beauty."
Stella's first job was a live-in nanny for a little boy in West Vancouver. You can imagine the culture shock from Cameroon to Caulfeild. Unfortunately, the position did not fulfill what Stella had been expecting. The living arrangements were complicated and unsatisfactory – which is saying a lot, since she had relocated from Africa to Canada's wealthiest municipality. That first placement was short lived, though Stella has kept in touch with the family.
Stella, who has a combined honours degree in bilingual modern literature, managed to find a new nanny position with another Caulfeild family. On her bus rides through the winding roads of West Vancouver, Stella often passed a large A-frame Presbyterian church at the corner of 29th and Marine Drive.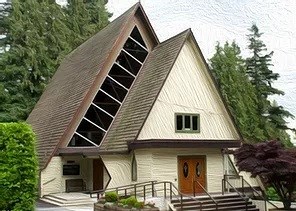 "Presbyterian churches are very common in Cameroon, so I decided to try it," offered Stella. "The bus got me to the church very early on a Sunday morning in 2014. I was greeted by someone there for choir practice who was as early as I was. I immediately felt welcomed. During the service, I felt joy! Afterwards, going downstairs for coffee and conversation, I was welcomed by so many members of the congregation that I knew at once that this was where I belonged. I have been attending regularly ever since."
That congregation – which, full disclosure, includes my 77-year-old mother, who alerted me to this story – is predominantly white, elderly, and of Scottish heritage. They were collectively interested in and empathetic to Stella's story, and soon made the decision to help Stella on multiple levels, including attempting to bring Stella's children to Canada.
North Vancouver's Laura Lytviak was one of the first people Stella met in the church.
"Stella was clearly alone, so I simply said 'hello' and introduced myself," remembered Lytviak. "I began giving her a ride home to the middle of nowhere in Caulfeild and I slowly got to know her and her epic story. Stella Ita is truly a wonderful and inspiring woman."
One evening, Lytviak received a distressing call from Stella. The family that she was working for – and providing her with room and board – suddenly announced that her services were no longer needed. They wanted her to leave their home almost immediately to make room for a relative. Stella called Lytviak on a Wednesday. She was expected to vacate her room by Saturday.
After a terse discussion with Stella's former employer that could not be repeated in church, Lytviak took Stella in to her Upper Lonsdale home that Lytviak shares with her husband Marko and kids.
Stella eventually earned her open work permit, allowing her to apply for other jobs, but it was often disheartening. In light of the Black Lives Matter movement, I asked Stella if she had ever experienced racism since coming to Canada.
"I do have to admit that it took me so long to find a job that I sometimes wondered if it was due to my colour. I would talk to potential employers on the phone and all would go well," explained Stella. "Then I would be invited for an interview and I sensed that things changed when they met me. It made me wonder. But I have not experienced outright racism."
Members of the West Vancouver Presbyterian Church continued their support. Kaireen Morgan in particular helped Stella navigate the incredibly dense immigration process for her children.
"That had to be one of the most difficult challenges I have ever taken on, but I kept reminding myself that the endless paperwork was nothing compared to what Stella and those kids were going through on opposite sides of the world," Morgan told me. "But every time we thought we were getting close, we suffered some kind of bureaucratic set back, either here or in Cameroon. It was an incredibly long and frustrating process – it took years – but I was determined to stick with it to try and reunite this family."
Stella agreed that the process was grueling.
"I had to read through pages and pages of legal documents. It was not only confusing for me but for Kaireen trying to help me," Stella recalled with a sigh. "We would send off valuable documents and then never hear for months whether they had been received. There were medical checkups, X-rays for the children, passports, and visas. So many times I felt everything had been lost in transit."
Meanwhile, in Cameroon, life was getting increasingly dangerous by the day. Civil war raged, and Stella's sister and children were forced to leave their city for a smaller town, hiding indoors for long stretches of time to avoid the very real threat of kidnapping.
A major saving grace was finding support through North Vancouver M.P. Jonathan Wilkinson's office. Stella was assigned to two caseworkers, Tess Whillans and Ward Mercer, whose help was invaluable throughout the years-long process. 
"Kaireen stayed in touch with Tess and Ward right to the end," Stella recalled warmly. "Without their help, I don't know how I would have survived the process and the numerous delays."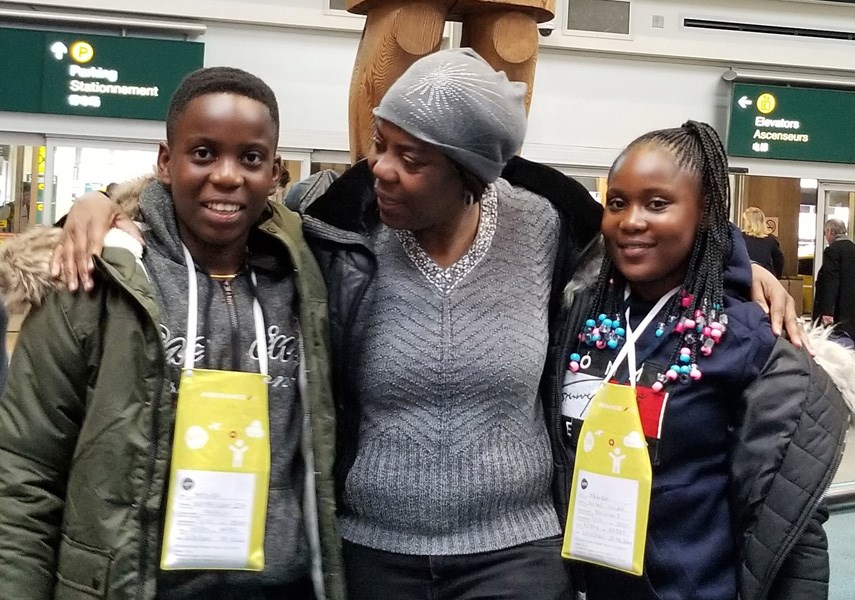 Finally, the green light: Stella's kids would be allowed to join her in Canada.
As soon as they received word, Morgan booked the flights with as few connections as possible: Douala to Paris, Paris to Vancouver. The children were assigned a flight attendant to accompany them for the duration of the journey. Martin and Barbel Jurrius, a retired couple from the church congregation, paid for a large portion of the children's flights.
"We still didn't know if the kids would have all the paperwork they needed until the very last minute. It was incredibly stressful," Morgan told me with emotion in her voice. "But it's a day I'll never forget. We worked so hard and it finally arrived."
On Feb. 28, 2020, a small group waited nervously in the international arrivals area of the Vancouver International Airport, including Morgan and WVPC minister Heinrich Botha. Stella's daughter was now 11 and her son 12.
Then it happened. Two smiling children dressed in warm jackets emerged through the sliding glass doors.
"It was like it was not real," remembered Stella. "All my dreams and prayers had come true. When I first saw Angel, my daughter, I couldn't believe how tall she was! And my son Ken, so very tall, my height! I had left them as babies. I hugged them and hugged them and I didn't want to let go."
Because of Cameroon's war, both children were denied access to school for years, and it was something they were greatly looking forward to in their new home. Then COVID struck.
"It was really a blessing in disguise," reasoned Laura Lytviak. "The kids were able to enjoy a slow introduction to their new lives without being rushed into it."
To accommodate Stella and her children, Lytviak and her husband edged significantly closer to full sainthood by giving up their master bedroom in their upper Lonsdale home to the Ita family, where they are still currently living.
"Yes," confirmed Lytviak, "Angel and Stella sleep in our master bedroom, and we transformed our large walk-in closet into a bedroom for Ken. They have an en suite bathroom to themselves. My husband and I now sleep in our living room. They are awesome kids. They never complain, they never argue, and they are very respectful."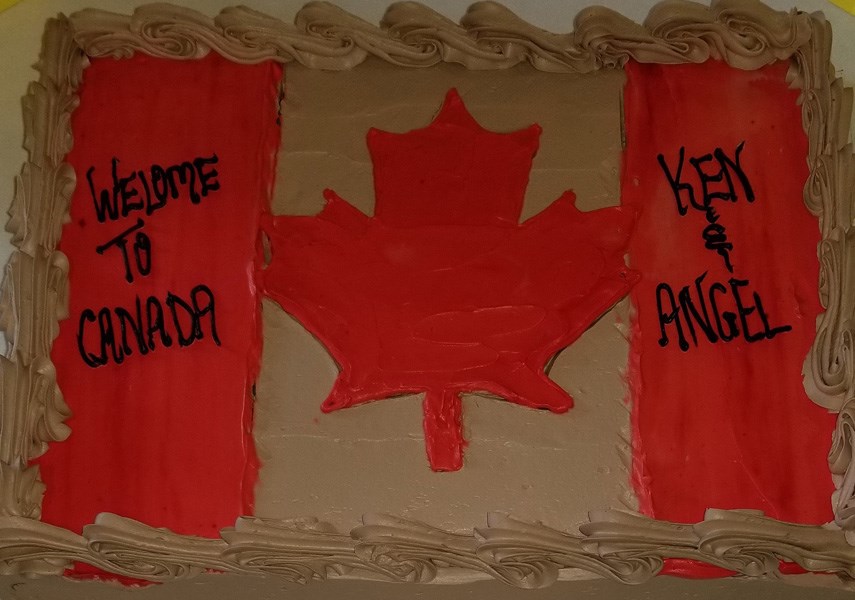 For Ken and Angel, the biggest differences they have noticed between Cameroon and Canada makes you realize what we take for granted.
"Electricity!" answered Ken excitedly. "It's everywhere! And it works!"
"And the roads are in good condition," added Angel. "The neighbours are very friendly and everywhere you look it is clean. We like the mountains and the beaches."
Earlier this month, the children were thrilled to enter the North Vancouver public school system. Ken attends Carson Graham Secondary, while Angel goes to a nearby elementary school. Meanwhile, Stella maintains two part time jobs as a housecleaner and an after school childcare worker.
The congregation at the WVPC set up a Go Fund Me page for the Ita family to help them find their own home, further education for Stella, and for things like bicycles to help them get to and from work and school. In just 14 days, their modest goal of $6000 was reached, but donations are still being accepted.
For Stella, now age 44, she will never forget the day she wandered alone into that West Van church back in 2014, where she found community and support when she needed it most.
"The people there have given me a song in my heart," she extolled. "I hear and feel that song. They have given me emotional strength, hope, and comfort. I am just so very, very grateful."
Donations to the Ita Family Go Fund Me page can be made here: https://gf.me/u/yrvypp.
Grant Lawrence is a North Shore-raised author, musician, columnist and CBC personality. Grantlawrence12@gmail.com.