The founder of NYC Transportation Alternatives Fred Kent said, "If you plan for cars and traffic, you will get cars and traffic. If you plan for people and places, you will get people and places." 
Seems obvious, right? 
Some years ago, I was reviewing the transportation plan for the new Lynn Valley town centre. The moment I saw the building designs with their exposed wood beams, rock fascia and mountain top ethos, I got charged up. Looking at the style and mountain setting, it came to me that Lynn Valley town centre looked a lot like Whistler Village. Just like up at Whistler, it could be conceived with no vehicles at its core. It could be leafy and green – wholly pedestrian and bike-oriented. We could drink on the balcony at the Black Bear without exhaust fumes! I blurted out that Lynn Valley town centre could be the first car-free community on the North Shore.
Hooo boy.
Even the super alt-transport friendly staff members were stunned into silence. The planning consultants smiled those tepid "thank you for your input" smiles. Their inside thoughts leaking out through obdurate eyes, "Has she been smoking the devil's weed?" The transportation manager's eyes started to roll.
Why is it so hard to "translate" Kent's observation on the ground? Maybe shop owners feel people would not find their establishment without the benefit of a road running right next door. (We have this thing called the internet now.) Or that people would not be able to carry home their wares? (Don't people live right there anyway?) Surely restauranteurs would prefer a dining precinct away from traffic? For whatever reasons, we continue to build our shopping and dining districts – known in the parlance as "high streets" – with vehicles running through their heart.
Four cases in point: new North Shore village and town centres envisioned long ago are coming online at Lynn Valley, Maplewood, Lions Gate and Lynn Creek. Thank goodness they all mandate pedestrian and cycling-friendly paths. They also include gathering places and green spaces. However, a review of their commercial "high streets" shows cars still taking centre stage. Here's a visual round-up of the "high street" design concepts for these new centres.
Lynn Valley
This concept drawing (see image at the top of this article) of the future high street in Lynn Valley town centre shows the major shopping and dining district on Valley Center Road. Great that there is no on-street car storage, a welcome change. However, vehicles will travel alongside pedestrians and people cycling. It's kind of like if you allowed cars inside a mall. Wouldn't it be more pleasant to shop and dine outside without vehicles? A brief tour by bike to the construction site was encouraging. The new developments look like mountainside homes!  It does look like Whistler – only with higher towers and, ummm, cars.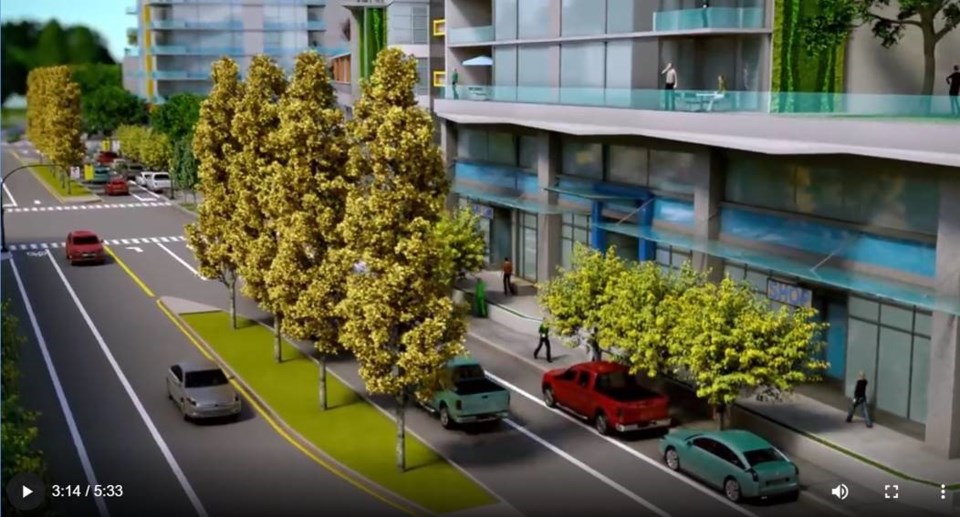 Lynn Creek 
The designated high street in the Lynn Creek town centre is the present-day Mountain Highway. The focus for this town centre is on transit since it is close to Phibbs Exchange. The rendering above shows a reduction in traffic lanes, on-street vehicle storage and bike lanes. It must have been tough to design this narrow corridor. The centre median is a good traffic calming practice, bringing much-needed green into an otherwise pavement-dominated space. But as a high street with shops and dining, this design is unappealing due to the proximity of vehicles to sidewalks. It's not like we can close Mountain Highway to traffic, but then why make it the high street?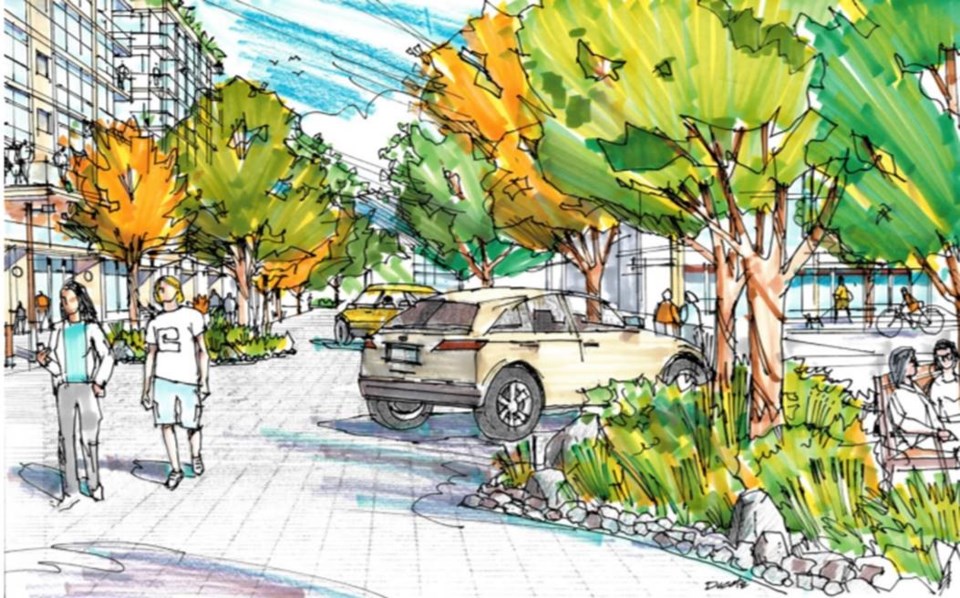 Lions Gate
The high street at Lions Gate village is called Community Street (or Woonerf depending on which document you read). This street parallels Capilano Road and shows a mix of car and pedestrian infrastructure. This design looks kind of like the one down at the Shipyards, where the city removed car storage from Wallace Mews. You can imagine how much more pleasant and safe the area would be if the artist erased the vehicles.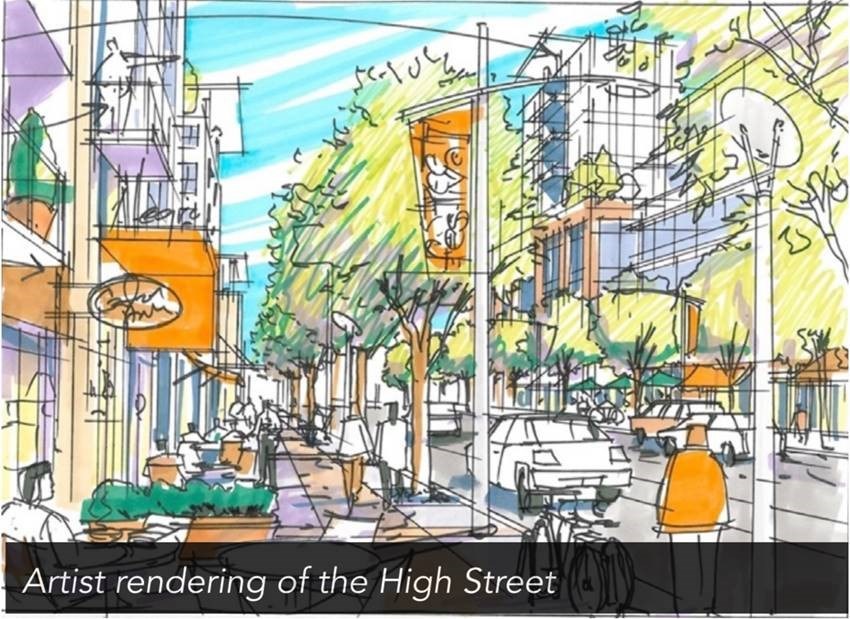 Maplewood
Like all of these centres, Maplewood has only been partially built out. Has anyone tried to walk around or cycle through the existing commercial area along Dollarton Highway? Except for the multi-use path that winds beside Dollarton, this is a very car-oriented development. Situated on a busy thoroughfare. Ground-level parking. Skinny sidewalks. Why would a person want to go there in anything but a car? To be fair, the high street is meant to be on Old Dollarton (shown in the image below with vehicle lanes and car storage) and has not begun to shape up yet. But the current central shopping district is decidedly not pedestrian- or bike-friendly.
This glance at the North Shore's new town and village centres taught me some things:
1. All hail rendering artists with colourful felt pens! 
2. Our new town centres were conceived and approved almost a decade ago
3. Actual development lags behind plans and guidelines which may be outdated by the time excavators break ground
4. We need to renovate our idea of commercial high streets
Is it too late to build spaces for people and places, not cars and traffic? Maybe we can get this right in Central Lonsdale, a lively, diverse commercial centre worthy of colourful felt pens and more than a little forward thinking. Go people go.
Heather Drugge is a sustainable transportation advocate who has used her bike for transportation for 20 years. She's looking at getting an e-bike and maybe a jetpack next. Northshoremoves@gmail.com.