North Shore News reporters have asked Jacquie Perrault about dodging mobile objects at least twice in her life.
Back in June of this year, she was stopped on her break while walking along Lonsdale Avenue and asked if she thought it was time to discontinue teaching dodgeball in gym class following recent academic research that suggested the popular ball sport was a tool of oppression.
This wasn't a new experience for Perrault. Thirty years earlier, when she was in her early 20s, she had been stopped by a different yet equally inquisitive reporter on Lonsdale who sought her point of view on objects in motion as well.
"The question at the time I'm sure – I'm positive – is they were trying to prohibit skateboarders going down the sidewalk at the time and they asked me what my opinion was," says Perrault.
The reporters who stopped Perrault on both occasions, that time in the late 1980s and once again in 2019, were doing what's referred to as "streeters" – essentially, journalism shorthand for going out into the community and getting people's opinion on a subject.
Notepad and pen in hand, the reporters were tasked with doing streeters in order to include the responses from the public, alongside a small mug shot of those interviewed, to feature in a longstanding News section called Inquiring Reporter.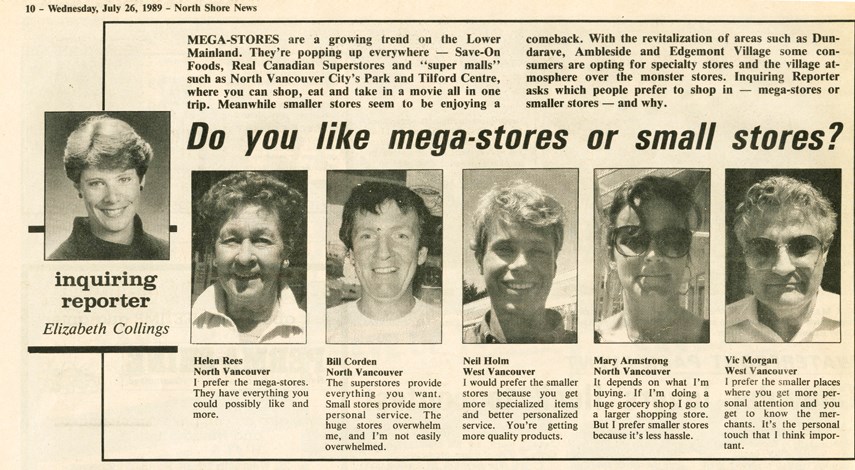 "What impresses me most of all is you would ask a teenager a question, yet you would also turn around and ask a 50-year-old the question," says Perrault. "I think it's great in that it's completely unbiased and it looks over all generations and also grabs a good demographic … of who's walking up and down Lonsdale" and elsewhere on the North Shore.
The News has been running the Inquiring Reporter feature, generally as part of the newspaper's viewpoints and opinions section, for decades.
As the story goes, 50 years ago Peter Speck founded a once-a-week news flyer called the North Shore Shopper. By 1975, the Shopper officially became the North Shore News – and Inquiring Reporter was rolled out.
Through perusing decades' worth of Inquiring Reporter questions, it's evident reporters have galvanized the public with topics ranging from the light-hearted and fun, to the serious and sensational. Sometimes the questions were – and are – focused on a local North Shore angle. Other times they deviate from North and West Vancouver entirely to cover a topic that's making national or international waves. The answers from the public can run the gamut from the enlightened to the jokey – it all depends on the person answering and the question being asked.
In 1979, reporter Ellsworth Dickson, observing the new phenomenon of people, for whatever reason, deciding to voluntarily run around their neighbourhoods in what he deemed the "fitness craze," ventured to ask: "How do you keep fit?" for that week's Inquiring Report question.
The responses he received back were generally kind, warm and thoughtful when it came to his fitness query, though one young man did fire back: "This fitness craze is for the birds; I like booze and sex." Ah, the '70s.
Jump forward to 2008. The News' Stephanie Mosley asked, "Would a tax on disposable cups change people's behaviour?"
"I would hope so," responded Sheabon Smith from North Vancouver. Maybe Smith and other respondents, if they could have glimpsed the future in that moment, would have been relieved to see that our environmental discourse has largely moved away from disposable coffee cups and onto banning plastics straws and stumping for reusable shopping bags. Or maybe they would see it as not enough, given today's news of pipelines and wildfires?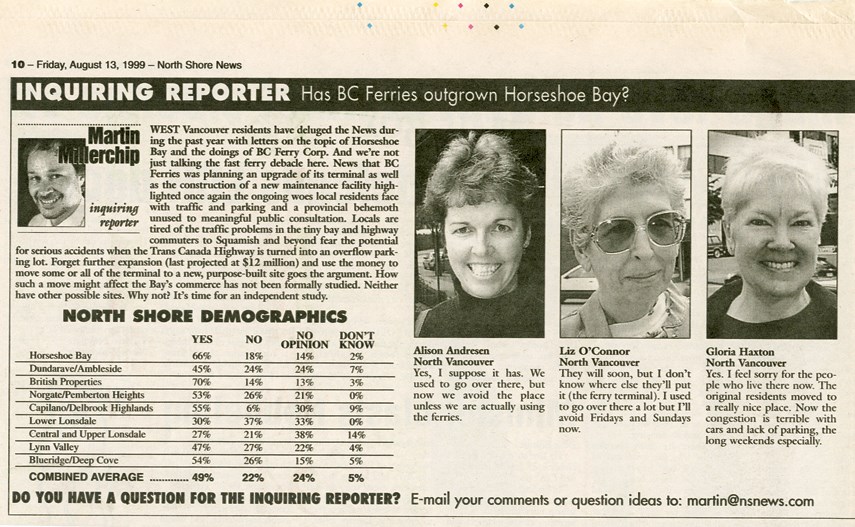 Another blast from the past: "Locals are tired of the traffic problems …" stated Martin Millerchip in his write up for his Inquiring Reporter question for that week, "Has BC Ferries outgrown Horseshoe Bay?" The year was 1999.
All three respondents for that week, 20 years ago, claimed they avoided the charming seaside neighbourhood due to overcrowding and congestion. Some things never change.
But some things do change. In 1977 the Inquiring Reporter asked: "Is the computer a blessing or a curse?" One perceptive reader from North Vancouver responded: "I think they are a curse because they put a lot of people out of work."
• • •
Like anyone's life, a lot has changed for Perrault in the 30-plus years since an eager reporter first stopped her on the street and sought her point of view. Perrault was born and raised on the North Shore, but moved to Squamish five years ago. When she was stopped on Lonsdale all those decades back she was a starry-eyed student at Capilano College studying commercial art, though for the past 28 years she's worked in the health-care field at Lions Gate Hospital.
"It's possible I was a waitress at the time," she reflects, comparing being part of a reporter's "streeters" then versus now. "It's kind of ironic because I would say in terms of Lonsdale, it was probably within the same two blocks that I was stopped 30 years ago [and now]."
She doesn't remember who the reporter was who spoke to her 30 years ago, though she does remember responding to the skateboarding question that she "didn't seem to think there was a problem" when it came to four-wheeled cruisers traversing sidewalks.
Her perspective, to a degree, has changed with time; she can see now how "there would be a bit of a problem," especially for older adults and others, if walkers and skateboarders were compelled to dodge one another on busy sidewalks. Laws, bylaws, and attitudes shift – and there's always the chance she'll feel differently about dodgeball tomorrow than she does today.
(Unfortunately, Perrault's more-than-adequate response to the dodgeball query didn't make it into the News after the on-scene reporter's recording equipment mysteriously muzzled her answer over a string of white noise and traffic sounds.)
However, one thing she can say for sure has changed between then and now is the neighbourhood. "Lonsdale was a lot different than it is now," she quips.
But one thing that hasn't changed is Perrault's passion for local news. "I pick up the North Shore News whenever I'm working here," she says.
"It's a great local newspaper." ◆