Let the debate begin.
In the 50 years since the North Shore News first hit our doorsteps as the North Shore Shopper in 1969, there have been hundreds of magical local sports moments and achievements: from world and Olympic titles to the time your team came from behind to win that special beer-league championship.
It was extremely difficult to narrow down a list but, from my perspective, here are the 50 most noteworthy moments in the past half century, divided into three categories chronologically.
Undoubtedly, you'll find some surprises and some you don't remember or even know about.
Greatest moments
1. 1969 Aug. 16 – North Van's Dorothy Lidstone wins the world archery title, demolishing the world record in the process.
2. 1973 March 1 – North Van's Karen Magnussen captures the world figure skating championship in Czechoslovakia.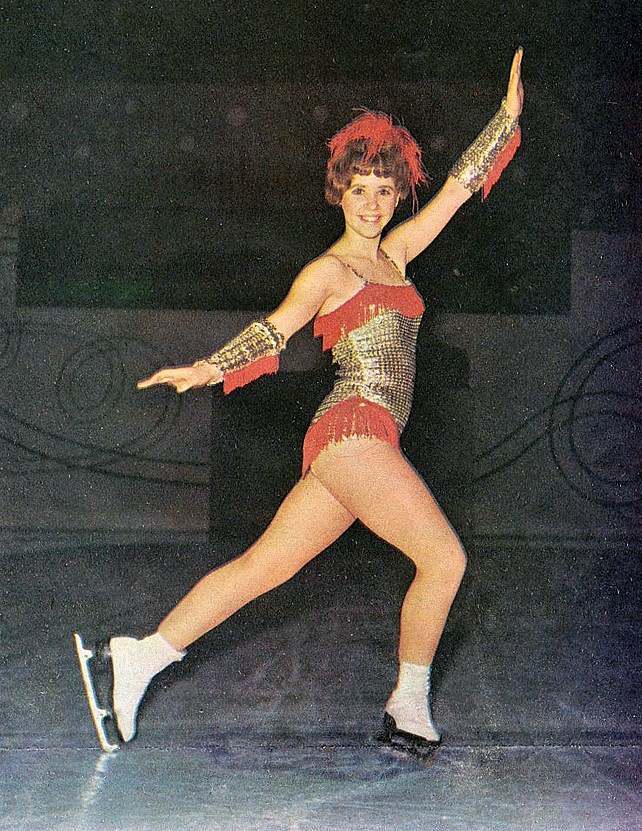 3. 1982 March 20 – West Van edges Argyle 49-48 in an emotional B.C. high school boys' basketball final, two weeks before WV coach Brian Upson succumbs to cancer. 
4. 1985 March 23 – Linda Moore's North Van rink wins the world curling title in Sweden.
5. 1986 May 31 – Sentinel defends their 1985 B.C. high school track and field championship with a sliver-thin half-point win over nine-time champion Burnaby Central 100 to 99.5.
6. 1989 March 11 – Windsor repeats as B.C. high school AAA girls' basketball champions 91-53 over Cranbrook's Mt. Baker in one of the most lopsided finals in tourney history. 
7. 1993 July/August – Lynn Valley Little Leaguers become the first North Shore team to reach the World Series in Williamsport, Pennsylvania, after an 18-1 record en route to the Canadian title in New Brunswick.
8. 1999 June 19 – Ex-North Shore Winter Club player Brett Hull scores the most controversial Stanley Cup-winning goal for the Dallas Stars with his "foot-in-the-crease" marker in triple overtime.
9. 2004 Feb. 27 – In a game for the ages between the two top-ranked B.C. high school basketball teams, host Argyle edges Handsworth 72-71 in a game featuring a long delay after Argyle's Scott Morrison breaks the rim on a dunk and Handsworth's Tyler Kepkay hits a buzzer-beating three-pointer to send it into overtime. With only one local team going to provincials, Argyle triumphs there with four victories by a whopping average margin of 21.5 points.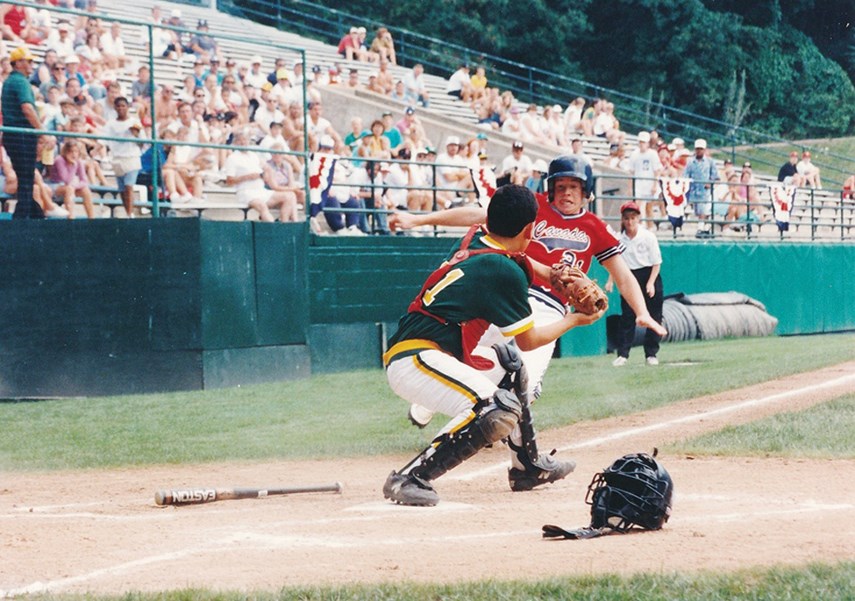 10. 2010 Feb. 16 – West Van's Maëlle Ricker becomes the first Canadian female to win Olympic gold on home soil … err snow … when she wins the nerve-wrecking snowboard cross event right up there on Cypress Mountain in front of an ecstatic throng of face-painted, flag-waving fellow Canucks.
11.  2013 Oct. 23 – Ryan Dempster, who coach Dave Empey developed with the North Shore Twins, pitches in Game 1 of the World Series for the champion Boston Red Sox.
12.  2019 March 14 – The re-established North Shore Sports Hall of Fame inducts its first new members since 1971.
Most outstanding achievements
1. 1970 Oct. 9 – Designed by West Van's Joe Borovich, the Vancouver Canucks' original stylized "C" logo – formed by a hockey stick inside a rink – is worn in the team's first NHL game.
2. 1970 Dec. 12 – North Van photographer Ralph Bower houses a camera inside the Canucks' goal to snap the NHL's original "netcam" photos.
3. 1970-71 – West Van "hippie-jock" Brock Tully bikes 10,000 miles around North America in six months, long before cycling is popular and other long-distance exploits by Terry Fox and Rick Hansen take place.
4. 1971 July 17 – North Van lefty Buster Moberg tops his softball career with a perfect game for Vancouver Blue Boys in Edmonton's Klondike Gold Rush tourney.
5. 1971 – Harry Jerome and Elaine Tanner are the first North Shore inductees in Canada's Sports Hall of Fame.
6. 1973 May 1-Aug. 4 – West Van's Clyde McRae walks across Canada in a Guinness world record 96 days, an unbelievable feat … or should that be feet?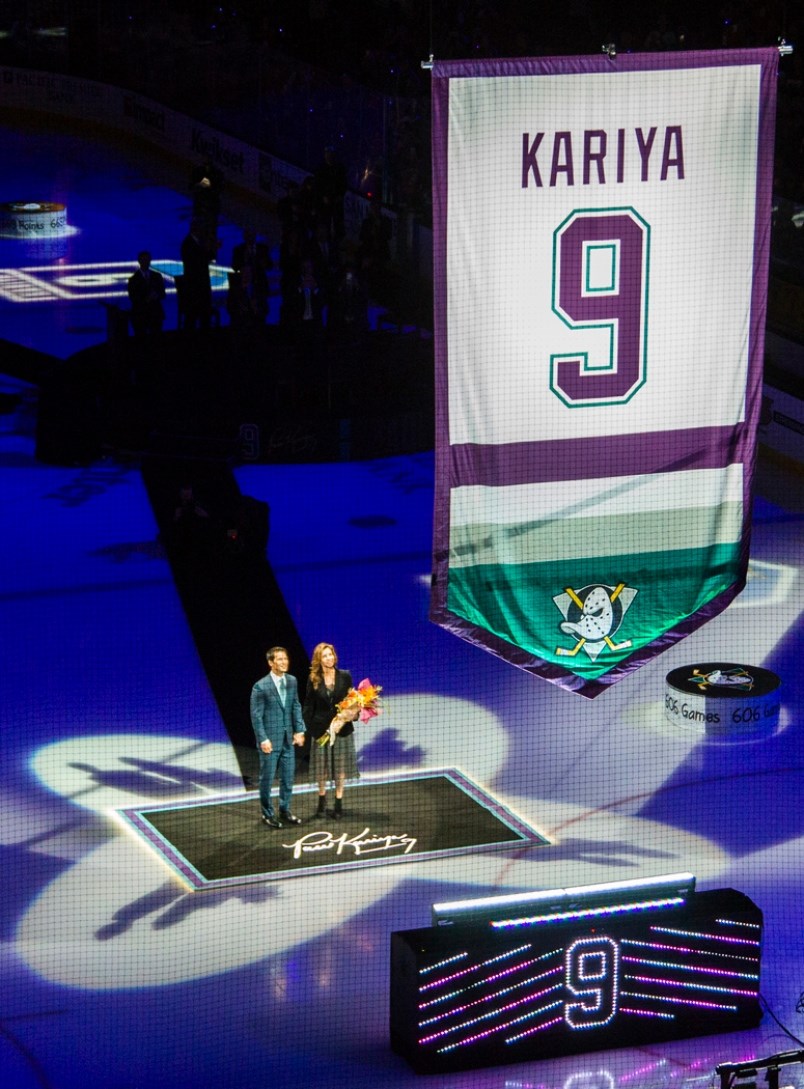 7. 1975 Dec. 5 – West Van's Greg Neeld, inventor of the "Neeld Shield" after losing an eye in a freak hockey accident (making him ineligible for the NHL) plays his first game in the World Hockey Association with Toronto Toros.
8. 1978 May 14-July 28 – After building a 42-foot dugout canoe from a local Douglas fir, Geordie Tocher sails from West Van to Hawaii in 72 days.
9. 1978 Oct. 4 – Nicknamed "Straight-Ahead Fred," North Van's Mark Rowan briefly holds the world speed skiing record of 198.70 miles per hour during a competition in Chile.
10. 1982 April 29 – After Canuck coach Roger Neilson raises a towel on a stick in that infamous playoff game in Chicago, West Van's Butts Giraud and his Dog's Ear T-shirt company sell 50,000 white towels in just two weeks for waving at games.
11. 1984 April 9 – North Van jockey Chris Loseth wins eight of the 10 races at Exhibition Park, tying the world record for most wins in one day.
12. 1985 Nov. 25 – North Van's Bruce Barnett completes a grand slam of football championships (B.C. high schools with Handsworth, Vanier Cup Canadian title with UBC, Shrum Bowl vs. SFU, Grey Cup) when his BC Lions defeat Hamilton in Montreal.
13. 1988 Oct. 10 – North Shore Metros, coached by John Mudge, become the first local team to win a Canadian youth soccer title, beating Quebec 1-0 in the U16 girls' final in Ottawa.
14. 1992 Aug. 1-2 – North Shore rowers Kirsten Barnes and Jessica Monroe win gold medals in both the fours and eights at the Barcelona Olympics.
15. 1994 May 21 – North Van's Simon Pond becomes the first local player to hit a home run in the major leagues (at Boston's historic Fenway Park).
16. 1997 – North Van's Grant Connell retires from the pro tennis tour after winning 473 matches, including an impressive 23-9 record in Davis Cup action.
17. 1999 – Capilano College is given the Canadian Colleges men's and women's soccer supremacy awards for its domination over 25 years.
18. 2000 March 25 – West Van sports psychologist Kirsten Barnes is key to Oxford's win over Cambridge in the 146th Boat Race, the first time either school has used a performance specialist.
19. 2006/2007 – Foundations in the names of Quinn Keast and Strachan Hartley begin their outstanding on-going charity work in memory of two outstanding Handsworth athletes who died too young. 
20. 2010 March 13-20 – North Van's Lauren Woolstencroft captures five skiing gold medals during the Paralympics.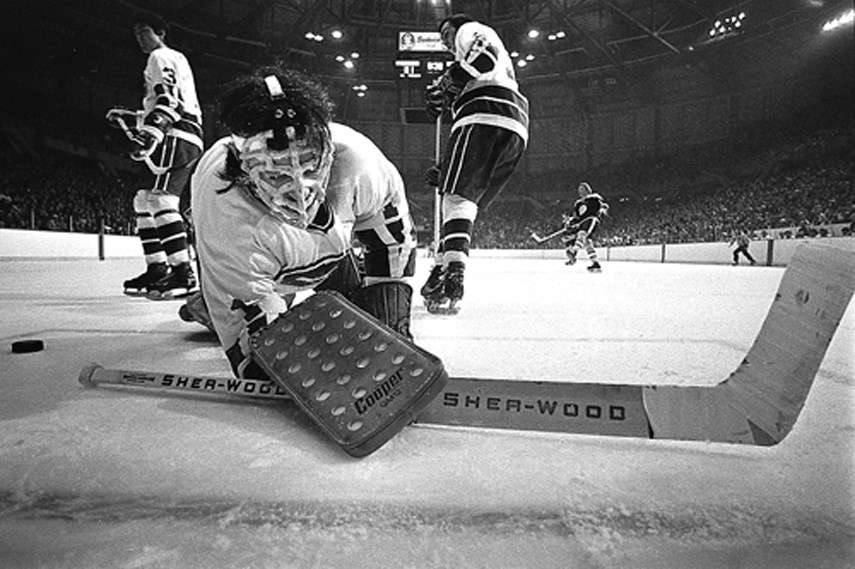 21. 2013 Aug. 18-24 – North and West Van lawn bowling clubs host a superbly run Canadian Championships.
22. 2017 May 26 – Collingwood claims its 11th straight B.C. high school AA tennis title, the longest championship streak in any sport.
23. 2017 July/August – North Shore Twins produce a season unequalled in BC Premier Baseball League history by copping all three age division titles with a combined 20-1 playoff record.
24. 2018 Nov. 13 – North Van's Paul Kariya caps his 15-year NHL career with induction into the Hockey Hall of Fame.
25. 2018 Nov. 9/16 – Collingwood wins its sixth B.C. high school AA field hockey banner in 10 years; Handsworth its fifth AAA in eight years.
Most bizarre stories
1. 1969 January/February – Hired as an extra for the movie Downhill Racer while on a "ski-bum" vacation in Europe, North Van's Tom Kirk ends up playing the part of a U.S. Olympic skier next to Robert Redford.
2.  1969 Feb. 17 – Daredevil Dag Aabye creates an avalanche skiing down the Lions and miraculously survives.
3.  1972 April 26 – Muhammad Ali, training here for his fight with George Chuvalo, visits North Van City Hall and signs the guest book including his home address and phone number.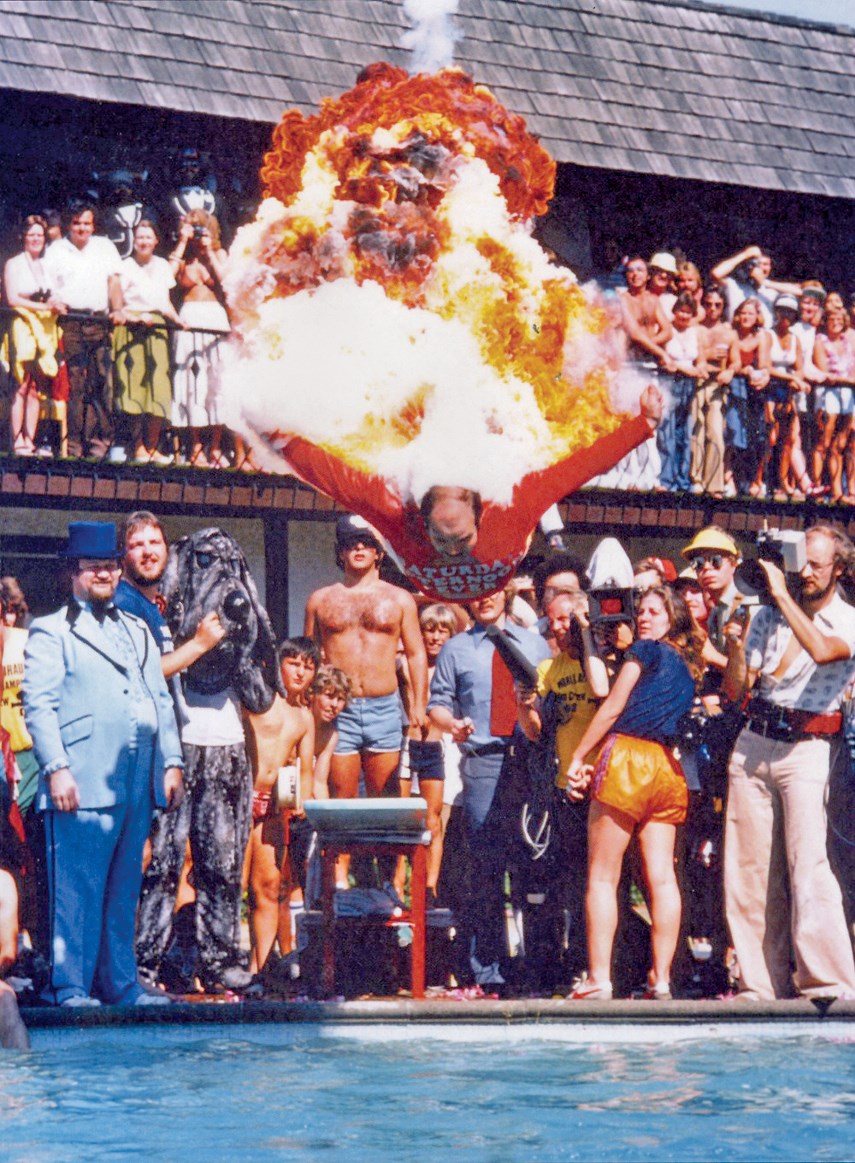 4.  1978 Oct. 13 – North Van High's last grad class, led by teacher Jim Martin, celebrates the school's final year with a continuous volleyball game lasting more than 52 hours, an hour longer than the existing Guinness world record, but technically misses out on the record because they didn't use official scoresheets.
5.  1979 Nov. 23 – Soccer's Bob Lenarduzzi and football's Lui Passaglia participate in a kicking competition at halftime of the Handsworth-Kamloops B.C. high school football final at Empire Stadium with very unusual results: Lenarduzzi wins at football and Passaglia at soccer.
6.  1980 July 19 – West Van's Butts Giraud accidentally sets himself on fire preparing to take his winning dive which involves a flaming leap off a cherry-picker at the World Bellyflop Championships at the North Shore's old Coach House (now Holiday Inn).
7.  1982 March 20 – Legendary West Van cameraman Bill Cunningham discovers he has no film in his camera after photographing the B.C. high school boys' basketball final and awards ceremonies. West Van won the title.
8.  1984 July 28 – Bitten by a mysterious insect during the opening ceremonies at the Los Angeles Olympics, West Van gymnast Anita Botnen is almost sidelined from competing.   
9.  1985 Nov. 24 – A stolen 1963 Grey Cup ring presented to North Van's Sonny Homer of the BC Lions is not found until the season the Lions win their first Grey Cup in 21 years.  
10.  1986 – Amused by the power given him at a game in front of 100,000 in Mexico City when asked to signal a minute of silence for someone recently deceased, West Van referee John Meachin holds his hand up for more than 60 seconds. 
11.  1989 March 17 – Despite not playing basketball, Carson Graham's Mike McCormack wins the B.C. high school slam dunk contest.
12.  2003 Dec. 21 – Former Carson Graham Eagle Jerome Pathon scores one of the most unusual last-second touchdowns in NFL history for New Orleans Saints vs. Jacksonville, a 75-yard play involving a forward pass and three laterals.
So that totals 49. There are plenty more to choose from (such as Capilano Rugby Club winning the inaugural Canadian women's club championship over Quebec City 34-19, which just happened Aug. 4) but I'll leave one for you to pick. You can let me know your choice at lencorben@yahoo.ca.
Author and sport historian Len Corben bookended his career job with the North and West Vancouver school boards as co-ordinator of athletics for the North Shore Secondary Schools' Athletic Association (1969-99) first as a reporter and "Corben's Corner" sports columnist with the North Shore Citizen (1959-1971) and then with his "Instant Replay" sports history column in the North Shore Outlook (1999-2014). He now chairs the selection committee for the recently revived North Shore Sports Hall of Fame.
This story was included in our 50th Anniversary Issue, published Wednesday, Aug. 14, 2019. Click here for more stories from this special edition of the North Shore News.