Future Olympians were on display at the BC Winter Games held over the weekend in Kamloops, including a number of North Shore athletes who climbed onto the podium.
The Vancouver-Coastal zone won the medal tally with 128 total medals, including 43 golds, topping Fraser River's 95 total (31 golds) and Thompson-Okanagan (90 medals, 22 golds). Athletes from North Vancouver and West Vancouver played a large part in Vancouver-Coastal's big showing, collecting 21 medals, including 11 golds.
Leading the way was diver Veronica Fong who won three gold medals, including both the one-metre and three-metre boards in the girls B Group. Snowboarder Zakk Harman also had himself an impressive Games, winning gold in both slopestyle and snowboard cross. Victor (Yun-Da) Cai also won double gold, hitting the mark in a pair of archery events.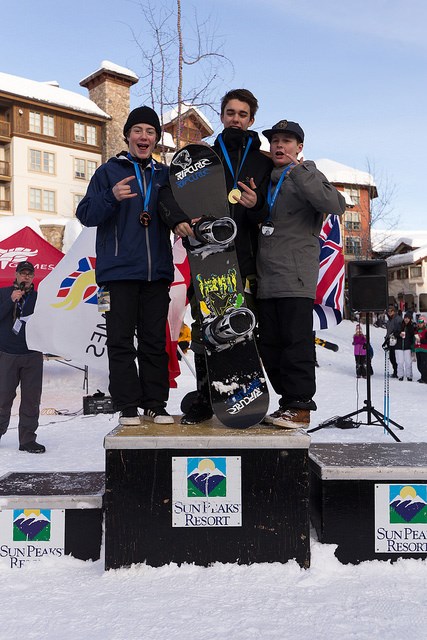 Here are all of the medallists from North Vancouver and West Vancouver, as listed on the BC Games website:
Gold
Ringette: Yvonne Orr, Brianna Bisaillon, Anastasia Kimovska, Talia Harasym, Pyper White
Basketball Special Olympics: Stephan Schoeller, Pierce Burns, Daniel Gawenda
Karate, intermediate kumite 1 girls 156 cm: Stephanie Lum
Karate, team kata girls: Helena Andres
Snowboarding, slopestyle male: Zakk Harman
Snowboarding, snowboard cross male: Zakk Harman
Diving, synchro mixed: Veronica Fong
Archery, two-day aggregate boys recurve: Victor (Yun-Da) Cai
Archery, match play boys recurve: Victor (Yun-Da) Cai
Diving, B Group girls 1 metre: Veronica Fong
Diving, B Group girls 3 metre: Veronica Fong
Silver
Diving, C Group 3 metre: Oliver Kraatz
Bronze
Basketball Special Olympics: DJ Gilbert, Sangeon Yoo, Nick Kellof
Figure skating, pre-novice women: Emily Millard
Alpine skiing, giant slalom: Markus Cordy-Simpson
Alpine skiing, slalom two-run male: Dylan Stevens
Diving, C Group boys 1 metre: Oliver Kraatz
Diving, B Group boys 1 metre: Eric Bullington
Karate, intermediate kumite 1 boys 155 cm: Julian Hassan
Freestyle skiing, U14 moguls female: Brooke Armstrong
Diving, C Group boys 3 metre: Henry Brewster