Ges Bushe and his family walk through dress rehearsals for any life event that might present new and unique situations for the North Vancouver teenager.
Before last month's North Shore Sport Awards ceremony Ges – who has mobility challenges and is on the autism spectrum – practiced hearing his name called, walking up the red carpet with his good friend Luke Harris, stepping onto the stage and waiting to receive his trophy.
What the family didn't anticipate, however, was that Ges and Luke would receive the first ever standing ovation in the 17-year history of the annual awards show. That some of the best coaches, athletes, officials, and volunteers on the North Shore would be moved to tears by an 80-second introduction detailing the inconceivable challenges both athletes have faced, and the improbable friendship that has helped them fight their battles side-by-side, hand-in-hand. That the audience would sense something incredible was happening right before their eyes, and respond in kind.
The family also forgot to warn Ges about one other important detail: the handshake. Award presenter Nicole Brown, a West Vancouver school district trustee, passed the two awards to Luke who handed one over to Ges before turning back to shake Brown's hand. The trustee then extended her hand to Ges who instinctively clutched his new trophy and pulled back. Luke, laughing, figured it out right away: Ges was worried she was going to take back the award.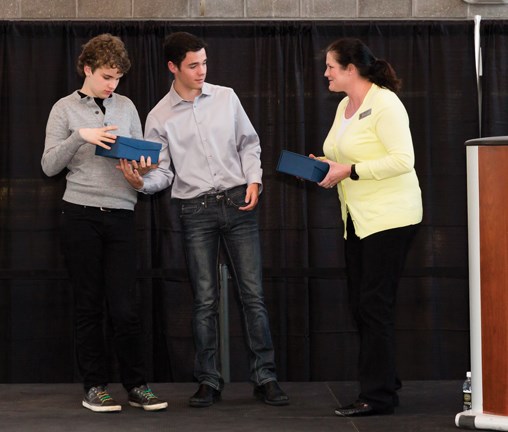 "I tried to hold onto the box so that he had a hand free," says Luke, recalling the incident. Brown never got her handshake, but the boys left with one more memory in a friendship that is less than a year old but already filled with many unforgettable moments. And Ges, of course, got to keep his trophy.
"He just wouldn't let go of it," says Luke. "I think that's OK though. He definitely worked for it."
• • •
Fast friends now, Luke and Ges likely wouldn't have been anything more than mere acquaintances if not for two huge tumours that wrapped their way around Luke's leg. When the X-ray tech held up the image for Luke to see, he wasn't sure if his life was over, or just his promising running career.
Now a Grade 11 student at St. Thomas Aquinas, Luke didn't realize he had the lungs to be an elite runner until the school did mandatory fitness testing in Grade 8, an exercise that included the gruelling beep test. The torturously simple test involves running back and forth across a short distance guided by auditory beeps. The beeps speed up continuously, relentlessly. Athletes speed up too, until they can run no more.
Luke did the beep test and, to his surprise, his score blew away everyone in his grade. That fall he joined the STA cross country running team and in the spring he ran track, winning gold for his age group in the 800-metre race at the 2013 high school provincial championships. By 2014 he'd raced onto the national stage, placing fourth in his age group at the Canadian championships.
That summer, however, he started to feel pain in his right leg when he ran. He was taking a marathon class so he initially chalked it up to over-training, but the pain persisted. During the 2014 cross country running season his leg started to buckle, causing him to fall half a dozen times on the treacherous North Shore trails.
Early in 2015 he took part in an indoor race at the Richmond oval and won it, nearly breaking the meet's U18 record. But the pain was excruciating.
"I was in agony," he says. "The pain was unbearable and part of my foot was numb with pain."
That's when he finally went to a doctor, who called for an X-ray that showed two large lumps protruding out of his leg.
"You could clearly see it as soon as he put it up," he says.
One horrible word popped into his mind: "cancer."
"I wasn't sure if I'd be able to run again," he says. "I was really worried about that."
Luckily Luke didn't have to wait long to have some of his fears allayed. His GP saw him that night and let him know the tumours were benign, not cancerous. There were still problems though. One tumour was wrapped around his tibia and fibula, affecting his peroneal nerve. This was March, and surgery was scheduled for September.
Before then, however, Luke wanted to run one more big race. Tumours intact, Luke suited up for STA in the junior division at the 2015 high school provincial championships. He won an unexpected bronze in the 400 m. In the 800 m, his favourite distance, he took gold.
Three months later Luke and his family flew to Toronto for surgery with a specialist at The Hospital for Sick Children.
"We got to the hospital way too early," Luke remembers. That left lots of time for him to think about the surgery, the nerve, the twin tumours, and the specialist who told him if things didn't look good in there, he may have to break Luke's leg in order to complete the surgery.
Finally, the knife….
• • •
On the day Ges Bushe was born 14 years ago there was nothing that hinted at the challenges he'd face throughout his life.
"He was a healthy baby," says his mother, Carmen Farrell. After a year, however, it was obvious that his physical development wasn't typical. He was having trouble with his balance, his muscles seemed very weak and it was hard for him to support himself.
"He and I logged a lot of time in the specialist clinics at Children's Hospital," says Farrell. "We had a big huge thick file – all kinds of tests, examinations, MRIs – and all the tests came back 'normal' and yet when you looked at this kid you just knew there was something neurological going on."
He finally started walking but by age two it was apparent it wasn't just a physical disability. Ges couldn't talk, and his social interactions were atypical, reduced. By age three he was diagnosed with autism spectrum disorder but it wasn't until just last year that a specialist pinpointed his physical disability as chorea athetosis, a neurological disorder characterized by jerky involuntary movements with abnormal muscle contractions that cause involuntary writhing.
The family still wanted Ges to have a lively childhood and so he tried many sports, including soccer, swimming, skating, biking, baseball, and skiing. The activities came with varying levels of success and enjoyment, but nothing matched the joy Ges felt when he took up running.
It is an odd fit, Farrell admits, given Ges's physical disability.
"His arms almost move in counterproductive ways when he's running," she says. "(But) it's almost impossible for him to stand still. His body wants to be moving."
Last fall Ges, now in Grade 8, found kindred spirits on the cross country racing team at his school, West Vancouver secondary. He loved it right away.
"It was the right kind of community for him," says Farrell. "He felt a connection with the coaches and the kids that were there."
Ges, who communicates by typing on an iPad, says he feels excited when he runs.
"I like running because I like the track numbers and lanes," he writes. "I like looking at the trees while I am moving. The trees look like animals when I run."
There were no tryouts for the cross-country team – Ges showed up at practice, so he was on the squad. It was almost time to race.
• • •
Two weeks before Ges's first-ever cross-country race, Luke Harris sat in a hospital room staring at his right leg wrapped in bandages and gauze. His surgeon entered the room.
"Point your toe up, point your toe down," the surgeon said. "Your peroneal nerve is fine. You'll be able to run."
Those simple, wonderful words are etched into Luke's mind.
"That was huge for me," he says. "It was a big relief."
There would be one more scare. A week later, sitting in class back at STA, his leg, still wrapped in bandages, swelled to nearly twice its normal size. It was an infection – one more chance, it seemed, for his dreams to be dashed.
"I was pretty worried," he says. "If it had gotten infected badly, that definitely would have put an end to my running career."
Antibiotics caught the infection before it had time to do major damage, but still left Luke with massive scar tissue, major muscle loss, and lymph damage to overcome on his way back to the track, not to mention a gnarly six-inch scar on the outside of his right leg that will mark this episode for the rest of his life.
Luke was still in the early stages of recovery when Ges took part in his first event, the season-opening cross-country race at Ambleside Park. There was no way he could navigate the course alone and so a young therapist from his school ran with him.
"He was dead last," Farrell says with a laugh. "They had to start the junior girls race before he was finished."
But he still had the time of his life. As he popped out of the woods and approached the open-field finish line, everyone stopped what they were doing and cheered him on.
"Ges was so excited," says Farrell.
The next race was at Cleveland Dam. The therapist wasn't available so Ges ran with Andrew Harris, Luke's older brother. Andrew knew Ges through the North Shore's challenger baseball program, and the two of them tackled the tricky Cleveland Dam course together. After the race Luke and Andrew's mother Krista Harris told Luke, who still was in no shape to get back onto the trails, all about the race.
Luke was astounded.
"Ges raced Cleveland Dam, which is a really hilly course with a lot of ups and downs," he says. "It's really steep, it's definitely my least favourite course. It's the one everyone falls on, and I just couldn't believe that he'd made it up and down the mountain. It was incredible."
Thinking about Ges's accomplishment got Luke fired up about getting back on track himself.
"It definitely inspired me to get back into running," he says. "How tough he was, it was really inspiring to see that in somebody."
Three weeks later Luke got his chance to get running again. Given the OK by his doctors for some light work, he signed up to run with Ges at the cross-country North Shore zone championships at Loutet Park. At that time Luke and Ges barley knew each other – the two athletes went to the same elementary school but, separated by three grades, were no more than acquaintances.
When they met at Loutet Park, however, the connection was instant.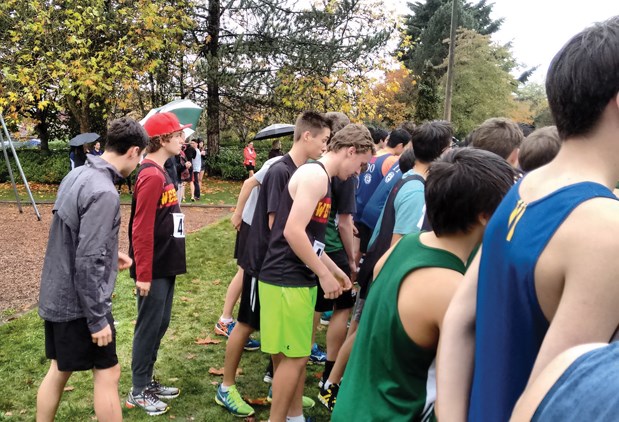 "I remember the first time I met Luke I saw flowers," writes Ges. "I saw his face. He looked kind. I said 'hi' to Luke. Luke said 'hi Ges.' I went running with him."
Halfway through the race Ges did something he hadn't done with any of his previous race buddies: he grabbed Luke's hand.
They kept on racing, holding hands, for much of the course until Ges's mother, worried that Ges would cause a fall, asked him to let go.
"You can't hold Luke's hand!" she called. "You have to run on your own!"
She wasn't too surprised, however, at the connection her son made with Luke.
"It's this odd dichotomy because on the one hand he's got so many autistic behaviours – the social cues that we all rely on, he doesn't use – and yet he's so amazingly empathetic," Farrell says of her son. "For years I've described him as kind of a barometer of human experience. He knows in his being when someone cares about him. And I think that's some of the magic in the connection that he and Luke have. Luke is just a phenomenal young man, and Ges is a great judge of character. … He just knew that Luke was special."
Luke had a blast as well.
"Ges was a lot faster than I thought he'd be," Luke says with a laugh. The two of them shaved nearly 10 minutes off Ges's best time in a cross-country race and they finished well before the next race was scheduled to start. Ges noticed improvements in his own running right away.
"Luke helps me pump my arms while I run," he writes. "He encourages me to run and never give up."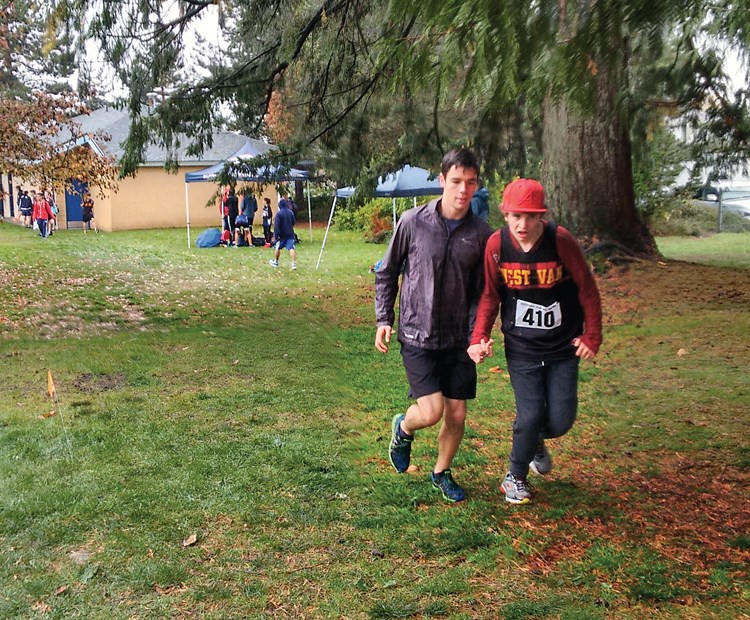 There was one more race left in the season and it was a doozy. Thanks to a proposal put forward by cross-country coaches and organizers from the North Shore, the provincial championships included a para-athlete division for the first time in 2015. Ges was the only official entrant, so as long as he finished the race, he'd be the provincial champion. Luke, not well enough yet to race for STA himself, volunteered to help his new friend get to the finish line.
The race, held at Vancouver's Jericho Beach Park in early November, took place on one of the worst days of the year, with torrential rains turning parts of the course into lakes, and winds whipping the racers from all sides. A photo gallery posted after the race shows athletes crying at the finish line, with racers covered in mud as if they'd just gone through military training, not a high school race.
"It was just disgusting," says Farrell. "If anything was going to kill someone's joy of sport … this weather was going to do that."
But when she looked at Ges and Luke before the race, all she saw was pure joy.
"The two of them, you can see that little boy in their faces," she says. "It's like they've just seen Santa Claus for the first time or something. They are so excited, they are beside themselves. Both of them."
The course was so bad that Luke was worried for Ges's safety, and Farrell was worried for both boys. But they made it all the way through. Ges was so worn out by the end of the race that he couldn't raise his arm to give a friend a high five, but he was happy.
"I remembered feeling cold and hot while I ran the provincial championship," he writes. "It was a hard run. I felt so happy that I wanted to jump high when I finished the race."
Luke almost snapped his own ankle stepping into a hidden pothole, but he had no doubts about Ges.
"I knew Ges would finish the race no matter what," he says. "He was just so determined. He just loves to run – I knew he'd finish it."
Ges, just like his buddy Luke, was a provincial champion.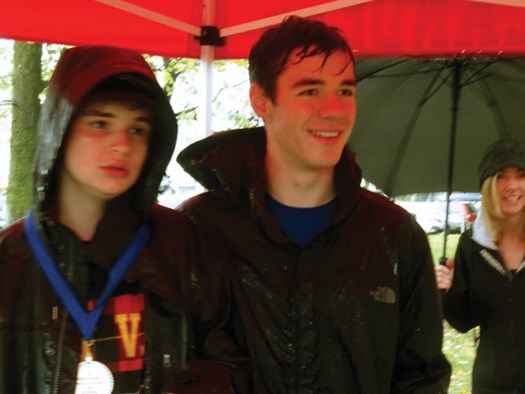 • • •
Luke and Ges were back at it soon after the provincial cross-country championships. The pair spent the entire winter meeting once a week at the Handsworth track to train together, through all types of nasty North Shore weather.
Ges got to work on his running skills with an elite junior athlete and Luke got to enjoy Ges's quirky sense of humour while also gaining motivation in his own recovery.
"I get to see mental toughness, which is something that is really important in track," Luke says. "You really need that extra motivation to just push yourself a little faster to get a little bit off your time. It's also amazing to watch Ges's progress. If somebody who is struggling as much as he can can have that much progress, I always feel that I should be able to progress just as much after surgery. And it also just makes him happy, which I feel is really important. It's really great because I have been blessed with being able to run really well and it's nice to be able to help him run and enjoy running."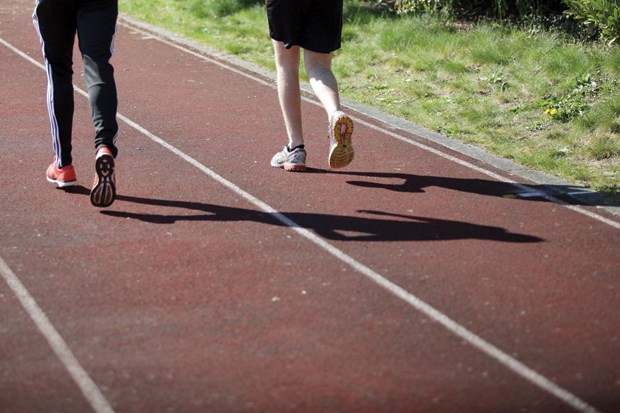 The Sport Awards were held on March 29, with Luke and Ges earning the Fair Play award. Luke calls it "the most amazing award or prize I've ever gotten."
"It wasn't just nice being there and getting the standing ovation, but it was also great seeing Ges's reaction, how excited he was before the award. He couldn't contain himself, he was just overjoyed both before and when we were onstage. He was so proud."
Ges admits that he was nervous before receiving the award – a rare admission, his mom says – but the ovation touched him profoundly.
"I felt like I was flying," he says. "When I think about Luke on stage with me I can't help but smile. The memory makes me happy."
The race isn't over for either Luke or Ges. Both are competing for their school track and field teams this spring. Luke, racing for the first time since his surgery, has taken part in three meets already, showing big improvements each time out. In his latest race he finished third in the 800 m, coming within three seconds of his personal best. He's not back to 100 per cent, but he's catching up.
There's at least one person who believes Luke will achieve greatness wherever he goes, whatever he does.
"Luke strikes me as the kind of person who is going to be that much stronger, brighter, faster for this experience," says Farrell, who has watched the friendship between Luke and her son blossom. "If you have some challenges put in your way and you're the kind of person who learns and grows from those experiences – and it's very clear to me Luke is that kind of person – it's just going to enrich and deepen your life. What's that expression – his future is so bright, he's got to wear shades."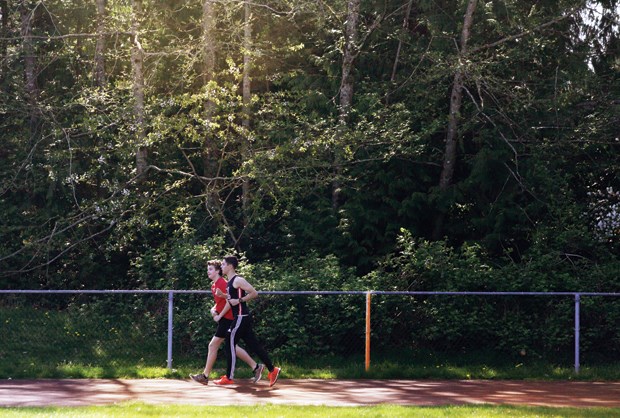 As for Ges, he's gone solo. In his first event of the season, one lap around the track in a 400-m race, he ran for the first time without a guide. He wasn't, however, without guidance. Before the meet Luke enlisted his friends and family members to stage a mock track meet so that Ges would know what to expect on race day. They even worked on the handshake thing – Luke told Ges to shake everyone's hand after the race.
On the big day Ges ran his race perfectly. Luke was there on the final corner to cheer him on. Luke thought about sprinting beside him down the final stretch but he didn't need to. Ges was flying on his own.
"When I run, I think about the track," writes Ges. "I think about doing my best because I run fast, as fast as Ges can run. I can run better by practising. Somedays it is hard to run but I kept trying. I kept trying because there are goals that you want to get. Thank you Luke for being one of the reasons I run."
At the end of the race everyone near the finish line got a handshake. Everyone except for Luke.
"I got a hug," he says. He earned it.