Fifty years ago it was obvious something needed to be done to save rugby on the North Shore.
There were two old clubs – the North Vancouver-based North Shore All Blacks and the West Vancouver Barbarians – that had been battling each other since the 1930s. But as the end of the '60s drew near, both clubs experienced a lack of success on the pitch and a lack of bodies on their rosters, problems which threatened the existence of both teams. The answer was to merge the two clubs into one, but the main sticking point, as de facto club historian Denny Maynard recalls it, was that pesky old rivalry between the two groups that were now supposed to play nice together.   
"In those days there was always a North Van/West Van rivalry," says Maynard, who was a North Vancouver teenager around the time the merger was being discussed. "West Van High and Hillside – we didn't like those guys. That went way back."
As Maynard recalls, when battles weren't being waged on the rugby pitch, they would often spill over to a drive-in restaurant called Kings Burgers which sat at the corner of Capilano Road and Marine Drive, right near the border dividing North Van and West Van.
"There used to be fights," he says. "That was kind of a meeting place of West Van and North Van guys. There was always this kind of animosity."
It didn't take long, however, for that rivalry to turn into camaraderie when the leaders of the two rugby clubs, led by West Van coach Bill Ewing and North Shore coach Alex Mahood, agreed to join together to form one club for all the North Shore.
Now entering its 50th season, the Capilano Rugby Club stands to this day as an institution on the North Shore sports scene and one of the most respected rugby clubs in Canada.
The merger, however, did not immediately produce the all-star results club leaders were hoping for.  
"When we amalgamated this idea of building a juggernaut didn't really come to fruition the first couple of years," says Maynard. "But we had more bodies, so it was a start. And then we got an influx of a lot of young guys."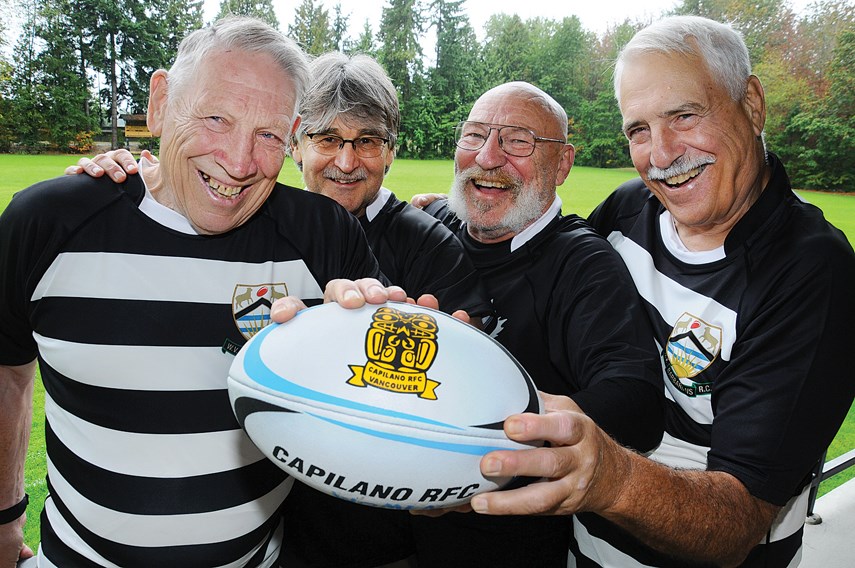 In those early years the club may not have collected championship wins but they did have something that few other teams in the area had: their own clubhouse. Club member Grant Spencer owned an industrial building at First and Lonsdale and he carved out a second-floor space for Capilano members to use.
It wasn't located near any of the rugby fields that the Caps played on, but it was a home nonetheless. For some it may have even been too close to home. Honourary lifetime member and former club president Ken Robinson remembers living with a couple of teammates in an apartment that was just down the block.
"We had an apartment on East First. It was a little too close to the old clubhouse," he says with a laugh. So what went on in that old industrial building?
"Oh, you don't want to know," says Maynard with a laugh. "It was pretty raunchy in those days. And the drinking age was still 21 then." Club records show some of the shenanigans, including one reference to a fundraiser that included a "goldfish-eating contest."
It may have been a bit raunchy, but that space helped form bonds that remain to this day.
"Back in those days to have a place where you could go, and the young guys felt safe and the old guys would kind of bring them along so they didn't get into trouble every time they opened their mouths or had a beer, was pretty good," says Robinson.
Further bonds were created when the club went on a tour of Ireland and England in 1973. The Caps opened their tour by playing, and beating, a team from Dublin's venerable Lansdowne Football Club. They scored more victories along the way and grew tighter than ever.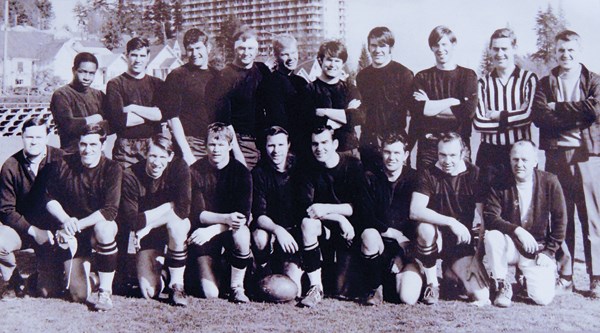 "That kind of really consolidated the club. The next year we came within a game of wining the league," says Maynard. "That was the big stepping stone. We just started getting an influx of a lot of younger guys, good athletes. I would say that tour was kind of the highlight of the first 10 years of the club."
In 1982 the club took another big step, with president Robin Dyke leading an effort to secure West Vancouver's Klahanie Park as the team's home ground and upgrade the facilities there to give Capilano an on-field clubhouse.
"That was a pretty big deal," says Robinson. The clubhouse has undergone a couple of expansions and renovations since then, and is now one of the North Shore's best gathering places for big events. 
"The facility we have now looks after the whole Capilano family," says Robinson. "We have weddings, we have funerals, we have cancer fundraisers, we have games, we have all sorts of community and school-support activities down there. It's a great place for big crowds."
Over the years the club has added youth programs, women's teams, mini rugby and "snow caps" for senior players. 
For Maynard, all the hard work put into building the club was rewarded in 2004 when the premier men won their first Rounsfell Cup as provincial champions, beating the host UBC Old Boys Ravens 17-12, paced by former Carson Graham rugby coach Tom Larisch who scored a try and added two converts and a penalty kick.
"That was kind of the culmination," says Maynard. "When we did the original mission statement for the club … one of the objectives was to build a provincial championship (team). That was a big deal."
The team won it all again the next season and added a third provincial title 2012. The Capilano premier women claimed West Coast Women's Rugby Association titles in 2004 and 2010, and many other age-group and lower division trophies have been collected along the way.
The club has also produced a number of players that have gone on to play for the national team, from Bucky Ellison and Tony Scott in the early days all the way to present day stars like Harry Jones and Andrea Burk, with many more in between.  
The club, however, is about so much more than collecting trophies and winning accolades, says Robinson, who now gets to watch his three children – daughters Melissa and Ashley and son Chris – follow in his footsteps as players and organizers at the club.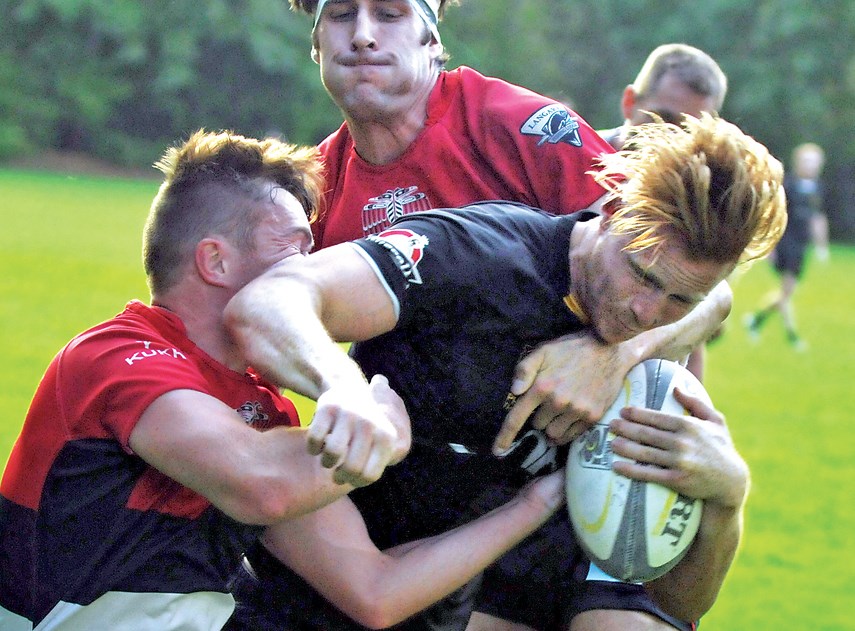 "I'm just really proud of the place and the opportunity that we can give to our young athletes to join a unit like that and grow up with it," he says. "My son started as a mini and my daughters did too. They take ownership of the place, all the youngsters. They look after the place, it gives them a place to call home. … It's a great source of pride for me that I've been able to contribute as I have. And all my buddies – they've either put time, money, or effort into it, or all three. It's quite a collective that we've put together down there to get where we are. I'm just a happy dad when I can go down there and watch my kids. It doesn't get any better than that."
• • •   
The club will kick off its 50th season this Saturday, Sept. 15 with five senior Capilano teams in action, including four matchups against their longtime rivals from the Meraloma Rugby Club. The action starts at 11:15 a.m., with the premier women hitting the field at 12:45 p.m. and the premier men donning retro Capilano jerseys for a match against Meralomas at 2:30 p.m.
At 2:15 p.m. before the premier men's game there will be a special presentation recognizing members from the first Capilano RFC teams in 1969. The club is encouraging any club members from the past 50 years to come out on Saturday sporting their Capilano Rugby Club attire.