Halloween is still a few days away, but in West Vancouver on the weekend more than 1,000 screaming fans witnessed an entire field hockey team come back from the dead.
On Sunday the Canadian men's national team survived an awful fright on their way to scoring an unbelievable win over Ireland to earn a berth in the 2020 Olympic Summer Games in Tokyo. A two-game series between the two teams came down to the final second on Sunday at Rutledge Field, with the score clock actually reaching 0:00 to send Team Ireland – at that point holding a 6-5 aggregate lead for the series – into an ecstatic celebration. The Irish cheers were soon muted, however, as the final play of the game went to a video review and the officials deemed that Canada's Jamie Wallace had been taken down by an Irish defender in the scoring zone in the final second of the game. The decision: penalty stroke for Canada.
The teams then regrouped – some equipment had already been tossed aside in celebration or despair – to see Canadian captain Scott Tupper calmly fire home a penalty stroke to tie the series 6-6, sending the teams straight into a shootout to decide who would go to the Olympics next year and who would be forced to watch the Games from home.
The shootout quickly went sideways as well for Team Canada, as Ireland scored three straight to take a commanding 3-1 lead through three rounds of shooters. From that point on it was do-or-die for Canada, and they came all the way back, scoring on their final two shots while getting strong goaltending from veteran David Carter – he replaced starter Antoni Kindler for the shootout – to storm back for a 3-3 shootout tie, forcing sudden death. Finally in the seventh round the Irish shooter missed, opening the door for Canadian Adam Froese, who danced and deked in front of the Irish keeper before firing in the winning goal and touching off an epic celebration on the field and in the stands.

West Vancouver native Fin Boothroyd, a 20-year-old forward who played a reserve role for Canada in the two-game series, had trouble putting the victory into words in the moments after the final shot.
"I'm speechless. Absolutely speechless. … I've been in big games before but this is something different, this is a world of its own," said Boothroyd.
"This team gives me so many grey hairs but I had no doubt that we would play much better today and we did," added Canadian head coach Paul Bundy. "We executed the game plan and we got into a shootout and we know David is great in shootouts. That dream and that vision we had four years ago just continues."
Ireland came out firing in Game 1 of the series, scoring a 5-3 win on Saturday to put themselves into the driver's seat on Sunday. They tightened their grip early in the second game, scoring against the run of play to take a 6-3 lead on aggregate. Canada missed several scoring opportunities, including a number of penalty corners, before Gordon Johnston finally got them on the board in the second quarter. After halftime Canada struck again as Johnston blasted a great ball that was tipped in by Oliver Scholfield right in front of Ireland's goal.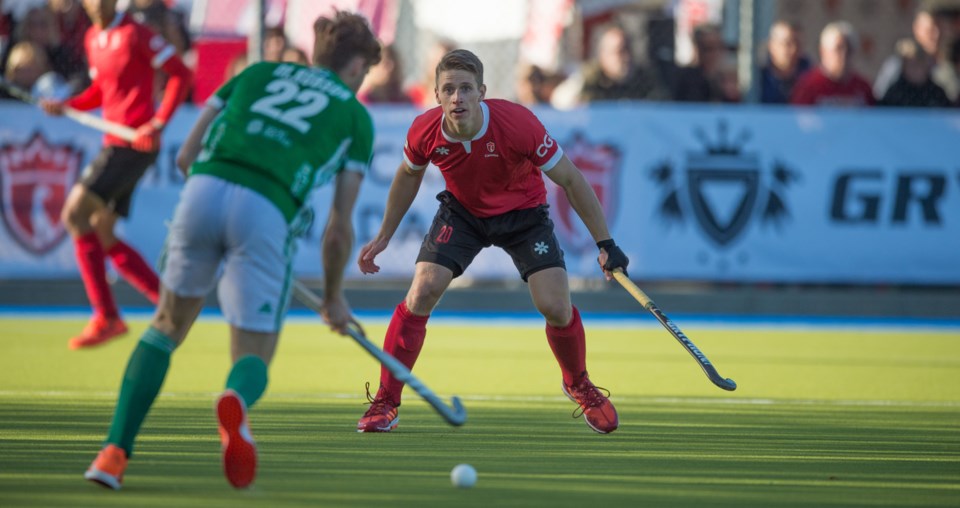 With five minutes left Kindler made a massive diving save to keep Canada within one, setting the stage for the last-second miracle followed by the stunning shootout victory.   
"We were down and we just kept fighting," said Boothroyd. "That's why I love these boys, we keep fighting no matter what."
The win was sweet for Boothroyd, who got to do it on the home turf of the West Vancouver Field Hockey Club. His grandfather, Lawrence S.A. "Boots" Boothroyd, co-founded the West Vancouver club, which has grown to become the largest field hockey club in North America.  
"I can't even describe it," said Fin Boothroyd about winning at home. "My whole family is in the crowd here, my grandma is cheering us on, my grandpa helped start the club. It's just crazy. We're going to the Olympics. We did it at home."
This is only the second time in team history that the Canadian men have qualified for two straight Olympics.
"It's amazing. It hasn't even sunk in yet," Boothroyd said about booking a ticket to Tokyo. "You're going to have to give me a couple of days. For now it's just super special and I'm super pumped to do it at home."