In the first six months of the year we saw residents rally against big oil, big bus, and big water pipe. But amid stories that dropped jaws and  decisions that raised hackles, we also got a few glimpses of kindness and heroism, like in the story below.
January
'Fate' credited in Manning Park crash
The pickup truck hit black ice and spun off a highway in Manning Park, tumbling down an embankment and landing on its side – leaving North Vancouver residents Bev Bachman and Terry McEwen trapped.
"You don't know if you're going to live or die," Bachman said.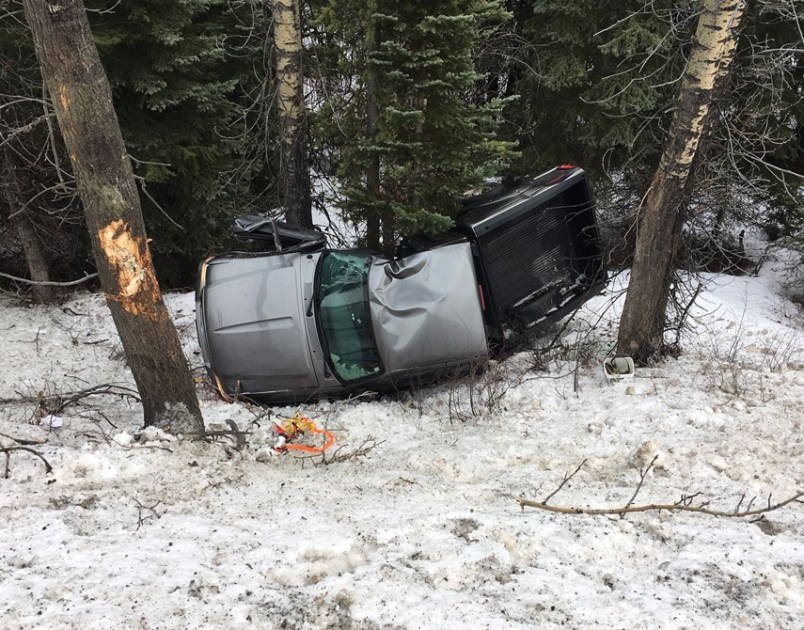 Despite bleeding from his head, McEwen escaped the pickup truck and walked to the road, attempting but failing to flag down drivers on the highway until fellow North Vancouver resident Michael Keffer and his friends Bill Mitchell and Glen Ulmer spotted him.
The group headed back to the truck and, as Bachman tried to pull herself out the driver's side window amid a tangle of trees, Keffer smelled gas.
"We thought it was worth the risk to get her out of there," he said.
The amateur rescuers muscled her out of the truck. Bachman recognized Keffer, eventually realizing they'd been classmates in elementary school and he'd coached her son's Ultimate Frisbee team.
"I think fate was kind of smiling on all of us," Keffer said. "It's been said there's no such thing as community unless you help your neighbour."
Home prices drop. No, really
After skyrocketing became routine, this year's sticker shock stemmed from a dip in home values, particularly in West Vancouver where assessments dropped an average of 12 per cent.
"Foreign buyers have almost disappeared," said real estate specialist Satnam Sidhu. "If you bought a home in 2016 and you have to sell it now, you're going to lose money."
But while home prices were down, condo assessments spiked, rising between six and seven per cent across the North Shore.
Industrial assessments go 'crazy'
Commercial assessments increased between 21 and 27 per cent on average – a change that could imperil business owners through triple-net leases.
"Lower Lonsdale will be doctors' offices, dentists' offices and Starbucks," predicted industrial property owner Wayne Sugden. "Tenants are getting nailed to the wall."
Some investors may have switched from residential to commercial properties, suggested Tyke Babalos, who owns commercial buildings both in Edgemont Village and along Marine Drive.
"We've never seen the market be this crazy," said District of North Vancouver Coun. Lisa Muri. "There are businesses that have been here for decades that are leaving."
Cyclist dies in crash with dump truck
North Vancouver cyclist Mike McIntosh died after being knocked under wheels of a truck trailer on West Esplanade. He was 55.
The Simon Fraser University librarian was within the painted bike lane when, according to police, a driver opened his door into the bike lane, setting off a chain reaction crash.
A 59-year-old North Vancouver man faces one Motor Vehicle Act charge of "Unsafe opening of a car door." If found guilty, the maximum fine is $81, including a victim surcharge.
February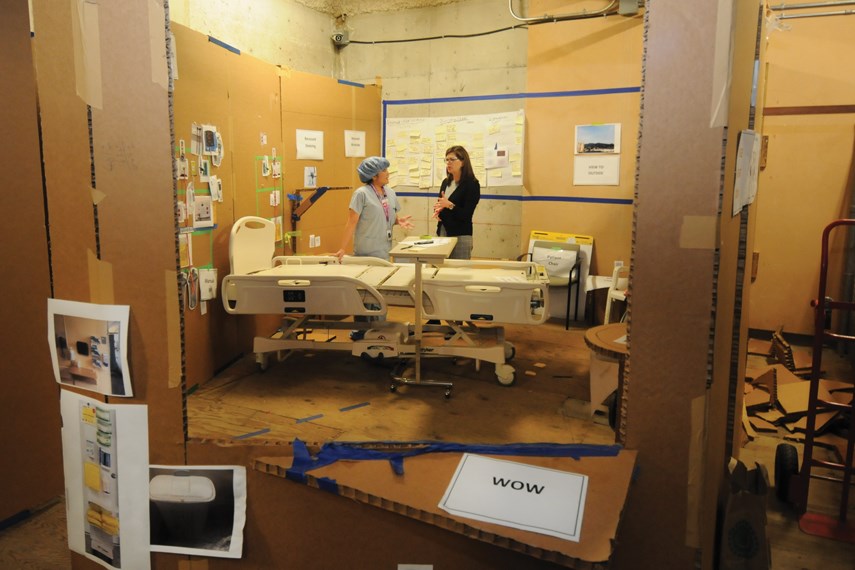 LGH raises $100 million for '100-year building'
Following a 23-month fundraising blitz that yielded $100 million, Lions Gate Hospital began preparations on a six-storey, 108-room tower set to replace the hospital's acute care centre.
The 200,000-square-foot, $166-million tower should offer patients more privacy, serenity, and will ultimately aid recovery times and control infections, according to LGH staff.
Construction is tentatively set to begin by June 2020.
"We really want to make the hospital as forward looking as possible . . . because it's probably going to be a 100-year building," said Keith McBain, executive director of LGH Redevelopment.
Former top CNV bureaucrat named in securities investigation
Ken Tollstam, who was chief administrative officer at the City of North Vancouver for 37 years prior to his 2018 retirement, was named in a BC Securities Commission investigation into an alleged, widespread illegal share distribution scheme.
Tollstam is among a long list of people, including at least six from North and West Vancouver, who securities commission investigators allege "engaged in conduct that is contrary to the public interest."
None of those allegations have been proven.
The securities commission has alleged that between February and August of 2018, the BridgeMark Group – which includes 26 individuals and their respective financial services companies – privately bought at least $50.9 million worth of stock at pennies per share but had most of the money returned in alleged phony consulting fees – while keeping the public in the dark.
In 2017, Tollstam was the highest-paid bureaucrat among local government managers on the North Shore, earning over $275,000 in compensation, according to the municipality's Statement of Financial Information report.
West Van senior loses $185 thousand, cops get it back
A West Vancouver woman was scammed out of $185,000 by international fraudsters who purported to be: a clerk from Tiffany's jewelry store, a bank fraud officer, and police detectives.
"The whole thing was made to sound very authentic," she said.
But after wiring money for safekeeping during the "fraud investigation," she began to doubt the authenticity of the callers and phoned the police.
Officers in West Vancouver immediately contacted police and bank authorities in the United Kingdom and were able to freeze the transfer.
"I feel incredibly stupid and embarrassed and rather ashamed," she said, but added, "I feel the only way to stop it is to talk about it."
DNV's population flattest in Metro
The District of North Vancouver had the slowest year-over-year growth in all of Metro Vancouver at 0.5 per cent, according to the province.
The District of West Vancouver's population grew by 0.6 per cent since 2017 while the City of North Vancouver's population was up 1.3 per cent, slightly below the Metro Vancouver average of 1.5 per cent.
CNV seeks regional housing solutions, DNV strikes task force
In a bid to unite the North Shore on one issue, City of North Vancouver council unanimously supported a North Shore Housing Solutions Lab.
The lab was designed to include all three North Shore governments, the province and federal government, First Nations, non-profits and major employers to "address the urgent need for housing facing low and moderate income earners."
The District of North Vancouver declined to participate, instead striking an 11-member rental, social, and affordable housing task force.
"I feel like we might be giving [the task force] the impossible task of trying to find a unicorn or a pot of gold at the end of a rainbow," Coun. Mathew Bond said.
National Energy Board recommends pipeline expansion
Despite steadfast opposition from local First Nations, the Trans Mountain pipeline expansion project once more earned approval from the National Energy Board.
While concerns over impacts of marine shipping "weighed heavily," the board reasoned that the risks were justified in light of several factors including increased access to diverse markets for Canadian oil and jobs created across the country, according to a NEB spokesman.
The NEB decision was "disappointing, but not at all surprising," according to Tsleil-Waututh Nation Chief Maureen Thomas.
"This recommendation changes nothing about our opposition to the project. We continue to deny our free, prior and informed consent," she stated.
March
Hero teens praised for chairlift rescue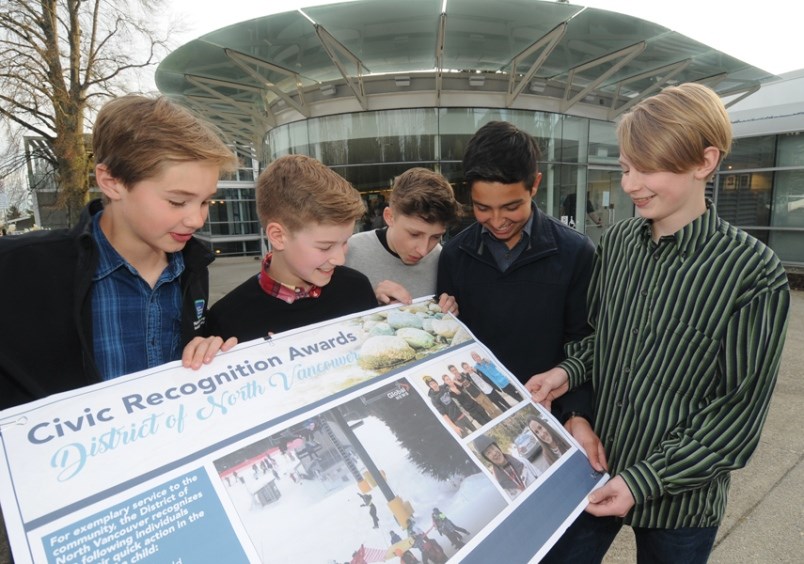 A group of North Shore teens carried out a dramatic rescue on Grouse Mountain after spotting an eight-year-old boy dangling from the Screaming Eagle chairlift.
"The kid's screaming and the dad's holding onto him by his hood and arm," said James MacDonald, 14, one of the rescuers.
MacDonald and his friends used orange snow fence and pieces of padding to form a makeshift life net, stopping other skiers to help pull the net tight.
"By the time this was all finished, the child was flailing about. He was going to fall any second," MacDonald said. "We told the dad 'Listen, you just need to trust us.' Eventually the dad did let go and [the child] landed with no injuries at all."
Gabe Neilson, 13, said he was a little wary about the word "hero" now being bandied about.
"I guess we did save him but I think heroes is maybe a bit much. I think we did our part and we did what was necessary," he said.
B-Line route beaten back to Park Royal
The B-Line took an L in West Vancouver as district council, backed by a groundswell of opposition to bus-priority lanes in Ambleside, ended months of controversy by halting the bus at Park Royal.
"This council will have to decide between supporting buses or supporting single-occupancy vehicles. You cannot do both," said Coun. Nora Gambioli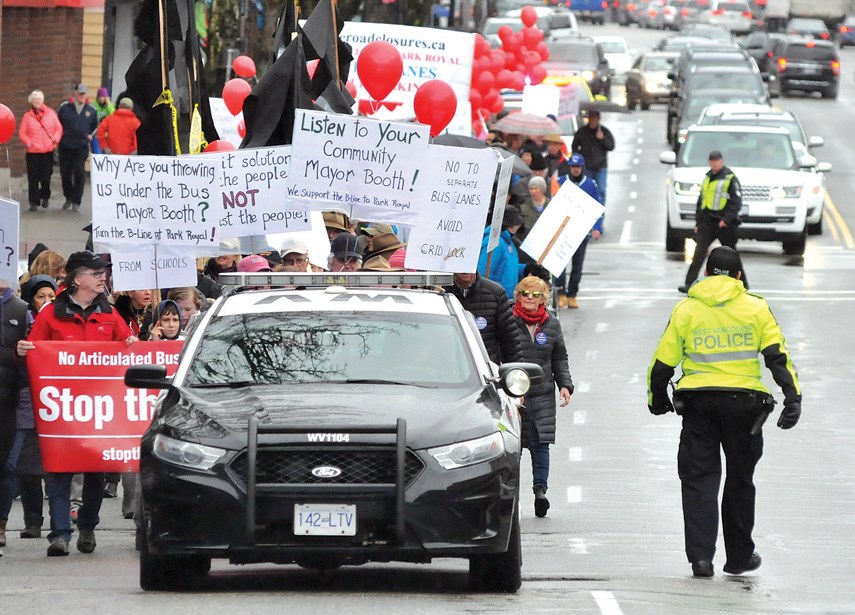 Coun. Bill Soprovich likened support for the B-Line to advocating water running uphill.
"I don't think we should be bullied in any way, shape or form by TransLink or anybody else," he said.
Amid "almost tribal" debate, West Vancouver's councillors were dubbed: idiots, dictators, prostitutes and thugs, Coun. Craig Cameron summarized.
"Frankly, I've never been so disappointed and ashamed of this community as I've been during this B-Line debate," he said before being momentarily drowned out by the crowd.
The process included street protests, videos accusing TransLink of misinformation, as well as a parody Beatles tune supporting the B-Line written by MLA Bowinn Ma and recorded by DNV Coun. Jordan Back.
"It's a new beginning once this B-Line thing's squashed," promised anti-B-line crusader Nigel Malkin.
DNV nixes affordable rentals on Burr Place
District of North Vancouver council terminated a proposal from the non-profit Hollyburn Family Services Society for a 100-unit, all-below market rental building on district-owned land on Burr Place.
"I'm very disappointed in the new district council. They just don't have the strong enough political will to truly address the affordable housing situation and homelessness," said Nanette Taylor, executive director of Hollyburn Family Services.
The district is embarking on a review of the official community plan, which should result in more affordable housing being built in the future, said Mayor Mike Little.
Council also opted not to provide $11,517 core funding for the Community Housing Action Committee, which advocates for increasing the stock of affordable housing on the North Shore
The municipality and advocacy group may not be aligned on housing, Little said, explaining CHAC's support for redevelopment at Emery Place which "broke a lot of trust in Lynn Valley."
Shuttered Ambleside youth centre destroyed by fire
Flames tore through the roof of the decommissioned Ambleside Youth Centre on the evening of March 30, eventually causing the historic building to collapse.
The decrepit Pound Road building – built as part of an anti-aircraft gun encampment during the Second World War – had been decommissioned and was set to be demolished.
Nearly six months after the building was torched, West Vancouver council voted unanimously to pursue both a permanent and temporary replacement for the centre.
"The demise of the youth centre is presenting us with an opportunity to really find something that's more permanent," said Mayor Mary-Ann Booth.
West Vancouver council eventually allocated $250,000 for an interim Youth Services Hub at Park Royal South.
April
Shooting victim remembered as 'sweet' and loyal friend
Ngoc Mai (Anita) Nguyen, 32, was fatally shot in a parking lot in the 1100 block of Lonsdale Avenue.
Nguyen, the single mother of a three-year-old daughter, was rushed to hospital shortly after 11 a.m. but could not be saved.
Childhood friend Diana Paredes described Nguyen as a sweet and loyal person.
"She would have your back every time if she knew somebody upset you. She would make things right," said Paredes.
Police urged anyone with information about what happened to Nguyen to contact the RCMP's Integrated Homicide Investigation Team.
Lower Lonsdale opens taps on new brewery district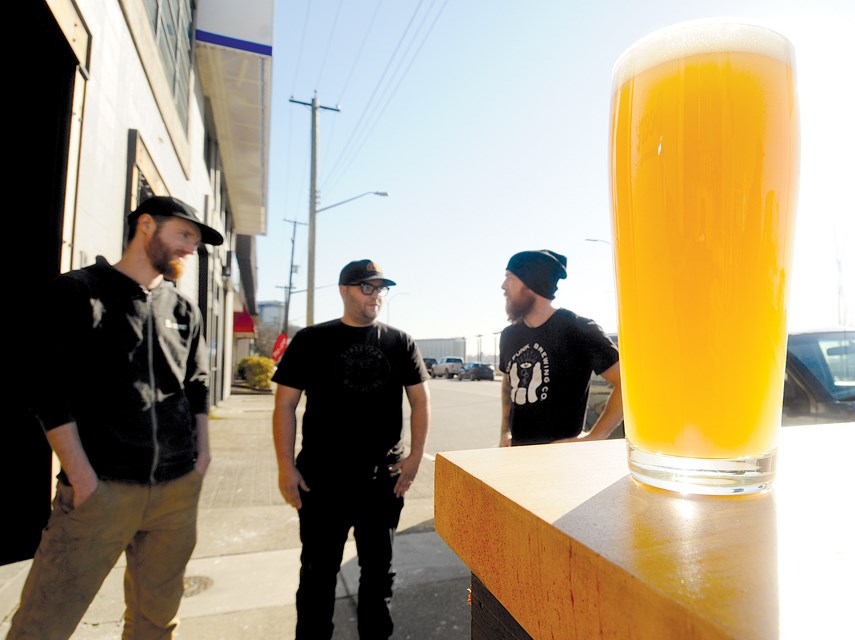 The City of North Vancouver made it easier for new breweries to open lounges in the industrial area east of St. Georges Avenue, along East Esplanade and First Street.
"We see this bylaw amendment as an opportunity to put North Vancouver on the map in regard to craft beer," said Darren Hollett, co-founder of House of Funk.
Capilano University builds Lonsdale campus
CapU started work on an 11,000-square-foot satellite campus in the City of North Vancouver's Shipyard Commons.
"It's almost like it's going to be our gateway to the North Shore," said Paul Dangerfield, CapU president.
The long-term lease will cost the school about $800,000 per year but Dangerfield said CapU will be able to generate enough revenue from the site to cover the cost.
 "To be honest, I anticipate within a year or two, we're going to be so full, I'll probably be looking for more space," he predicted.
Herring absent in West Van
After three fruitless years spent trying to get herring to spawn at local docks, West Van streamkeepers were left looking at empty nets.
"They're one of the most significant fishes on the coast in that they provide food and feed for animals at every stage of their life from humans to birds, mammals, cetaceans – everything eats herring," streamkeeper Keith Pelletier said.
In 2018-2019, volunteers focused on Ambleside, Dundarave, the Department of Fisheries and Oceans' Centre for Aquaculture and Environmental Research in Sandy Cove and the public dock in Caulfeild Cove.
"They were out for about three months and all we've accumulated is algae," Pelletier noted.
Homeowners also absent in West Vancouver
Approximately one house out of 10 in West Vancouver is owned by a non-resident – double the average of Metro Vancouver, according to figures from the Canadian Housing Statistics Program.
That data includes so-called "astronaut families," where a spouse and/or children are Canadian residents but the family breadwinner primarily works and has tax residency in another country.
An analysis released by the Canadian Housing Statistics Program subsequently revealed 22.8 per cent of homes in West Vancouver are not occupied by their owner.
May
West Vancouver philanthropist sues Twitter
West Vancouver billionaire and philanthropist Frank Giustra filed a civil claim against Twitter, alleging the social media giant published defamatory statements that "vilified" him for political purposes relating to the 2016 U.S. election.
"The targeted attack on the plaintiff was part of an orchestrated campaign to discredit the plaintiff in part because of his charitable and philanthropic work in support of the Clinton Foundation," the claim states.
Some of the posts noted in the suit included threats on Giustra's life as well as tweets calling him "corrupt," a "murderous thief," a "criminal" and that he was involved in Pizzagate, a "discredited and malicious conspiracy theory."
Giustra notified Twitter multiple times about the false and defamatory statements. Some were removed but "Twitter has neglected or refused to remove and continues to publish a large number of false, defamatory, abusive and threatening Tweets."
Giustra is asking for a mandatory permanent injunction requiring Twitter to delete the Tweets and prohibit further publications by its users of materials that are defamatory to him, as well as general damages.
No response has been filed and the claims have not been heard in court.
City may scale back Harry Jerome plan
The once-approved, now-stalled Harry Jerome rec centre replacement remained sidelined this year following council's unanimous decision to await the completion of an overall city recreation strategy.
The previous council approved a $210-million rec centre replete with a curling rink and a 50-metre pool, in July 2018. However, the newly elected council voted to freeze the project prior to the construction tender phase until financial mitigation measures were in place.
Handsworth rebuild back on track – new track still in starting blocks
Following a six-week delay, District of North Vancouver council unanimously approved a development permit for the $62-million Handsworth rebuild.
The new Handsworth will be 139,931 square feet – a reduction of 13,239 square feet from its current footprint. While Handsworth's current enrolment is 1,471, the new school has a capacity for 1,400.
The school is tentatively slated to open in September 2021. However, the school district has indicated the move-in could be pushed to December that year.
Once the school is built, the 57-year-old building is set to be demolished and replaced with a grass field in 2022.
District council subsequently voted to fund a portion of the $3.8-million four-lane track if the school district, federal and provincial governments share equally in the cost.
West Van MP Goldsmith-Jones not running for re-election
Pamela Goldsmith-Jones, the Liberal MP for West Vancouver-Sunshine Coast-Sea to Sky Country, announced she would not run in the 2019 federal race.
I couldn't commit to another four years," said the former West Vancouver mayor. "I want to be closer to home."
Goldsmith-Jones received a severance payment of approximately $98,000 after four years as an MP.
Maplewood Innovation District on ice
Ten months after a previous deferral, District of North Vancouver council deferred voting on Darwin development company's planned Maplewood Innovation District until 2020.
After initially proposing 900 units of housing and 1.4-million square feet of business space on the former gravel quarry site, Darwin advanced a more modest development this year, pitching a combined 424,713 square feet of light industrial and office space as well as 250 to 275 rental units.
Coun. Megan Curren wasn't supportive of either Maplewood project, advising her colleagues of the fragility of the forested area.
"We're under attack by a lot of failed policies beginning with colonization," she said.
The story took a twist later in the year when Tsleil-Waututh Nation applied to add 45 acres in Maplewood to their reserve, land that it had been seeking to redevelop in partnership with Darwin into the Maplewood Innovation District.
June
Seaspan launches Coast Guard ship
Seaspan Shipyards celebrated the launch of the Capt. Jacques Cartier, the second of three offshore fisheries vessels built by Seaspan for the Coast Guard under a $687-million fixed-price contract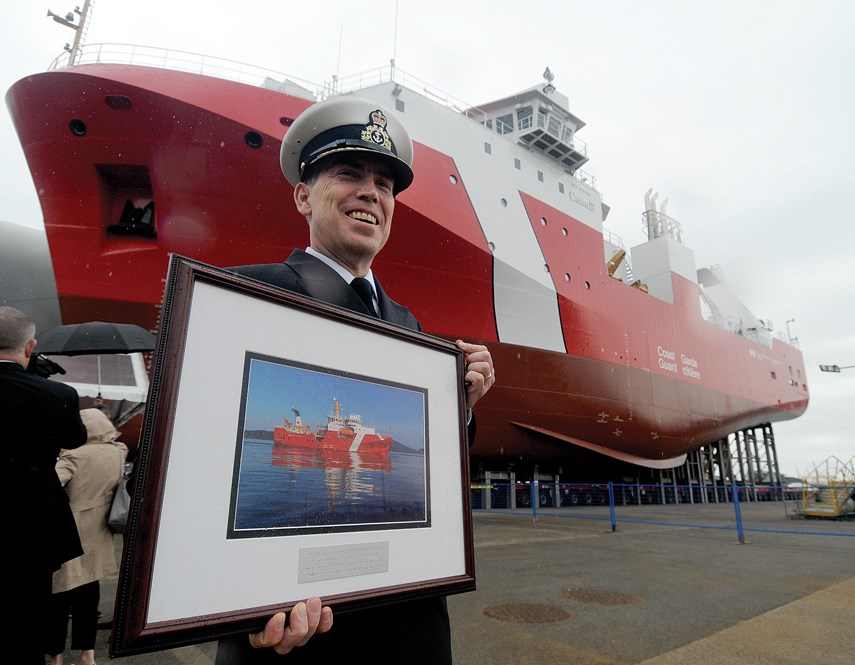 "This is a historic fleet renewal," proclaimed then Minister of Fisheries and Oceans Jonathan Wilkinson, MP for North Vancouver.
Like the other fisheries vessels, the 63-metre Jacques Cartier will work on monitoring of fish stocks and the impact of climate change as well as being equipped for emergency environmental response and search and rescue missions.
Cedar felled as Five Creeks stormwater project moves ahead
After an acrimonious standoff that included a stop in B.C. Supreme Court, workers limbed a western red cedar at the foot of 31st Street in West Vancouver to facilitate $16-million stormwater pipeline.
The tree had been a rallying point for West Vancouverites opposed to a five-foot diameter pipe built by British Pacific Properties and the District of West Vancouver to handle excess flows from Pipe, Westmount, Cave, Turner and Godman creeks on the slopes of Hollyburn Mountain.
Criticisms included charges of a lack of consultation, and suggestions real estate values would dip.
Protesters were ordered not to interfere with the project by B.C. Supreme Court Justice Nathan Smith, who concluded the court had no jurisdiction in the dispute.
In the second half of 2019 we saw a new ice rink and misconduct that had nothing to do with hockey. There was a controversial bird ban, the restoration of the Shipyards, more highways and more calls to take climate change seriously. But even as we considered the loss of two West Vancouver landmarks (the Pink Palace and MLA Ralph Sultan) no story was quite as inspiring and impactful as the volunteers who broke rocks to save a river.
July
Cops assaulted by teens at beach party
A Canada Day celebration in Ambleside turned into a violent mess when police officers approached a crowd of 300 teens, many of whom were underage and intoxicated.
Both officers were assaulted as the group chanted and swore while "many filmed the interaction," according to a release from the West Vancouver Police Department
There were no injuries although one officer's nose was bloodied.
While fights broke out amongst the group, police eventually closed down the park, causing traffic backups and ruining Canada Day festivities for many.
Fun Fest slides amid lack of slide
The Fun City Festival – which typically features a four-block-long waterslide down Lonsdale – was cancelled for the first time in five years.
After a third-party slide provider pulled out the city opted to scrap the fest, directing attention instead to Shipyard Commons.
Courthouse standoff ends peacefully
A standoff that paralysed a section of Lonsdale Avenue ended with a peaceful surrender.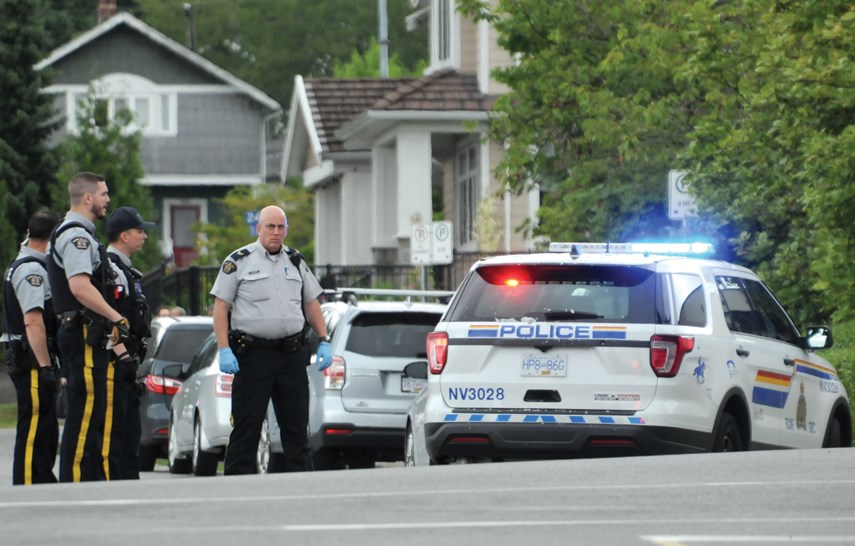 A man in a mental health crisis held a knife to his throat on the steps of the North Vancouver courthouse, eliciting a massive police response including a tactical unit and police dogs. Meanwhile RCMP Sgt. Doug Trousdell listened to the distraught man, "Trying to hear him out and persuade him that there are other ways to get his message across," Trousdell said later.
After putting down the knife, the man was apprehended – not arrested – under the mental health act.
Law society rules Sager committed misconduct
West Vancouver lawyer Mark Sager – who came within two dozen votes of winning the mayor's office in 2018 – committed professional misconduct when he directed a will to be prepared for an old family friend that named him as one of the beneficiaries, the B.C. Law Society ruled.
The three-person disciplinary panel's decision also found Sager's accepting a gift of $75,000 from the same woman when she had not received independent legal advice was a breach of standards.
Reached at his West Vancouver office, Sager said he was grateful that the law society "recognized that the person who gave me the gift was very dear to me as I was very dear to her" and that the woman had full mental capacity when making her decisions.
CNV's shipyards debuts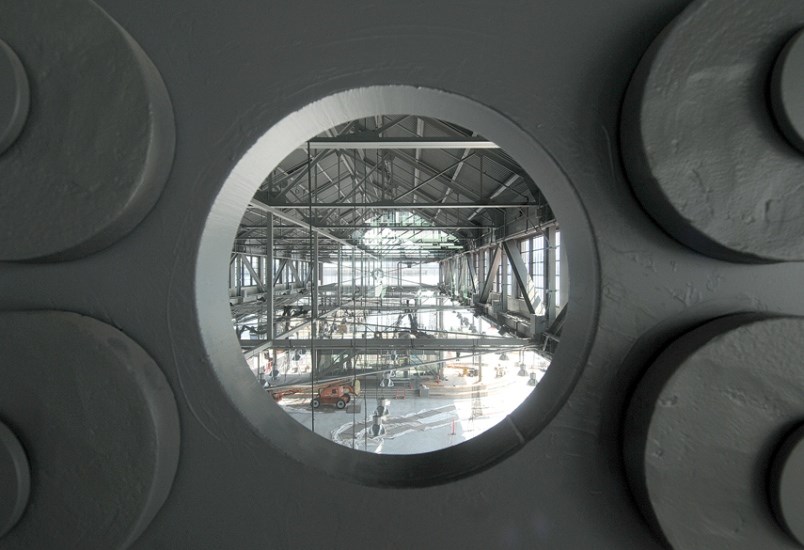 After a century as a hub for industrial activity and decades as polluted brownfield, City of North Vancouver's waterfront was reborn as Shipyard Commons – an 8,000-square-foot water play area/indoor-outdoor plaza with event stages.
"The idea was to pretty much resurrect the ghost of that old building overtop of this public plaza to provide this amenity in conjunction with the commercial development," said Shane Oleksiuk, Dialog architect.
The idea was for a vibrant, compact community close to transit.
"I think it's achieved that in spades," said Mayor Linda Buchanan. "When we're city building, it doesn't really end."
City OKs two pot shops, rejects four others
The City of North Vancouver gave the green light to two recreational cannabis shops and stubbed out four others.
Council approved applications for 221 West First St., and for a new bricks and mortar shop at the northeast corner of Park & Tilford.
The provincial and federal requirement to have opaque or blacked out windows led council to reject The Herb Co. at 1717 Lonsdale Ave. Explaining the decision, Mayor Linda Buchanan emphasized council's priority to " transform Lonsdale into a great high street."
DNV approves bike lanes, ditches parking on E. 29th
Bike lanes will roll through East 29th Street and about 160 out of 200 parking spots will be scrapped despite Coun. Lisa Muri's call for a pause.
Council's commitment to bicycle lanes is: "our commitment to the future," said Coun. Jim Hanson.
Every property along the bike route has on-site parking, according to a district staff report.
Heading west, cyclists will be able to pedal from Lynn Valley Road along East 29th Street, cross the street to a two-way bike lane west of Royal Avenue and then head down Tempe Crescent to East 27th Street, avoiding the huge hill on 29th Street.
August
West Van mayor threatened
Death threats targeting Mayor Mary-Ann Booth and council were scrawled in spraypaint on a developer's information boards on Esquimalt Avenue, resulting in a police investigation.
Coun. Craig Cameron described the graffiti as: "indicative of a degradation of our civic discourse."
Trucker survives fiery crash
Speed and slick roads were likely factors in a fiery crash that sent a trucker to hospital and choked off the morning commute across the Ironworkers Memorial Second Narrows Crossing.
Just before 4 a.m., a truck carrying drums of used cooking oil overturned and was engulfed in flames on the Dollarton Highway off-ramp from Highway 1.  Four firetrucks used their water supply to extinguish the fire.
All that was left of the truck's cab was charred and twisted metal. The crash also dealt heavy damage to the guard rail, though the bike lane and sidewalk remained open.
The driver was taken to Lions Gate Hospital with minor injuries.
Argyle construction commences, concrete costs a problem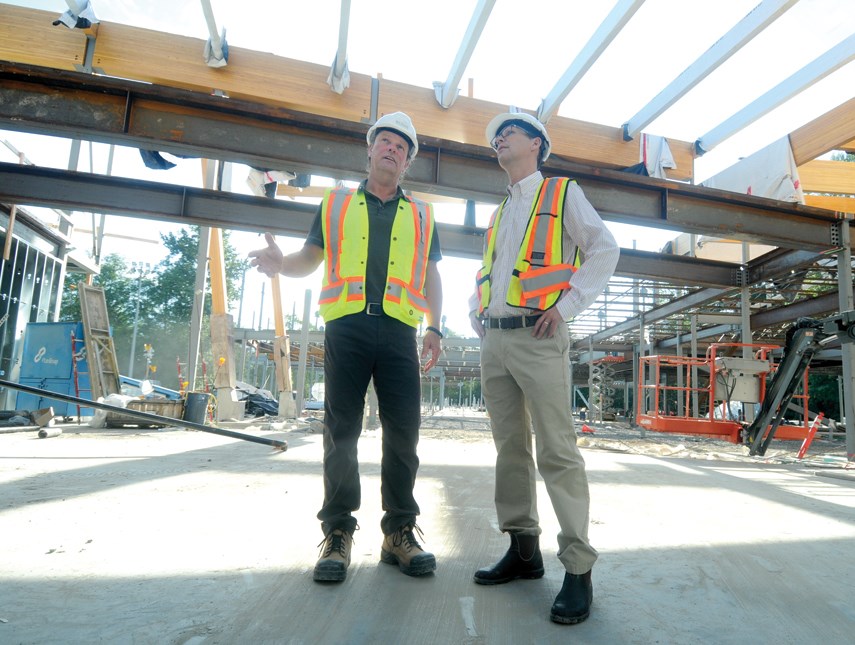 The steel skeleton of a new $63-million Argyle Secondary school rose in August but by October was already in a financial hole.
North Vancouver school trustees voted to set aside an extra $1.5 million in contingency funds to deal with escalating construction costs after the previously approved $4 million was spent on unexpected geotechnical issues, steel tariffs and commute times for contractors driving from areas like Langley.
Secretary-treasurer Georgia Allison said most large concrete providers in the Lower Mainland won't bid on the project because they "have at least one or two or three bridges to cross" and can't guarantee their trucks will make it to the site within two hours. "After two hours the concrete isn't accepted by the engineers," she said. The limited number of local bids has pushed concrete prices higher.
September
Mountain Hwy project lurches toward completion
After the project fell a year behind schedule, work neared the finish line for the $200-million Mountain Highway interchange.
The delay was caused by a mass of underground infrastructure that had to be decommissioned and moved while the ground was open.
On- and off-ramps from the Cut opened in November with plans to divert traffic in both directions to two new bridges being built across Lynn Creek, allowing crews to rehabilitate the existing orange bridge and keep it in service until 2050.
The latest traffic modelling the Ministry of Transportation and Infrastructure has done projects the commute time from the top of the Cut to mid-span of the bridge to be half of what it is now.
The Lower Lynn interchange opened in spring, resulted in long backups on Mountain Highway and what one Lynn Valley cyclist termed a "dreadful" experience with no separation from vehicles or painted lanes.
"It was not accommodating whatsoever," Scott Munro said.
Construction on the Main Street/Dollarton Highway interchange is expected to run from early 2020 to the spring of 2021.
Sewage treatment plant construction stopped, started, and improved
Work on the $778-million sewage treatment plant on West First Street stopped cold in April after the District of North Vancouver slapped a stop work order on the site.
The stop work order, which stemmed from administrative requirements, was lifted three months later as Metro Vancouver eventually approved upgrading the plant from secondary treatment level to tertiary – an upgrade that's expected to cost an extra $29 million.
The system employs a series of disc filters – essentially very fine screens – to significantly reduce the organics and pharmaceuticals being discharged into the environment while also ditching an ocean outfall in Burrard Inlet in favour of restoration of a foreshore estuary.
"The glass is still half full," said Don Mavinic, a UBC engineering professor who advocated for tertiary treatment. "It shows public pressure can really make a difference."
Students join global climate strike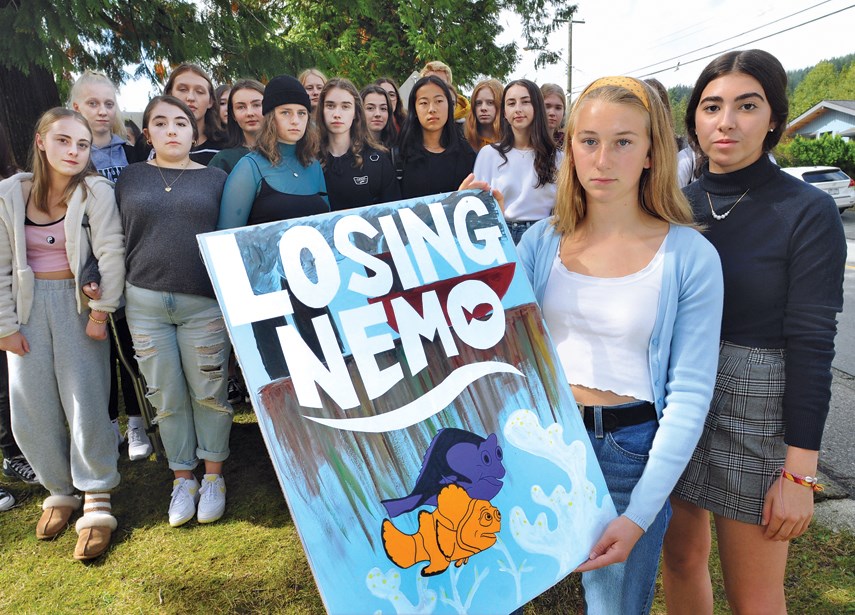 Hundreds of North Shore students stepped out of the classroom and into the streets, converging with young people around the region at Vancouver city hall Friday for the Global Climate Strike.
The movement calls for all countries to transition "fairly and swiftly away from fossil fuels" in the hope of preserving a habitable climate.
October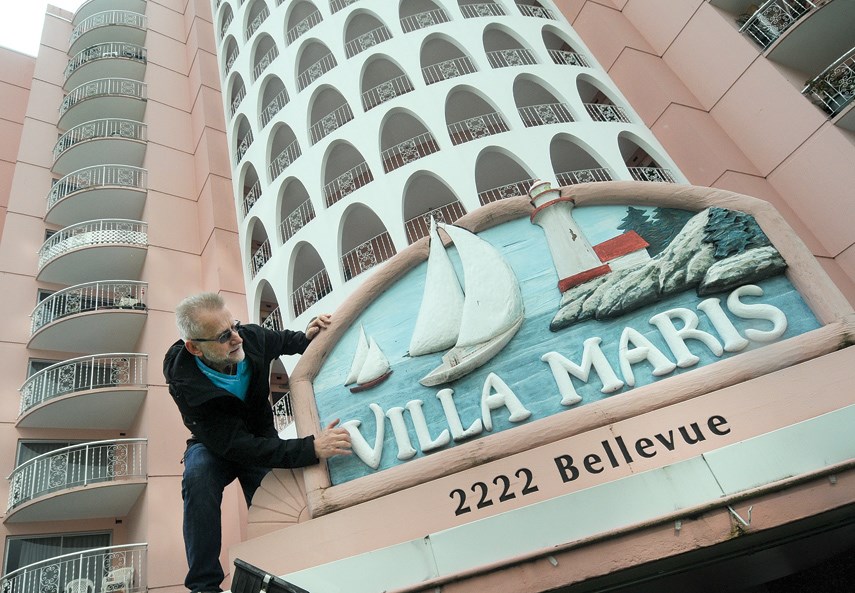 'Pink Palace' up for redevelopment
The owners of West Vancouver's iconic Villa Maris – more popularly known as the Pink Palace – announced plans to redevelop the iconic building.
The 1960s-era structure is "nearing the end," explained family representative Bill Lachman.
It's unfortunate to lose a building that provided a rare Canadian example of the Miami Beach strand of modernism and New Sensualism, said architectural historian Jeffrey Thorsteinson.
'Invisible poverty' on rise in West Van
Amid increasing affluence, West Vancouver's middle class is shrinking and those on the bottom of the financial dogpile are struggling with both low incomes and lack of affordable housing, according to a report by the West Vancouver Community Foundation.
Approximately 14 per cent of households in "dire housing circumstances," spending at least half of their household income on shelter costs. Almost half of those people are seniors.
On the other end of the economic spectrum, approximately 40 per cent of households have after-tax incomes of over $100,000 in West Van – almost double the provincial average.
West Van's 86-year-old MLA ready to retire
After five consecutive landslide wins, West Vancouver MLA Ralph Sultan has announced he won't seek re-election.
"I wasn't pushed," Sultan said. "But I decided it was time."
Sultan said he plans to continue with political advocacy regarding housing and transportation, as well as growing income equality.
"It's a huge problem and it's driving populism. It's driving Donald Trump. It's shaking the foundations of capitalism as we know it," he said.
Liberals sweep North Shore ridings
The country may be divided but the North Shore was unified on election night as all three ridings remained Liberal red.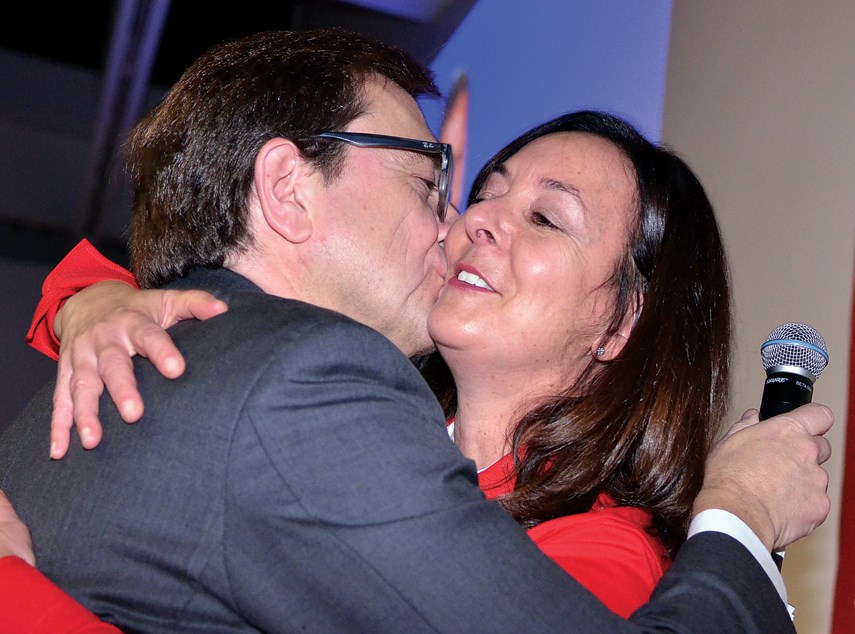 North Vancouver incumbent Jonathan Wilkinson was the first to confirm his re-election, comfortably defeating former Conservative MP Andrew Saxton. In West Vancouver-Sunshine-Coast-Sea to Sky Country, newcomer Patrick Weiler edged Conservative Gabrielle Loren by 5,000 votes.
In a tight race in Burnaby North-Seymour, Liberal incumbent Terry Beech held off NDP candidate Svend Robinson.
November
Urgent care centre opens in Lower Lonsdale
North Shore residents who need more than a Band-Aid but less than a trauma team got a new option with a Lower Lonsdale primary care centre.
Located at 221 West Esplanade, North Vancouver's Urgent and Primary Care Centre treats sprains, simple fractures, minor cuts requiring stitches, minor burns, skin rashes, abdominal pains, and infections, while also offering counselling 365 days a year.
"It's not a standalone service where we're providing care in silo. It's with a whole system of care," explained Sujata Connors, director, community and family health for Vancouver Coastal Health.
West Vancouver doesn't dig Tantalus Gardens
A proposal for six small single-family homes and four duplexes on four lots and the shuttered St. Monica's Church site in Horseshoe Bay went down to a 4-2 defeat, much to the delight of neighbours who panned the project due to density, neighbourhood disruption, and loss of public assembly land at the vacant church property.
"This proposal has unearthed an extraordinary outpouring of local sentiment, regarding in particular the proposed loss of community use space on the church site," said Coun. Peter Lambur.
Exasperated, Mayor Mary-Ann Booth reminded her fellow colleagues they had just voted unanimously an hour earlier to pursue climate action by building smaller, more efficient, more affordable homes.
Smoking snuffed in parks
Despite concerns about enforcement, cigarettes, cigars, pipes, bongs, joints, e-cigarettes, hookahs and vape pens are now verboten in city parks and plazas and on city paths.
Meanwhile, District of North Vancouver council moved to snuff out the darts in district parks.
Matina Spiropoulos, who organized a campaign to ban smoking in parks, welcomed the news. "Most of all, I would like to thank everyone who took the time to write their letters to DNV," she said. "Enjoy the fresh air on the trails."
Rent banks gives out $240K in emergency loans
A rent bank set up by the Harvest Project gave out $240,000 in emergency interest-free loans to North Shore residents facing either eviction or disconnection of their utilities because they've short on cash.
"You don't have to be particularly special to face the challenges of having to spend more than 50 per cent of your income on housing, which is not unusual on the North Shore, and thousands of families and individuals are faced with that every month," said Kevin Lee, development officer for the Harvest Project.
Pigeons flap homes in on Supreme Court
Embattled Lynn Valley pigeon keeper Kulwant Dulay petitioned the Supreme Court of B.C. to overturn the District of North Vancouver's pigeon prohibition on the grounds of illegality.
Dulay alleged the bylaw was aimed solely at his pigeons and "engineered" to benefit his neighbour, Coun. Betty Forbes.
Dulay's lawsuit details communication between Forbes and district staff and between Forbes and Coun. Lisa Muri regarding the pigeon bylaw, including documents first published by CBC News.
Forbes recused herself from all public debates and votes on the pigeon prohibition. Dulay's charges have not been proven in court.
The municipality is also conducting an internal review to determine if any member of mayor and council violated either the letter or spirit of the law while banning pigeon ownership. Lawyer David Loukidelis, a former Information and Privacy Commissioner for B.C., is set to lead the review.  
December
Towers to rise on Hollyburn Mountain
West Vancouver council unanimously supported a revised version of British Pacific Properties' long-gestating Rodgers Creek development comprised of 974 homes spread between 17 buildings ranging from three- to 16-storeys. The total includes 699 units for sale as well as a maximum of 275 rental units.
"We need smaller units and we need rental units," Mayor Mary-Ann Booth explained. "This is a step in the right direction."
The municipality approved a 493-unit project on the site in 2008 but following the agreement's expiration in 2018, council sought a more compact and comparatively affordable development that would maintain the same square footage.
Court orders sale of 'hostel' townhouse
A B.C. Supreme Court judge ordered the sale of the Central Lonsdale townhouse that functioned as an illegal "Oasis Hostel" for years.
Following a legal saga that saw Emily Yu found in contempt of court, B.C. Supreme Court Justice Barry Davies granted the strata's request to force the sale of her home.
Stephen Hamilton, lawyer for the strata, called it a "day of reckoning for Miss Yu."
Agassiz man jailed 15 months in snake venom case
Henry James Thomas was handed an 18-month jail term after pleading guilty to failing to provide the necessities of life in a bizarre case in which two-year-old Aleka Gonzales apparently died after being bitten by a snake while in his care.
Vanessa Gonzales, the child's mother, said it was her worst nightmare come true.
"I'll never be able to touch, smell or hold my baby close to me again," she said.
Mountains moved, river saved
Five years after 80,000 cubic metres of the canyon wall crashed and choked the Seymour River to a trickle, the waterway once more became passable for trout and salmon.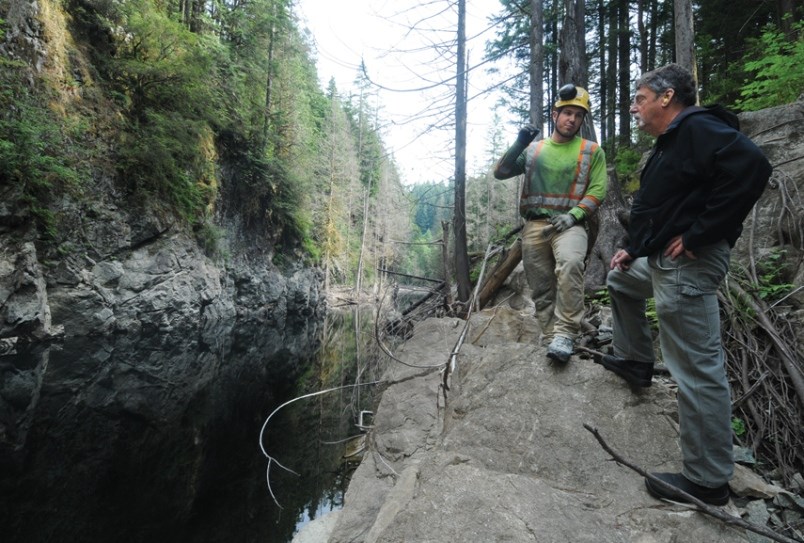 After years of using low-velocity explosives to break boulders, volunteers tracked a mature coho from below the rockslide to the top.
"It's fabulous news. I'm handing out cigars like a new father," said president of the Seymour Salmonid Society Shaun Hollingsworth.
Newspaper hits half-century mark
We celebrated 50 years of the North Shore News in 2019. And to mark the milestone we say, thank you, dear reader.