Construction has started on a new rental building which will provide housing for seniors on the North Shore.
When it's complete, the six-storey Lynn Woods building, located at 2555 Whiteley Court, will provide 106 one-bedroom units for low- and middle-income older adults.
The housing complex will be owned and operated by Kiwanis North Shore Housing Society, who also manage the 205-unit Lynn Manor highrise directly next door.
"Kiwanis supports revitalization in our communities, but we know that it often comes with a loss of older rental housing that has been affordable for low-income residents for many years," said Kiwanis president Patrick McLaughlin, during a groundbreaking ceremony held for the new building Friday morning. "These residents need housing options. We believe the proposed building is not only needed, but is also very well located, everything our seniors need is in easy walking distance – groceries, shopping, personal services, the rec centre, churches and bus routes are only a few blocks away from this building."
The adjacent Lynn Manor rental building has been operated by Kiwanis since 1974. When construction is completed on Lynn Woods, the intention is for the new building to integrate seamlessly with the existing one, according to McLaughlin.
"Our objective is to create a shared sense of community for approximately 320 residents who will live here when construction is complete," he said.
The province kicked in $10.6 million for the project, while the District of North Vancouver supported the project by waiving $2.8 million in potential development costs and levies. District council approved the project and issued a development permit in September 2018.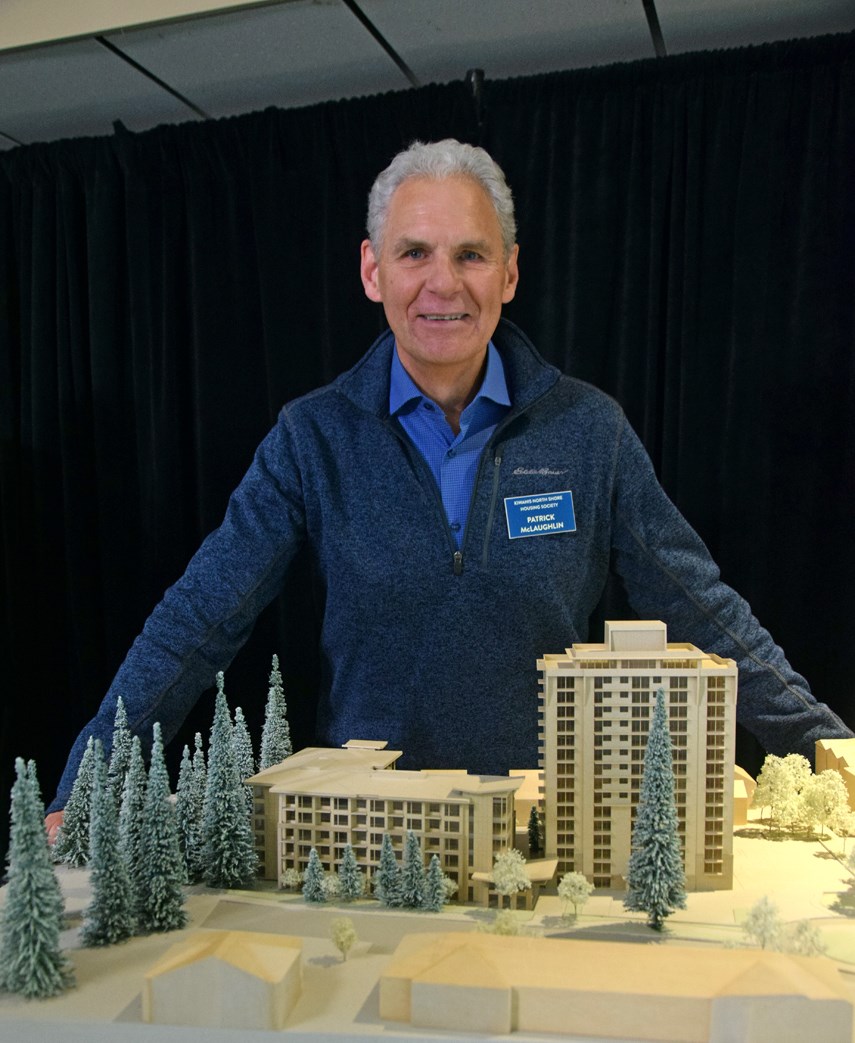 Coun. Jim Hanson, addressing a crowd of Kiwanis residents and board members, as well as BC Housing representatives, spoke about the challenges many face when it comes to affordable housing on the North Shore, and how it could be an even more pressing issue when it's about housing for seniors.
"Both my late mother and my late grandmother spent their final years in supportive housing right here within blocks of this location. This is an issue that's very real to my family," said Hanson.
The mix of rental housing in the new Lynn Woods building will include: 21 units earmarked for seniors with low incomes slated to cost $375 per month; 53 rent-geared-to-income units for seniors with low- to moderate-incomes which will cost approximately $890 per month; and 32 units reserved for middle-income seniors, which will cap out at $1,525 per month.
"Many people have faced the impossible choice of leaving their community to find a home they can afford. That is unacceptable," said North Vancouver-Lonsdale MLA Bowinn Ma.
Kiwanis North Shore Housing Society has been providing below-market seniors rental housing on the North Shore since 1948
Work on the Lynn Woods building is expected to be completed in two years.