It's hardly an art heist like The Thomas Crown Affair, but a Lions Bay artist says someone walked off with a valuable painting that had been on display this weekend at West Vancouver's Harmony Arts Festival.
Druh Ireland's 42-inch by 37-inch, oil-on-canvas abstract titled Right Place at the Right Time, was hanging outside the group exhibition tent at the Harmony Arts Festival until Sunday.
The thief apparently showed up around 5:45 p.m. — just before artists were expected to come and claim any unsold pieces — removed the painting from the wall while impersonating Ireland and walked away.
"That was that. The organizer didn't ask for any ID. Their system for releasing paintings to the artists just totally failed. It was an epic fail," Ireland said.
When the real Ireland showed up to collect the painting, which is valued at $1,880, about 40 minutes later, organizers realized their mistake.
As part of the agreement to have her painting displayed at the festival, Ireland had to have her own insurance coverage but it should be the Harmony Arts organizers who are liable, Ireland said.
"It seems like negligence, I would say," she said.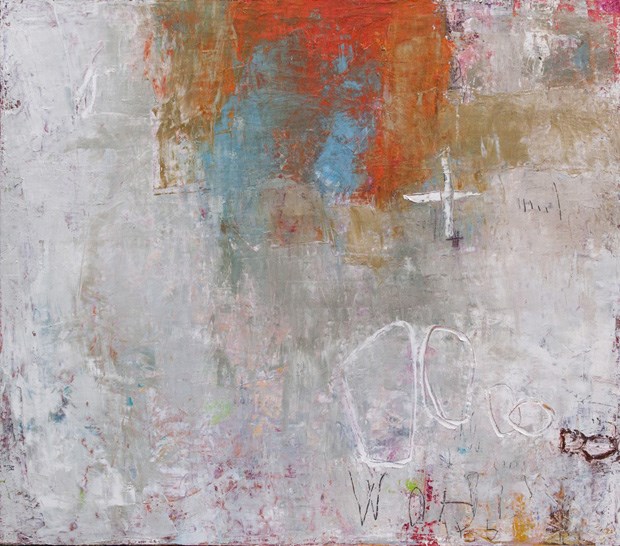 More than a financial loss, Ireland said the painting represented a personal step forward in her technique.
"It's a beautiful piece. It's highly layered with really rich colour in the underneath layers. I take six months to a year to build up many, many layers of paint. . ." she said. "It was a labour of love and it was a bit of a breakthrough painting for me."
Ireland reported the theft to West Vancouver police who told her there is a 'slim to zero' chance of getting the painting back.
According to police, there are no security cameras in that area so a witness will need to come forward to advance the investigation.
Unlike Steve McQueen or Pierce Brosnan, the suspect is described as a white woman in her mid 50s, approximately 5-foot-6, weighing about 200 pounds. She had blonde hair in a ponytail and was wearing a white loose-fitting shirt and skirt.
Ireland will be out in Ambleside putting up posters this weekend in hopes someone will come forward. "And if you see it hanging in your friend's apartment, contact the police or contact me," she said.
District of West Vancouver staff who run the festival have been in touch with Ireland to ensure she'll be paid for the loss through insurance, said Donna Powers, district spokeswoman. "One way or the other, we'll be working with her to make sure she gets compensated for the loss of it."