At 40 years old, West Vancouver's waterfront plan got its first teeth Monday.
Council endorsed a five-year plan that will swap nine buildings for a new arts centre and bistro, trade parking spots for a Spirit Trail expansion and cut off car access to the boat ramp.
After hearing concerns relating to boats, business, fish and the fate of the district's itinerant artists, Mayor Michael Smith emphasized it was a "living plan," and subject to change.
The mayor touted council's recent record of expanding pathways, upgrading playgrounds, and generally working to make the waterfront greener and less cluttered. "I would ask for a little bit of trust that we're not going to do anything stupid there," he said.
Without the boating community, business in Ambleside will suffer, according to boater Andrew Kennett. "The district has completely ignored the boaters as a stakeholder group," he said.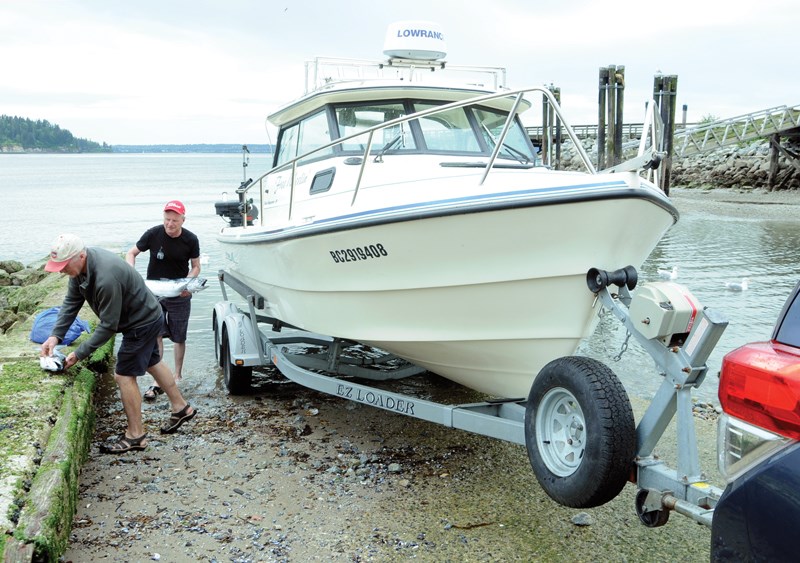 Kennett found an ally in Coun. Christine Cassidy, who agreed the district failed to take the boaters into consideration. Cassidy also suggested it was "somewhat contradictory" to force bistro patrons to cross the Spirit Trail and "maybe (get) run over in the process by these cyclists."
The Spirit Trail, which is meant to appeal to all manner of walkers and rollers, is somewhat incompatible with the minority who use the boat ramp, according to Coun. Nora Gambioli. "The Spirit Trail … trumps the boat launch for now," she said.
A new boat ramp might be found in Ambleside but it will come at a cost, according to Coun. Mary-Ann Booth. "If there is going to be a boat ramp opened, it's likely not going to be free."
While the plan might be bad for boats it's a boon for fish and frogs, according to West Vancouver Streamkeepers director Bill Chapman, who applauded introducing amphibian-friendly wetlands near the Navvy Jack house.
The Navvy Jack house and Ferry Building Gallery are slated to be retained, but Lawson Creek Studios and the Silk Purse Arts Centre are set to be razed or removed.
"The district staff have presented the demolition of Lawson Studios as a foregone conclusion," said North Shore Artists' Guild vice-president Linda Ramsden.
Ramsden beseeched council to delay demolition until a new arts centre near the foot of 13th Street is under construction.
Lawson Creek Studios artists can be accommodated at the Music Box, West Vancouver Community Centre, and Hollyburn Sailing Club in the interim, according to district staff.
Speaking on behalf of the West Vancouver Community Arts Council, Ann Frost called on council to renovate and preserve the honeymoon cottage that became the Silk Purse. "It's always been an icon on our waterfront," she said.
With the demolition of the Silk Purse at least three years away, Coun. Nora Gambioli said she wanted to give gallery-goers "a little glimmer of hope." There's a chance the cottage with the grand piano could be moved or otherwise retained, according to Gambioli.
The pilot plan to close Argyle Avenue to cars between 13th and 14th streets and between 16th and 18th streets before the end of the year had Frost wondering how seniors would navigate the area and musicians would juggle their instruments into the new arts centre.
Parking was also a concern for business proprietor David Jones, who asked council to withhold approval until they know where Argyle's displaced cars were going to end up.
"It's not like I don't trust politicians," he said. "But if we're waiting five or 10 years to come up with parking … I don't think that's fair to the businesses in Ambleside."
His statements were echoed by Ambleside and Dundarave Business Improvement Association executive director Stephanie Jones.
While the ADBIA, which consists of 550 businesses and property owners, supports the waterfront proposal, that support is "absolutely conditional" on the new Ambleside parking strategy, she said.
Closures of Argyle Avenue will likely cost the district 31 parking spots. However, in addition to 13 angled parking stalls created in 2014, the completion of the Grosvenor project and the new police building should free up another 13 parking spots, according to district staff.
New development will also bring parking, according to the mayor, who said it was a "coin toss" whether some Ambleside buildings will fall down or be redeveloped first.
However, Smith also stressed council's goal of getting people out of their cars.
Coun. Michael Lewis did not attend the meeting.