Homeowners in West Vancouver are also the most likely in B.C. to be mortgage-free, despite owning homes that are among the most expensive in the country.
That's what statistics on home ownership from the 2021 census analyzed by Andy Yan, director of Simon Fraser University's City Program, has revealed.
According to statistics analyzed by Yan, 56 per cent of homeowners in West Vancouver have no mortgage on their homes. That's significantly higher than the provincial average of 42 per cent of homeowners who don't have to worry about those pesky monthly payments, and 40 per cent of overall Canadian homeowners.
It's also a higher percentage than the City of Vancouver, where about half of all homeowners are mortgage-free.
Elsewhere on the North Shore, the number of mortgage-free homeowners was lower, but still significant.
In the District of North Vancouver, 44 per cent of homeowners didn't have a mortgage while 39 per cent of City of North Vancouver homeowners were mortgage-free.
Yan said the statistics are intriguing in that they indicate a measure of wealth among the more significantly mortgage-free communities.
"At the very least, this population have options that the other 44 per cent doesn't have," said Yan.
Part of those statistics could be a reflection of West Vancouver's older population. People who bought property decades ago before prices increased and who are now in their retirement years are more likely to be mortgage-free, said Yan.
According to the last census, those 65 and older in West Vancouver now make up 28.5 per cent of the population, up from 27.8 per cent in 2016. In the Lower Mainland, only White Rock and Belcarra have a larger percentage of seniors. The Metro Vancouver average is now 17 per cent.
The average West Vancouverite is 47.6 years old, and median age for the community is 50.8 – a full 10 years above the median for Metro Vancouver.
Millennials – those aged 25 to 40 – make up just 10.8 per cent of West Van's population, compared to 25 per cent in the city of North Van, or 23.1 per cent of Metro as a whole. The "avocado toast" generation is also comparatively underrepresented in the district of North Van, where they account for just 15 per cent of the population.
The mortgage-free contingent could also include more recent purchasers whose global wealth is significant, said Yan, and for whom taking out a mortgage was not necessary to buy property.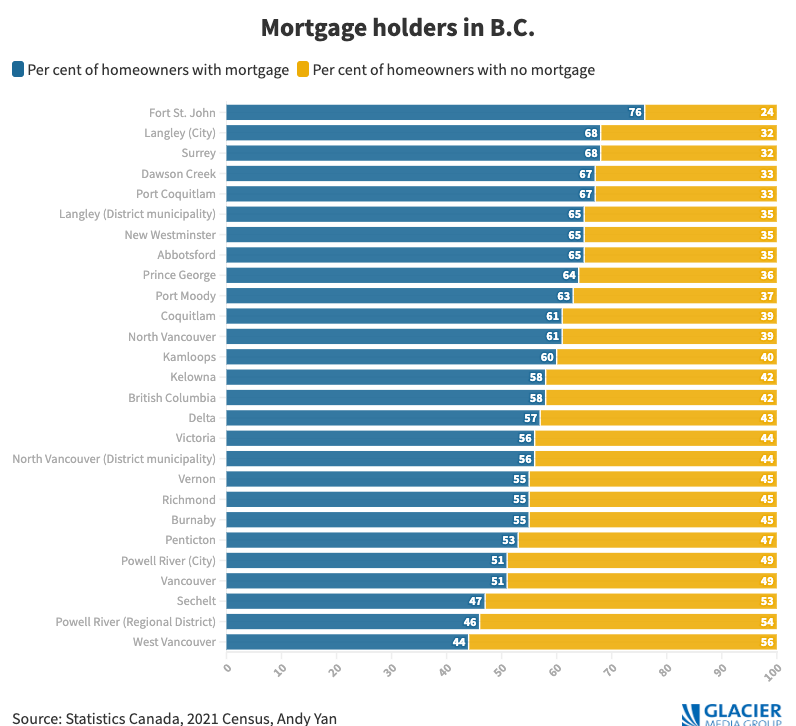 According to Yan's analysis, throughout the province, 58 per cent of homeowners have a mortgage versus the 42 per cent of homeowners who are mortgage-free.
After West Vancouver, the regional district of Powell River has the second-highest number of mortgage-free owners, at 54 per cent. Sechelt is third with 53 per cent.
The three communities in B.C. with the highest percentages of mortgage holders are Fort St. John, the City of Langley and Surrey.
Generally, cities on the periphery of large census metropolitan areas, who have a higher percentage of younger and new homeowners, have higher numbers of mortgage holders.
"But if you look at the places that have a high percentage of mortgage holders, areas like Surrey, Port Coquitlam, New Westminster, Abbotsford, those are the relatively more affordable areas of the Lower Mainland," said Andrey Pavlov, a professor of finance at Simon Fraser University.
"It really shows the impact on younger people, and in a way lower-income people, because those are the people, through no fault of their own, they are now impacted more from interest rates than the average person," he said.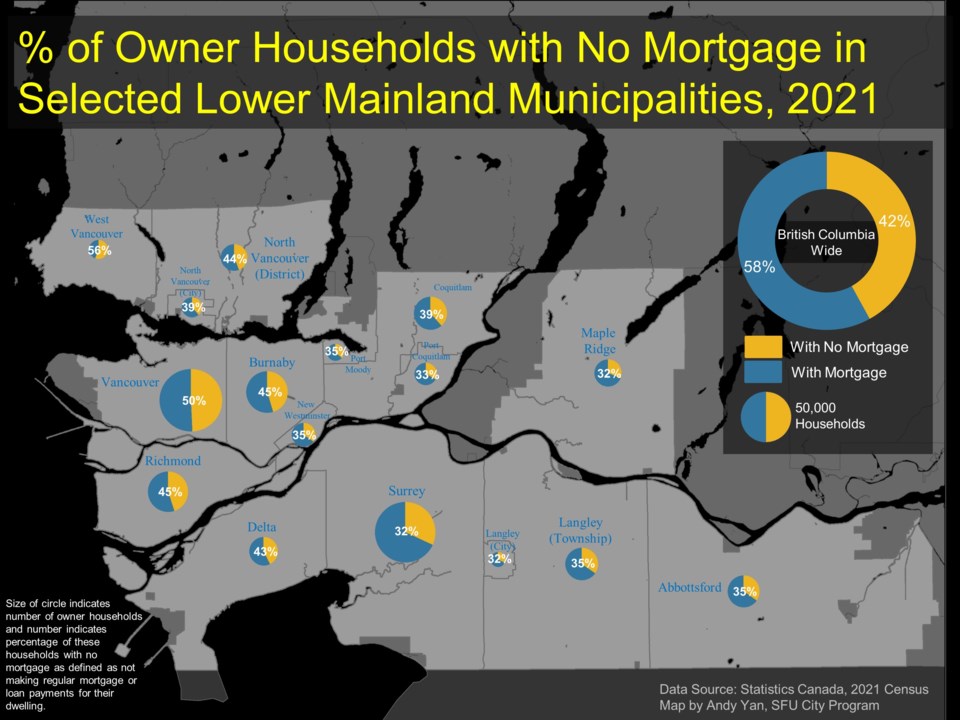 – with files from Brent Richter