Tiger Woods famously hit golf balls on the Mike Douglas Show when he was just two years old, but there's a kid in North Vancouver who may have him beat.
Walker Martin, just 15 months old, was captured on film Sunday, drilling what looks to be an approximately 30-foot shot during his first-ever trip to a putting green. It was, in fact, just his second- or third-ever swing at the neat little City of North Vancouver putting green tucked into Sam Walker Park beside St. Andrews Avenue.
His mother, Brooke Martin, had the camera rolling as Walker, who only started walking a few months ago, casually fired a shot across the entire green and into the hole.
"I was so proud, and I thought it was just the funniest thing ever," said his father, Nick Martin, who posted the video on Twitter. "I was so excited. It was like, 'Yes, he has it! He's better than me already!'"
This was Walker's first time on a real putting green, but it was not his first encounter with the sport, said Nick. Little Walker, in fact, is crazy about golf.
"I think he probably picked it up from me because during the pandemic, there was nothing else to do other than play golf," Nick said. "In the summer last year, his grandma got him a set of plastic clubs, and they're his favourite toy. He wakes up first thing in the morning and he goes 'Golf! Golf!' and he hops out of bed, runs over, grabs his clubs and he immediately starts hitting the ball around the room."
Walker's passion for the sport was so strong that the family turned it into a Halloween costume, with Brooke as a cart girl, Nick as a Masters caddie and Walker as the world's most adorable golfer.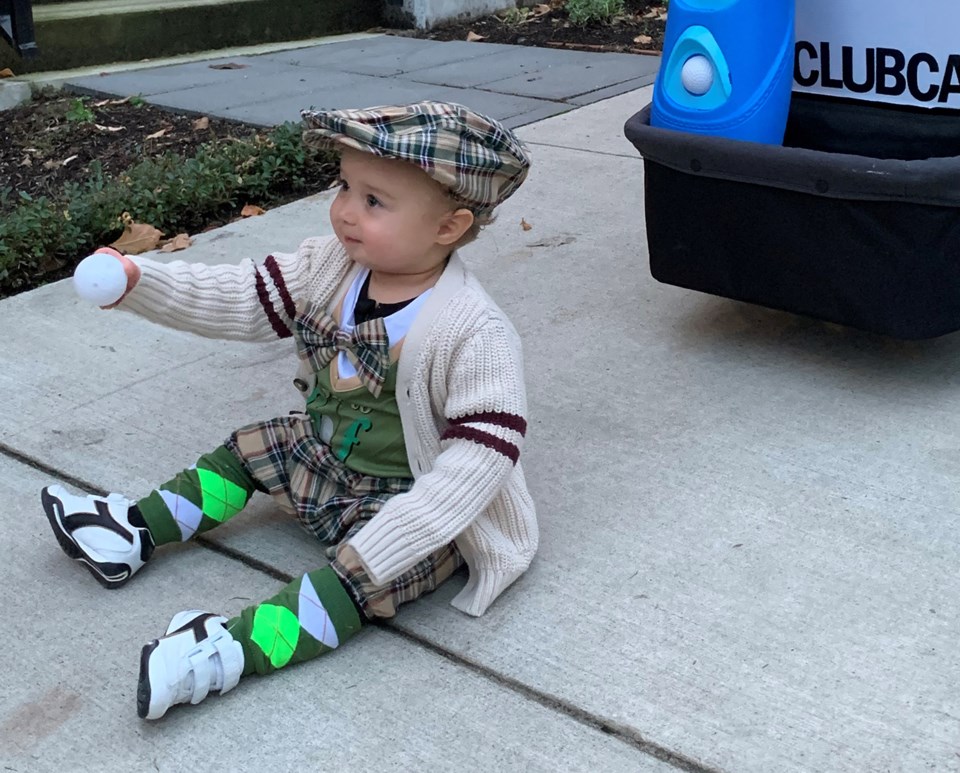 It's a funny obsession because Nick didn't grow up around the game – he and his brothers were into rugby – but Walker has jumped all in.
"He loves watching golf," said Nick. "Golf has always been around him even though I'm not a very good golfer. But he's fallen in love with it."
Sunday's outing was meant to be a bike ride around the city, not to a golf course, but Walker insisted on bringing his club with him, and so his mom humoured him by stopping by the putting green.
"That was his first time on a green with actual holes to aim at," said Nick. "They set him down and he kind of hit it once or twice and knocked it off the green. … That video was probably his third putt. He'd just got there, and he sinks that super long putt."
Jarring that shot from distance has only increased Walker's love for the game, said Nick.
"Since then, he's hooked," he said. "I foresee a lot of family golf outings and golf rounds in the future. And I'm not too mad about that."
Could there be a PGA career in Walker's future?
"This is my retirement plan for sure," said Nick with a laugh.