West Vancouver's Royal Canadian Marine Search and Rescue volunteers are wondering who would deliberately vandalize their main search and rescue vessel.
The team is now out thousands of dollars after someone spray painted one of the inflatable tubes that keeps their Horseshoe Bay-based Zodiac afloat.
The incident was captured on security cameras. Around 11:40 p.m. on Thursday, May 4, a group of three people showed up on the dock in Horseshoe Bay.
"One of them went down with a can of spray paint and did his best artwork all over the side of one of our tubes while the other two watched," said Jane Maisonville-Phillips, media relations for RCMSAR Station 1.
RCMSAR reported the incident to West Vancouver police who came to take photos of the damage and start an investigation. A statement from the department said they are looking for three suspects, approximately between the ages of 16 and 20. The tag on the boat appears to read "Jeans," according to police.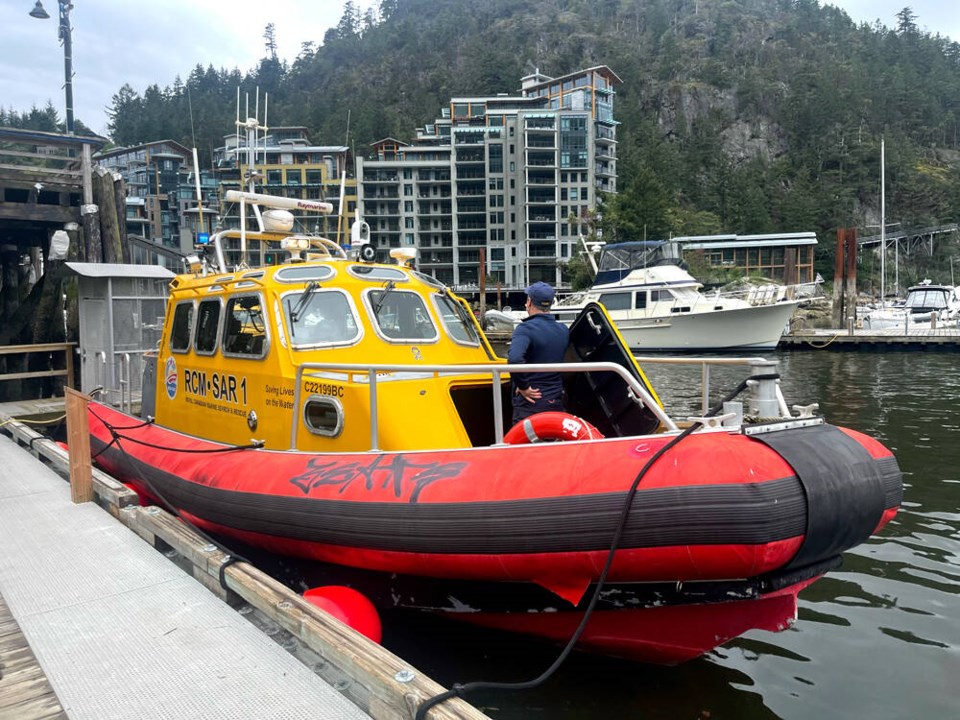 Search and rescue boat damaged
Rescue volunteers scrubbed the paint off as best as they could but the chemicals in the paint can break down the integrity of the hull, meaning the tube will have to repaired or replaced.
The only marine repair operation around that can handle their boat is on Vancouver Island, which takes $1,500 in fuel to reach. Lifting the boat onto a hoist will cost another $2,500. If the hull can be repaired with polyurethane paint, it will cost $13,000, according to the team.
If it can't be repaired, they will have to order a new tube, designed to spec, from a company in Quebec at a cost of $28,000.
"Obviously a complicated situation that may seriously affect our station's ability to perform our mission of saving lives at sea," said Gerard McKenzie, RCMSAR 1 president.
If they have their insurance cover the damages, there's still a $10,000 deductible and higher premiums going forward.
Maisonville-Phillips said she doubts the vandal knew the full ramifications of the tagging, "and probably was not interested either."
The Royal Canadian Marine Search and Rescue Station 1 is called on 40 to 60 times per year to save or assist people on the water, all on a volunteer basis, and they are expected to largely fund their own operations.
Whether the taggers knew the extent of the damages they caused or not, Maisonville-Phillips said she was shocked that anyone would target a piece of life-saving equipment for mischief.
"It's particularly disrespectful," she said. "Just that wanton disregard, it's appalling."
Maisonville-Phillips said she hopes to see the tagger caught and forced to pay for the damage he caused.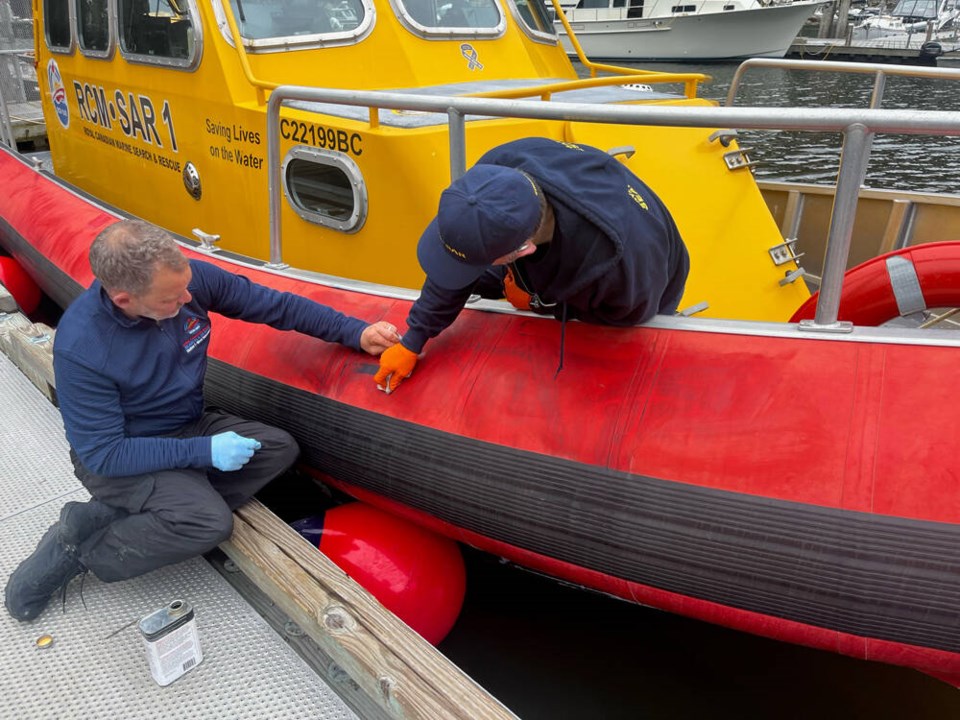 Royal Canadian Marine Search and Rescue needs help
The incident happened just as the team is preparing for their annual Dinner on the Dock fundraiser, which provides the bulk of their funding for the year.
Every year, RCMSAR gets full access to the pier to invite hundreds of people for a catered dinner and wine event, with live music and rescue demonstrations on the water.
"That's the one time a year when we actually make enough money to make a significant impact in our budget," Maisonville-Phillips said. "Now 50 per cent of that is going to be carved in half to pay for this unexpected and unnecessary damage."
The Dinner on the Dock event takes place this year on July 6. Anyone who wants to contribute to the team before then can do so at rcmsar01.ca/donation/.
Anyone with information about the vandalism is asked to contact the West Vancouver Police Department at 604-925-7300.