North Shore Rescue volunteers are confounded. Someone is deliberately and repeatedly taking down the trail markers the search and rescue team installed on Grouse Mountain to help prevent hikers from getting lost.
The team was called out Sunday evening to rescue a hiker who lost his way while coming down the BCMC Trail. The man wasn't properly equipped for a backcountry hike but he was able to get cellphone reception, so finding him wasn't a challenge, said Mike Danks, North Shore Rescue's team leader.
But, frustratingly, the trail markers and signs the man could have used to guide his way down to the bottom had all been removed.
"Without having access to the markers that are on the trees, this can be very challenging and it leads to the potential of people getting injured or stuck," he said. "(We) have marked that trail three times now from top to bottom and three times, all those markings have been taken down."
The work is done by the team's senior members who no longer go tromping off into the bush for all-night rescue efforts in the elements. "These guys are doing this thankless job in the background and it's making a huge difference for our calls. It's working so well, it's probably lowering the number of calls that we're getting," Danks said.
Between 200 and 300 markers have gone missing from the McKay Creek, Larson, Old BCMC and Dreamweaver trails. Many of the markers were placed high off the ground and required a ladder to install.
"Someone is going to great trouble to take these markers off," said Wally Kerchum, one of the teams' senior members who oversees the trail marking program. "They're putting the public at risk and they're putting our members are risk when they have to go in and rescue them."
Kerchum said he also noticed a safety rope the team installed to help hikers through a steep section has been cut and removed. "It's very disconcerting," he said.
The team has puzzled over why someone would be so callous towards others' safety, Danks said, but the only motivation they can fathom is simple selfishness.
"There's obviously some people out there who feel that this is a private trail that they don't want anyone else to go on and enjoy," he said. "It just doesn't make much sense."
The District of West Vancouver and District of North Vancouver's parks departments supply the "flashers," which the volunteers place every 20 metres or so on  popular trails. West Vancouver Secondary's woodshop students also hand-make signs for trailheads. All three organizations have said they'll resupply NSR with new signs but the worry that they too will go missing remains.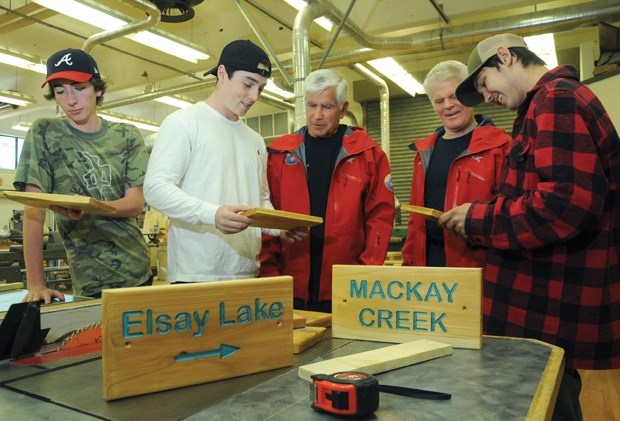 Kerchum said he'd like to see someone come forward and identify the sign thief.
Danks also has a message for whoever is responsible. "We're happy to sit down and talk to these people but it's wasting our time. We've put a tremendous amount of effort into making sure these trails are accessible for everybody and that the people on these trails are safe."
North Vancouver RCMP spokesman Richard De Jong said the police have not yet opened a criminal file but if a person were to be caught, they could be charged with mischief.
Most of the land in question is part of the 75-hectare Grouse Mountain Regional Park, which was created by Metro Vancouver this year.
Other than the Grind, all of the trails on Grouse were volunteer built and have never had a formal caretaker. That is likely to change after Metro completes its 10-year master plan for the park, which is now in public consultations.
"Since we've taken over the park, we've been doing boundary surveys and mapping the routes of all the trails … within the park. We're also patrolling the Grouse Grind regularly and the BCMC," said Jeff Fitzpatrick, division manager of western area regional parks. "Over the long term, we'll be looking at signage throughout the whole park and looking at wayfinding at all the trails."