A standoff on the North Vancouver courthouse steps today ended peacefully after a man in a mental health crisis who had been holding a knife to his throat surrendered shortly after noon.
"He has been taken safely into custody and has gone to the hospital," reported North Vancouver RCMP Sgt. Doug Trousdell.
Trousdell negotiated with the man during the morning in an effort to defuse the situation, which apparently stemmed from the man's grievance with the courts. Trousdell would not discuss the grievance, which he said was between the man and the court.
Officers were dealing with a distraught man in the 100-block of East 23 Ave, the
situation has been resolved peacefully. One man has been apprehended. Officers
will remain in the area while the investigation continues. @CityOfNorthVan

— North Vancouver RCMP (@nvanrcmp) July 10, 2019
Trousdell said he mainly listened to the man during the standoff, "Trying to hear him out and persuade him that there are other ways to get his message across."
After putting down the knife, the man was apprehended – not arrested – under the mental health act.
The courthouse was locked down during the incident. Neighbouring rec centres, Centennial Theatre and the North Shore Alliance Church also closed their doors while police blocked off the street.
Yesterday a man was protesting with a placard outside the courts.
"It sounds like it's the same gentleman and it's just escalated," said Crystal, one witness who was caught in the church parking lot just as the incident began around 11:30 a.m. "There are a lot of police on scene. There are police dogs. There are people with their guns drawn. It's quite tense, it seems."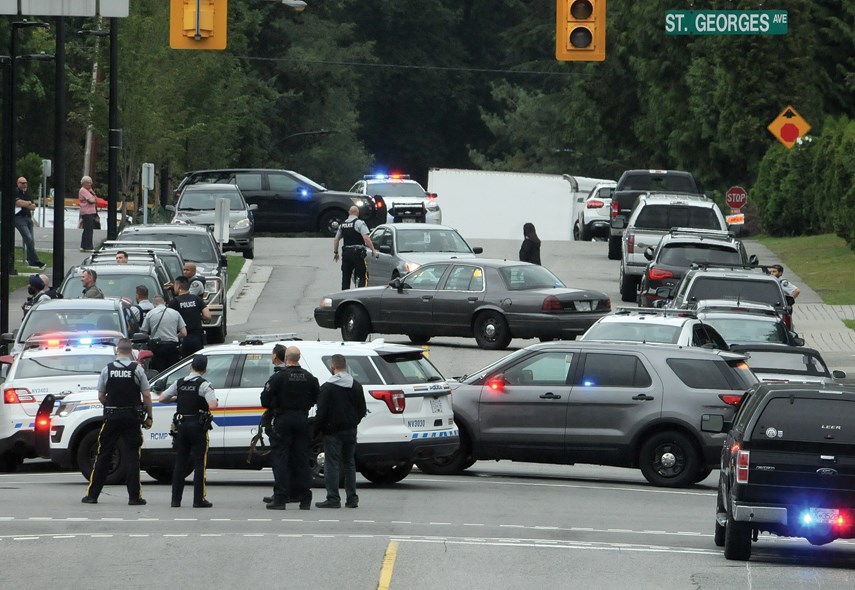 There are lot of kids' camps happening in the neighbourhood but a church staffer said the kids are doing well inside.
Harry Jerome, Centennial Theatre, Memorial and Mickey McDougall facilities are currently closed. Please note all four facilities are temporarily closed and no entrance to the facility is currently possible. Please check back for updates as they become available.

— NorthVanRC (@NorthVanRC) July 10, 2019