The woman leaving Harmony Eats stopped to thank the staff of Feast and Truffle House for providing her with a delicious lunch overlooking the West Vancouver seawall.
"Next time I want wine served," she told Feast's owner, Geoffroy Roulleau, smiling.
Roulleau wasn't smiling over the civic weekend when countless times he watched potential patrons walk away from the pop-up "patios" at Millennium Park because they weren't able to order beer or wine with their meal.
"We lost hundreds of customers and thousands of dollars over the weekend," he said Tuesday morning. And in these days of coronavirus shutdowns and the economic impact on local businesses, every dollar counts.
He was disappointed that Friday's telephone meeting between District of West Vancouver Mayor Mary-Ann Booth and David Eby, B.C.'s attorney general, came to naught.
Booth and council want Eby's help convince the liquor control branch to grant a liquor licence to Roulleau and Bradly Hall. Hall owns Savary Island Pie Company, the other business taking part in the outdoor dining experience.
"This is probably a small issue [to the province] but it would mean a lot to our community," Booth told the North Shore News on Thursday. "It would send a strong message of support to our businesses, which really need it right now."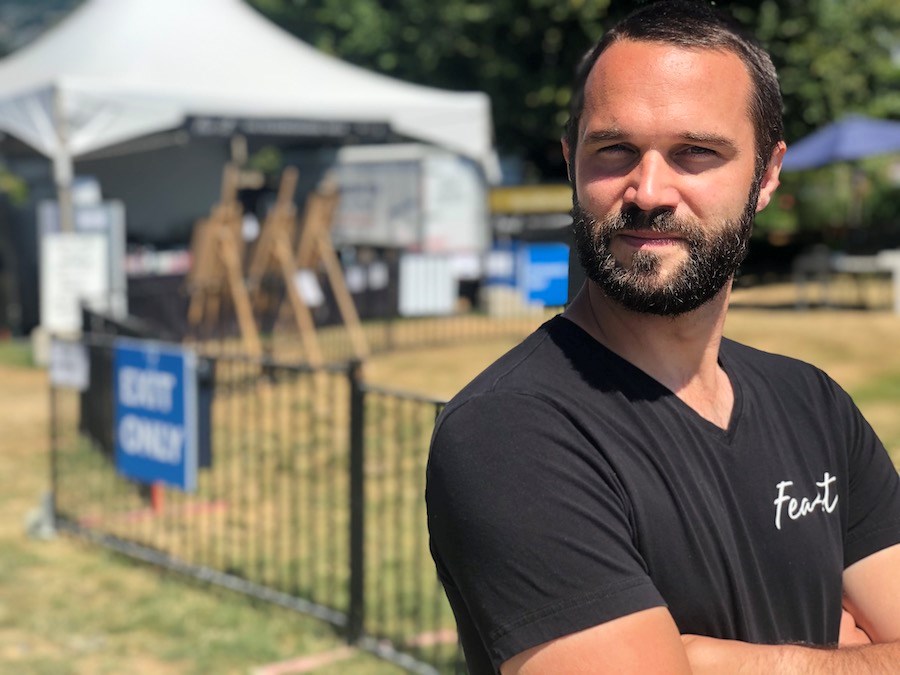 What makes it a bigger issue is that other jurisdictions and restaurants across the province could benefit from West Vancouver's initiative to help food establishments which have been hard hit from the economic shutdown that was imposed to control the spread of the novel coronavirus.
"The operators have been incredible," Booth says of Roulleau and Hall's efforts to add vibrancy to the park in the absence of the Harmony Arts Festival. "They and our staff have been working really hard since this idea started and the community has responded very well.
"There are members of the community, particularly older residents," Booth adds, "who have still not gone to indoor restaurants because they're worried [about contracting the virus.] This is perfect because these are known business owners and people want to support them. It also means people can go out safely and meet with friends for lunch or dinner."
To Booth, the fenced outdoor eating area is an extension of the existing businesses. Just like cities are making it easier restaurants to cope with reduced occupancy by allowing seating on streets and sidewalks, Harmony Eats is in essence creating a patio space for Feast, Truffle House and Savary Island Pie Company.
"All we need is for the province to go one step further," the mayor says. "I'm being really optimistic because I know the province has been accommodating a lot of different projects. Why not allow these satellite operators in a small park to sell wine and beer to their customers in a very social-distancing responsible way?"
Roulleau says, "When the pandemic started, Selina Robinson [the B.C. minister of municipal affairs] was encouraging mayors to be creative and think outside the box to support your communities. The province says to be creative but then they put up all these roadblocks."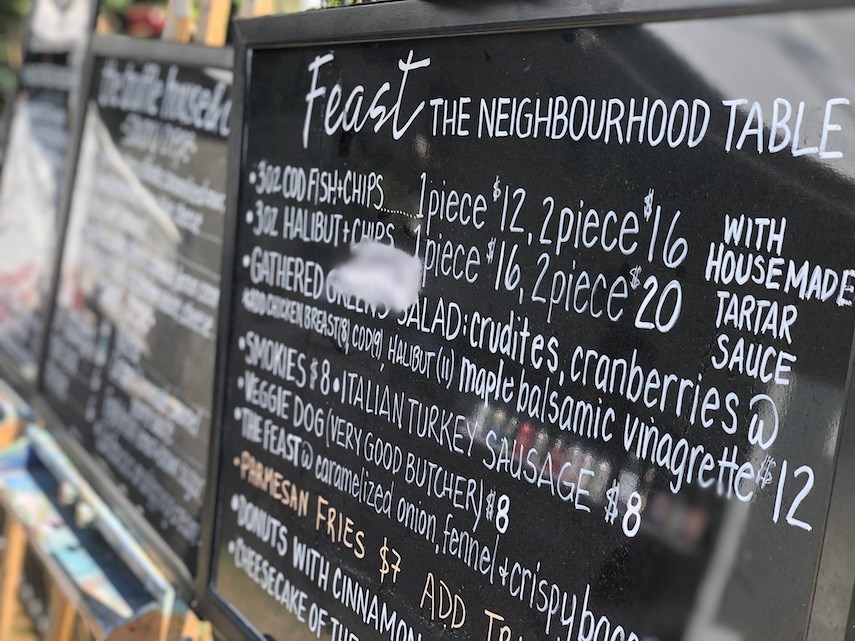 Last weekend, Harmony Eats was facing a different challenge created by the province.
When planning to open on June 30 was underway, Roulleau and Hall had permission for a patio accommodating 45 people each. For Roulleau, this was already frustrating because Vancouver Coastal Health considered his part of the initiative as one space for both Feast and Truffle House. He wanted two. (When the shutdown was imposed, Truffle House decided to close its physical space on Marine Drive permanently. Roulleau hired the staff and offers the same savoury galette and crepes at Harmony Eats, a pop-up concept he hopes will be repeated.)
Preparations delayed the opening to July 13. Two days later, Vancouver Coastal Health said Harmony Eats should be considered as an event, not a restaurant. A new raft of restrictions was imposed. Patrons could eat in 50-minute shifts only, with 10 minutes of each hour dedicated to disinfecting all the tables and communal areas. If patrons arrived 20 minutes before the shift change, they had only 20 minutes to enjoy the space. Patrons had to leave during the cleaning process. In the evening, the shifts changed to an hour and a half.
As well, as an event, no take-out service was allowed.
"It was brutal," Roulleau says. "People were getting mad at us."
It got worse on July 24 when the province imposed new restrictions in response to the rise in the number of coronavirus cases in the wake of transitioning to stage three. Harmony Eats could only be open from noon to 11 p.m. with a maximum of 100 people a day. It would be impossible to break even with so few customers
Hall put a sign in front of Savary Island Pie Company telling people about the new rules and asking for support. Then, Pamela Martin of Global News had dinner at Harmony Eats and said she could help. On Tuesday morning, reporter Catherine Urquhart arrived with a camera crew and Harmony Eats' plight was featured on that night's news. By this time, Harmony Eats was back to having restaurant status but it was caught in a new Catch-22: Now that Harmony Eats wasn't an event, it couldn't get a special permit licence for liquor sales.
"We went nuts," Roulleau says.
The battle was on, with West Vancouver joining Roulleau and Hall in lobbying Robinson and Eby for support.
Roulleau can't understand why the licensing board doesn't welcome the revenue. A special licence costs $100 a day, revenues that go straight to provincial coffers. Plus, the province gets a a 10 per cent tax on all liquor sales.
"I'm the same responsible person who owns a restaurant with a liquor licence," he says. "They don't want my $100 a day for 60 days, plus the liquor tax? I was shocked."
Without the liquor licence, and the revenues it would bring in, Roulleau foresees having to lay off staff. With a liquor licence, he would like Harmony Eats to stay open the entire month of September rather than close as scheduled on September 8.
Martha Perkins is the North Shore News' Indigenous and civic affairs reporter. This reporting beat is made possible by the Local Journalism Initiative.