Richmond RCMP is asking for the public's help in identifying a suspect in a series of arsons that took place between July 2019 and March of this year.
A possible suspect was seen in the area of one of the fires, and RCMP is now releasing a composite sketch of the individual in the hopes of identifying him.
Initially, eight arson incidents were identified by RCMP in April, spanning from late March 2020 to April 2020.
Seven more cases have since been identified as part of that series of deliberate fires, Mounties said in a statement issued Sunday.
RCMP said there was then a six-month gap between the first fire, believed to have taken place July 13, 2019, and the remaining fires. Fourteen of the fires took place between January 4, 2020 and April 18, 2020.
"These fires have been connected through an analysis of the evidence and have taken place within a small geographic area within Richmond," said Cpl. Dennis Hwang.
According to the Richmond RCMP, the fires took place at the following locations:
5880 Pearl Crt
7311 Moffatt Rd
7291 Gilbert Rd
7400 Gilbert Rd
6788 Chatterton Rd
7540 Abercrombie Dr
7671 Abercrombie Dr
7660 Abercrombie Dr
7200 block Blundell Rd
8011 Mirabel Crt
8220 No 3 Rd
Lucas Rd at Gilbert Road
6880 Lucas Rd
7451 Lismer Ave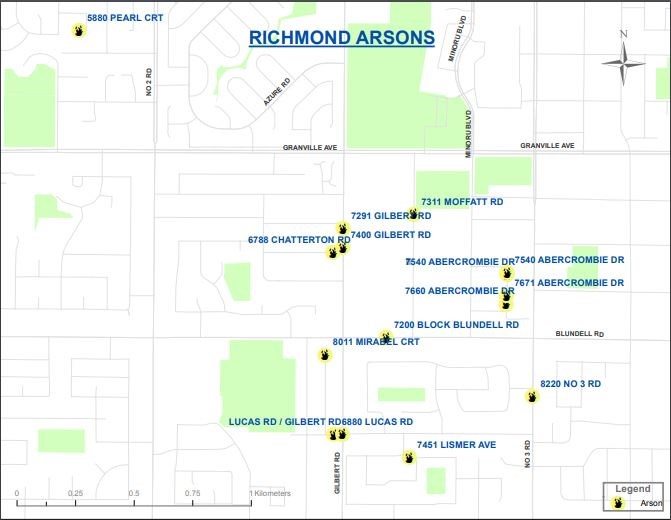 In each of the incidents – which all took place between 11 p.m. and 6 a.m. – hedges or garbage bins have been deliberately set on fire. So far, said RCMP, there have been no injuries.
While RCMP said they have undertaken numerous "investigative measures," the identity of the person responsible remains unknown.
The suspect has been described as a blonde haired, fair-skinned Caucasian male, between 17 and 19 years of age, about 5-ft-6 tall and 160 lbs.
RCMP said he has been observed wearing a gray, white and light blue zip-up hoodie with horizontal stripes along the chest, carrying a backpack with a silver canister.
The Richmond RCMP is asking the community to report any suspicious behaviour to the police.
A TIPS line has been set up for the investigation. If you have any information about these incidents, including dash-cam footage or video surveillance, contact Richmond RCMP at 604-204-4627 or by email at Richmond_Tips@rcmp-grc.gc.ca.
Should you wish to remain anonymous, contact Crimestoppers at 1-800-222-8477.
-With files from Kirsten Clarke