It has been a little more than three months since a group of Tsleil-Waututh Nation students and the Mobile Production Studio N'we Jinan released their song Protect Our Land, and yet they are still riding the wave the song created. Spirits are still high, the community is still beaming with pride and, thanks to the release of the song's accompanying music video, the conversation around reclaiming land and culture has never been more front and centre.
"Throughout the community everyone is really celebrating the song," said Kaely Mcmurtry, teacher at Tsleil-Waututh Nation Siʔáḿθɘt School, and mentor for the 13 students who took part.
"Members are sharing it on all their platforms. They are talking about how they are really proud of their niece, nephew, granddaughter or grandson for saying all these strong words and being really proud of who they are, and where they've come from."
The song is the latest challenging oeuvre to come from N'we Jinan, a travelling, Indigenous-led studio that works with First Nations youth across Canada to tackle themes of cultural identity, love, language and struggle, through the medium of music. With it, teenagers learn about songwriting and sound recording, music production and performance.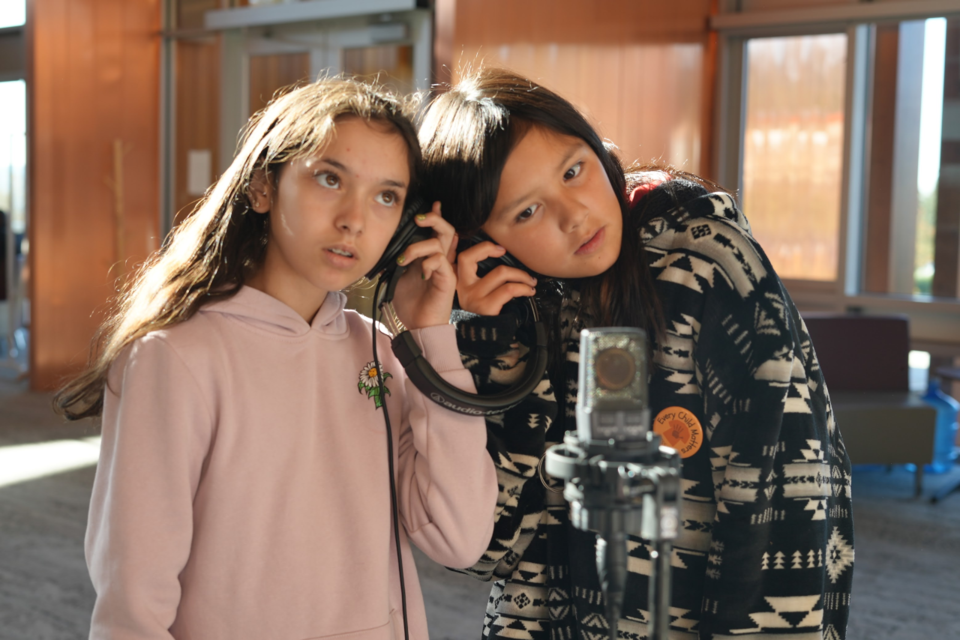 This track, said N'we Jinan producer Christian Monias, was the result of a four-day, entirely "organic" process that saw kids make their own beats and spitball their own lyrics. Protect Our Land had been a throwaway sentence from one student that gained momentum as discussion got deeper, three words that would go on to become the main hook and an integral part of the community lexicon.
"The whole conversation began with the group talking about how they appreciated their environment and where they were from," said Monias. "This inevitably turned to other things, like pollution, and how the Trans Mountain Pipeline expansion project is something that they don't like."
With lyrics like "protect our land from the pollution, hold my hand let's find a solution" and "North Shore Way, you put us in a small space, we'll fight to get our land back," the song is a powerful, positive protest that aims to bring light to issues faced by First Nations members – no matter the generation.
"This song is important because it's spreading awareness, and telling people what the government is doing – like stealing our language, sending us to residential schools, taking our culture away, cutting our hair, taking away our names," said 11-year-old student Layla George.
George, proud of her singing and of the message she had conveyed, said the experience is one she will long remember. One particular highlight had been shooting the video, a job which involved traversing forests, re-enacting cultural lessons at school, visiting beaches and travelling the inlet via canoe. One particular moment resonated with George and her fellow students, McMurtry and Monias alike.
"During the last day when we were doing our last location shot, we went out on a canoe and the guide gave us these paddles with designs on either side. One side had a crouching fox, which symbolizes how visitors are coming, and on the other side there was an eye, which symbolizes the tribe is approaching for war," said Monias.
The group stopped in front of the Kinder Morgan pipeline station, the guide pulled out his drum and requested the students raise their paddles with the eye facing forward, and began to sing a song about healing. Afterwards they played Protect Our Land through a speaker, letting the tune echo around their traditional lands and the words travel across the open water.
The people of the inlet, coming together over song, survival and sovereignty.
"It was a beautiful moment," said Monias. "It was so powerful, like these kids are fighting for their future, and they are very aware of what's going on."
Mina Kerr-Lazenby is the North Shore News' Indigenous and civic affairs reporter. This reporting beat is made possible by the Local Journalism Initiative.