The majority of respondents say they support the proposed stops for a new B-Line bus service for the North Shore, but local municipalities and TransLink have some tougher questions to answer about what exactly the service will look like when it's rolled out next year.
TransLink representatives were in West Vancouver Monday for a presentation updating district council regarding a B-Line consultation and survey that was recently doled out to the public.
In April and May, the transit authority consulted North Shore residents about the proposed Main-Marine B-Line, with 87 per cent of respondents saying they either supported or strongly supported the proposed B-Line stops that would connect Dundarave in West Vancouver to Phibbs Exchange in North Vancouver.
According to TransLink, 1,725 survey responses were received with the intention of gauging the public's response to proposed stops, changes to other bus routes to better integrate the B-Line, and certain transit priority measures that would give the rapid transit service an advantage when traversing the Marine corridor.
Queue jumping – which would allow a bus to enter an intersection ahead of other vehicles in traffic – as well dedicated bus lanes, pulling sidewalks out so buses don't block traffic when they pull into their stops, and turn restrictions were all presented as potential ideas being considered for the Main-Marine B-Line.
While 79 per cent of survey respondents said they either supported or strongly supported making changes to streets to make the B-Line faster and more reliable, Coun. Craig Cameron questioned the polling.
"That would be great if people actually did support that, but I'm concerned in your polling … are you confident that people know, for example, that one lane could be dedicated to transit through Ambleside when they answered that question?" he said.
While specific neighbourhoods weren't included in the survey, TransLink representatives noted some emerging changes to the original B-Line proposal that could also be considered, including maintaining the current frequency of the 255 bus route and even implementing a shuttle service that would ferry passengers to Capilano University along Highway 1.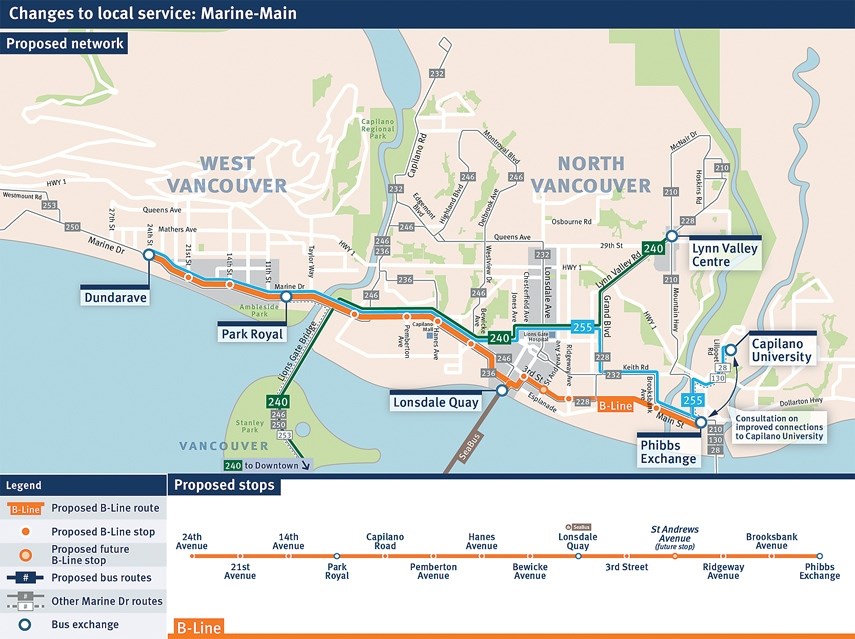 According to TransLink, travelers could expect a ride time of approximately 40 minutes end to end if the Main-Marine B-Line was implemented alongside transit priority measures such as, for example, queue jumping or dedicated bus lanes.
TransLink is currently taking its B-Line presentation to other North Shore municipalities, with plans to make the full results of the recent consultation and survey available to the public by September.
West Vancouver council was receptive to TransLink's presentation, with many councillors adding that the issue isn't just about getting people off the North Shore.
"Everyone talks about getting to the airport, which is delightful, but if you take the Canada Line back you have to then stand at Hudson Bay for a considerable period of time before you can get a bus," noted Coun. Christine Cassidy. "We need to get service onto the North Shore, never mind just getting off the North Shore."
Mayor Michael Smith did not attend Monday's meeting.