The oldest building on the North Shore will stand for another two months, but nothing after that is guaranteed.
West Vancouver council voted Monday night to put off their planned demolition of early settler Navvy Jack's house at the foot of 18th Street until mid-September, giving heritage advocates a brief window to come up with a plan and a lot of money to save the 147-year-old building.
The North Shore Historical Society, North Shore Heritage and West Vancouver council's own heritage advisory committee were aghast to learn last week that council had already voted behind closed doors in June to "deconstruct the house due to its poor condition, restoration and renovation cost, and the demonstrable lack of public support" to sink any public money into the home.
"This recent decision caught us all by surprise. We thought that the house would be rehabilitated," said Rod Day, president of the West Vancouver Historical Society. "It's unwise to destroy your own property. But when it's a house that goes back to 1873 – the oldest continuously inhabited house in West Van and the Lower Mainland – I think you have an obligation to take it seriously. This is part of our history, part of who we are."
The home was built by Welsh settler Navvy Jack, whose real name was John Thomas. He operated the first ferry service linking the North Shore to Vancouver. He married a Squamish Nation woman named Madeline, according to the nation. Some sources suggested she was the daughter of Chief Kiapilano. Their descendants married chiefs in the Squamish and Tsleil-Waututh Nations. The home was the site of West Vancouver's first post office, church service and wedding ceremony, according to a district report.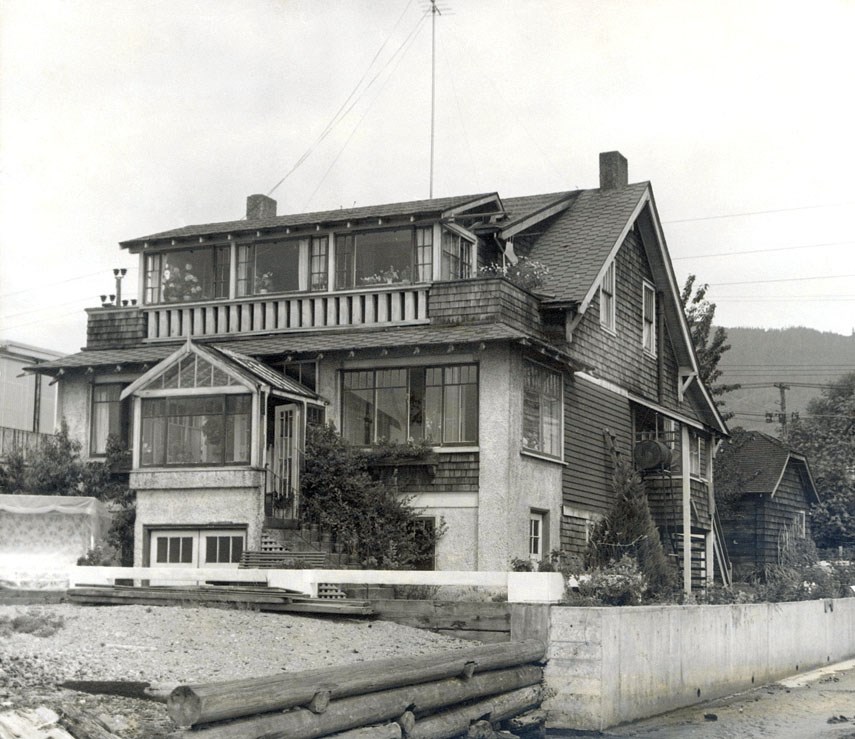 The West Vancouver Streamkeepers Society was one of several environmental groups that hoped to take over Navvy Jack House and turn it into a nature centre, however, a public consultation process led by the district last year did not find wide support for spending large sums of money renovating the building.
District staff estimate demolition of the site will cost $150,000 to $200,000, but restoring it will be $2.2- to $2.4-million. The streamkeepers still plan to install a salmon rearing habitat at the mouth of Lawson Creek, which runs alongside the home. In order to comply with fisheries laws, that work must be done in August 2021 and "leaving the house where it is is not an option," according to the group.
The building has had many additions put on over the years, but Day said he believes the bones underneath are sound.
"The foundation is solid. The wood is incredibly strong. You can't even drive a nail in it," he said.
When council brought their in-camera decision to an open council meeting on Monday night, they were met by heritage advocates.
"[Navvy Jack] built this house in 1873 from the very first wood that was cut from the North Shore, so this is one of the oldest historical features that we have on the North Shore. And frankly, I find it shocking that it was even considered for destruction because there's nothing left from that very early period of the first settlers," said Paul Hundal, a member of the heritage advisory committee.
Day said he would like to see the district form a committee of experts to properly study the home and, if it is salvageable, provide funding, possibly from the community amenity contributions the district receives through development.
"The money is there. It's just the will to spend it," he said.
At the tail end of the last council meeting before the summer break, council flip flopped and voted unanimously to delay demolition.
"I think it's extremely important for something as incredible as this from the environmental and heritage side that we work together and come up with a solution," said Coun. Bill Soprovich. "I really do feel that this is one of the gems that will be there for years to come if we handle it properly."
Coun. Craig Cameron said he supported pressing pause but he warned them he would be looking for three things in their proposal: it can't further burden West Vancouver taxpayers; it must make more efficient use of the property; and it must be useful to the community.
 "I'm willing to be surprised and proven wrong," he said.
Both heritage advocates and council members said the Sept. 14 deadline would be too tight for a solution, but committee member John Mawson expressed optimism.
"I think there's the will there. It's going to be important to get the right people around the table. But with that will, I think there is a strong possibility that some viable options can be brought back to council for consideration that will be of benefit to the community," he said.