North Vancouver's burgeoning Brewery District is branching out with a new beverage, as a winery has now joined the fun with a new tasting room that opened on Saturday.
The Garden of Granite "Garagiste" winery opened its doors over the weekend to a steady stream of samplers looking for a taste of wines made right here in North Vancouver. The budding business is brought to you by the same folks behind La Cerveceria Astilleros, a Mexican-style brewery opening up in the same building.
The winery opened up to tastings before the brewery (slated to open for on-site sales before the end of the year), with their first wine offerings now available on site and in select liquor stores and restaurants under the label What Happens Now?
That name springs from a literal comment made in the planning stages of the new business.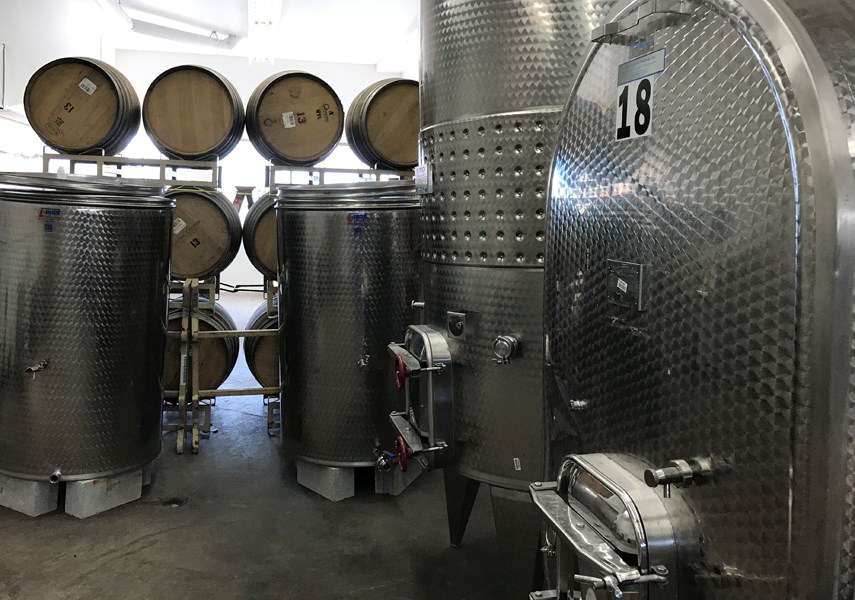 The original intent of the wine business was to bring in bulk wines and juices – they obviously don't have their own vineyard in the heart of urban North Vancouver – and sell their own creations and blends strictly in kegs for use in restaurants. But then COVID-19 hit, and the winemakers had a licence for the liquid but nowhere to sell it because all the restaurants were shut down at the time. So … What Happens Now?
"It was literally a verbatim comment we made when we had no one to sell kegs to," said Anthony Walsh, operations manager for the winery and brewery. "COVID happens, we have this winery licence and, you know, nobody wants to buy kegs, no restaurants are open, so that led us to create the retail brand. And that's been a happy pivot for us. We're getting great response from the community."
Walsh is working with Andrew Doyle, a well-connected player in the B.C. wine trade, and the What Happens Now? brand's first batch incudes a kerner, a pink viognier, and a gamay noir. Walsh explained a bit about how they managed to tuck a winery into a light-industrial block in the middle of a city.
"With our licence, we have the ability to buy imported finished wine, imported bulk juice, local VQA finished wine and local VQA bulk juice or grapes," he said. "We have full equipment to press them on site, filter, make wine, ferment. So yeah, we're doing a little bit of both. We're going to be looking for some finished wines and making some creative blends and putting them in consumer friendly packaging, and then also it's mandatory to maintain our licence that we also ferment and produce wine on site."
They've got a gewürztraminer fermenting away on site now, and will soon come out with a couple of wine and apple cider blends, one made with viognier and the other with gamay. Many of their ingredients are sourced in British Columbia.
"There is a really co-operative marketplace in the Okanagan Valley where growers just sell their excess crop or their bulk wine that they've fermented and don't know what to do with it," said Walsh. "There's access to some wines out there, it just takes a keen palette to know what to do with it."
The tasting room is still part of a construction zone as the second floor winery and ground floor brewery are both getting built up. At the moment they're open for sampling only on Saturdays from 1 p.m. to 4 p.m.
While everything is still a work in progress, the winery has embraced the term "garagistes" to sum up the spirit of the business.  
"There's this term that originated in Bordeaux called garagistes winemakers," said Walsh. "They wanted to do everything antithetical to all the really restrictive rules in Bordeaux, so they started doing their own thing. We're in a little garage here, we're also bending the rules a little in some circumstances, so that's the name that we've coined for ourselves. It's going to be a pretty grungy garagiste tasting room [for now]. … The long-term plans are to do a full reno like the brewery and making an absolutely beautiful North Vancouver wine bar called Granito in a year or two."
For now though, they're happy to have their little garage – the space formerly housed an auto shop – open for a bit of business in a neighbourhood that already includes many up-and-comers in the craft brewery world including Beere Brewing, House of Funk, North Point and Streetcar Brewing.
"If all the breweries on the block have too much of a line you can come up to the winery and try some samples, maybe buy a bottle or two," said Walsh.
The winery is located at 228 East Esplanade in North Vancouver.