For Emilyn Golden, a West Vancouver mom being hailed as a hero after rescuing a teen being swept out sea on Friday, there was never a moment of hesitation before she jumped into the choppy ocean.
Not taking action was "not something I even thought about," said Golden. Instead, her first thoughts were, "I have to go. I have to at least try."
Her day had started normally enough, hanging out with her two children, aged two and five, at the beach in Dundarave in the morning.
But when she heard people screaming nearby, Golden said she immediately walked over to find out what was wrong.
She was told a boy with autism who didn't swim well had been swept out into the inlet. When she scanned the waves, however, Golden said she couldn't see him. "Finally I saw a little black dot and I said 'Is that him?'"
Her first reaction was that the child would likely die if someone didn't reach him soon.
One woman who'd tried to go after the boy was already emerging soaked and fully clothed from the water at that point.
'I was willing to give it a try'
Golden said she felt she was a strong enough swimmer. "I was willing to give it a try."
After yelling to others to watch out for her own children, she stripped down and dove into the waves.
The swells in the inlet were big and Golden said she had to keep stopping to see where the boy was. When she finally caught up with him, the boy was still dog paddling towards Spanish Banks. But he wasn't staying up well in the water. His lips were purple and he was also fully clothed.
The boy was actually a teenager, easily bigger than she was, added Golden. His first reaction upon seeing her was to swim away in fear.
That's when Golden realized she had to change tactics fast, talking to the teen calmly and lightly.
His mom had popsicles waiting at the beach, she said. She smiled and told him he was a very good swimmer, "and we were having a race."
Slowly, the two began swimming to shore together.
But the teen was fading. Eventually, Golden managed to grab his shirt and continue side-stroking towards the beach, while holding him up.
It was tough going.
Golden could see police and firefighters on the beach, however, and guessed – correctly – that a rescue boat must be on the way.
'All I could feel was the waves.'
"So I thought I could just wait that out," she said. "All I could feel was the waves."
The drama ended when a zodiac from the Kitsilano Coast Guard station arrived and plucked both the boy and Golden from the water about 150 metres offshore.
The boat had been dispatched after the Joint Rescue Coordination Centre received a call from West Vancouver police, reporting a boy in need of assistance off Dundarave Beach.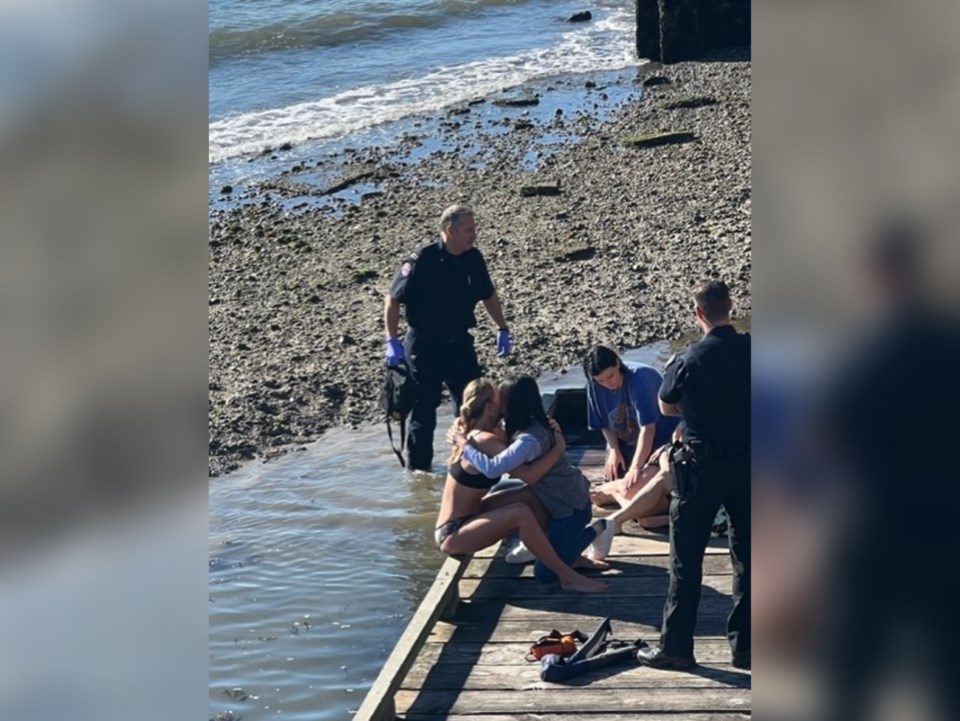 It wasn't until she was back on shore, with her kids, husband and mother who had raced to the beach that the potential danger she'd been in hit her, said Golden. "But it's not really something that crossed my mind when I was in the middle of it."
The boy's mother came to hug her, sobbing, she said.
She was later told that the teen often comes to the beach with his care workers and usually just splashes near the shore. "That day he happened to just dive right into the open sea and the current just took him so quickly," she said.
Golden grew up swimming in the ocean off West Vancouver. She took a lifesaving class as a young teenager and, "My dad used to throw Polar Bear Swim parties with friends," she said.
Cold water swimming key to focus
But the biggest help in staying calm was her regular cold ocean swimming, and using breathing to stay focused, said Golden, who swims in the ocean throughout the winter months.
"That's truly what enabled me to stay calm and in control of that situation," she said.
"I've been in situations where people freeze and the panic. And I knew I wasn't like that."
Golden said she definitely doesn't regret going in after the teen.
"I'm not sure how much longer he would have lasted," she said.
Anyone can be a hero
She also hopes her actions inspire others to step in when required.
"I'm just surprised how many people say they don't know if they could have done the same thing," she said. "We all have the opportunity to be someone's hero or do something heroic, but you just got to take that action," she said.
Witness Kathy Shannon described Golden as "one incredibly brave woman," on Friday while Const. Nicole Braithwaite of the West Vancouver Police described her as "nothing short of a hero."
Police don't recommend that bystanders put themselves in that position.
"The water can be very dangerous," said Braithwaite. In this case, however, Golden was "a very strong swimmer," she said, adding her actions probably prevented "what could have been a very sad incident."
jseyd@nsnews.com
twitter/com/janeseyd