The many Indigenous women and girls who disappeared or were murdered now have a place in North Vancouver, all of their own.
The North Vancouver RCMP and the North Shore Violence Against Women in Relationships Committee unveiled a special Strength and Remembrance Pole Friday morning before a packed Stella Jo Dean Plaza.
The pole,which was done by local carver Sinamkin (Jody Broomfield), is meant to serve as a spiritual beacon for the victims, according to the committee, but also to give a place for them to come together and find strength and comfort.
That support is critical, said Melodie Casella, whose cousin Cheryl Joe was murdered in 1992.
"Because something that we go through is the major heartache and grief and a missing place in our heart for the loss of our loved ones. We can't go through our lives without the support of everybody," she said.
More than providing a place to grieve, Casella called on all levels of government to implement the 231 calls to justice in the final report of the National Inquiry into Missing and Murdered Indigenous Women and Girls.
"We need that justice. We need this government to be held accountable to our families, because this isn't just going to be isolated to our Indigenous people. It's the whole of society that is affected by loss," she said. "It's for the generations to come so they will never have to stand up here in their grief, anguish and tears."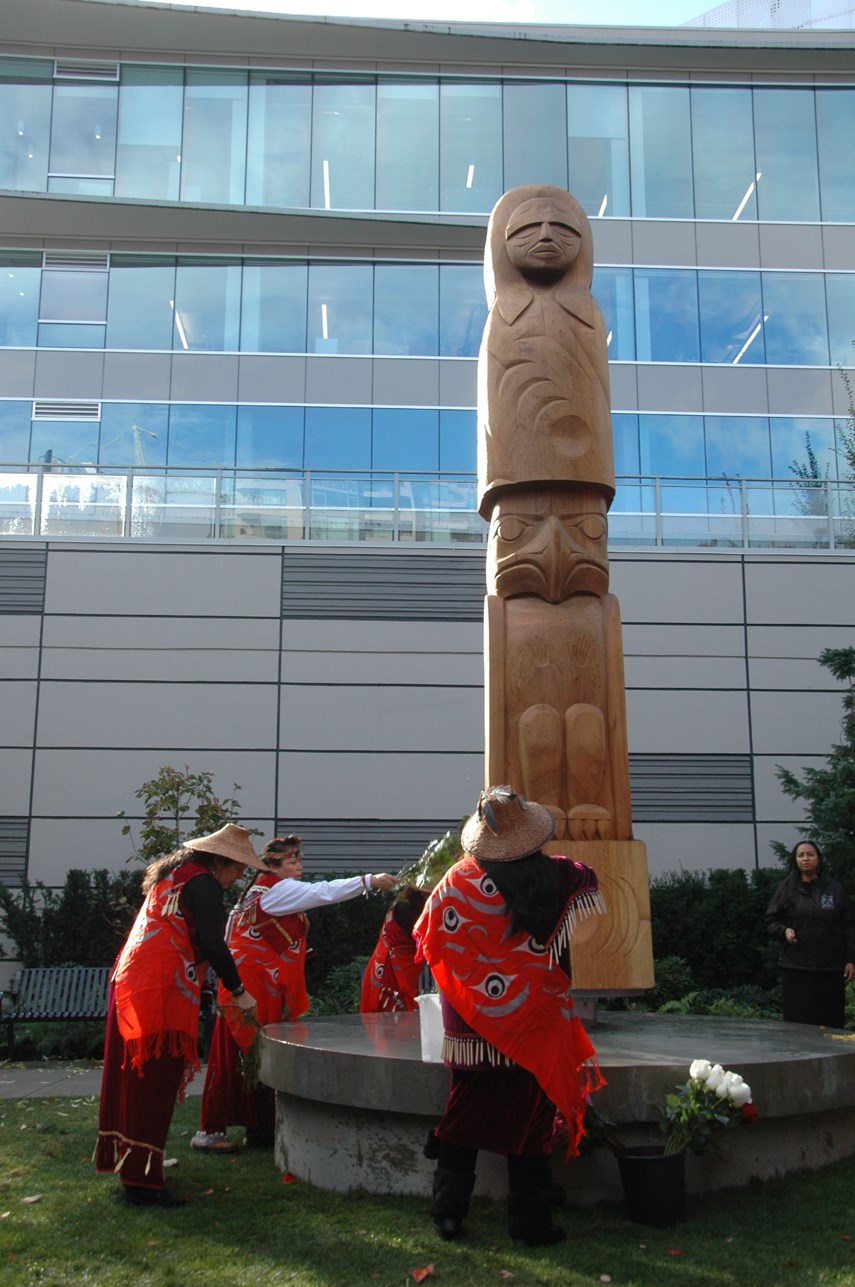 The pole is topped with the figure of a woman who represents all those who never came home. She is wrapped in a blanket to symbolize the love and care those gathered still feel for her and she stands atop an eagle, which has carried her home, with courage, to the creator, said Alroy Baker, the Squamish Nation elder who hosted the event.
"She's in a good state of mind. She's resting peacefully," he said. "It's everybody's responsibility to look after this beautiful spirit."
Supt. Ghalib Bhayani, North Vancouver RCMP's officer in charge, welcomed the pole to the plaza outside his detachment and what it represented.
"Today marks the historic milestone towards the journey of reconciliation between the nations and the RCMP. The RCMP and other first responders stand here before the nations' leadership to affirm our commitment to the path of healing and we commit to supporting the nations as we work together to eradicate violence against girls and women," he said.
Beyond Indigenous woman, the committee says the pole is also a memorial to the 14 women murdered in the Montreal Massacre, and all women who suffer violence.
Squamish Nation hereditary chief Gibby Jacob said the occasion should be used to bring everyone closer together.
"I hear the word 'reconciliation' over and over and over again, from the political realm to this realm and the realm between - just human beings. The death of our loved ones like this has to stop. It cannot be tolerated anymore. I don't blame the government here or the police departments. It is up to us as a culture of this country to look after one another," he said. "Not to be prejudiced. Not to hate. Hate begets hate. Caring begets caring. We need to care for each other. There's no greater thing."