The gate for the spillway at the Cleveland Dam will remain locked while Metro Vancouver officials and the coroner work to determine why a wall of water was suddenly released from the dam on Thursday afternoon, sweeping at least one person – and likely another - to their deaths.
One man was confirmed dead Thursday after being swept into the river. Police said Friday a second man who was also swept into the Capilano remains unaccounted for.
On Friday, Metro Vancouver CAO Jerry Dobrovolny said the gate for the Cleveland Dam will remain locked while officials try to figure out what went wrong Thursday afternoon, allowing the gate to open far too quickly, and sending an unexpected tsunami of water down the river, where anglers were busy fishing.
Normally when water is released from the Cleveland Dam into the river "it's a very gradual adjustment over a much longer period of time," said Dobrovolny Friday.
But on Thursday, "the gate came down much too quickly, and released this high rate of flow."
Metro Vancouver stream flow graphs that captured data for the sudden release showed water levels in the river rising from below a metre to over four metres and the volume of water gushing through the river at the Cable Pool rising to over 400 cubic metres a second in a matter of minutes.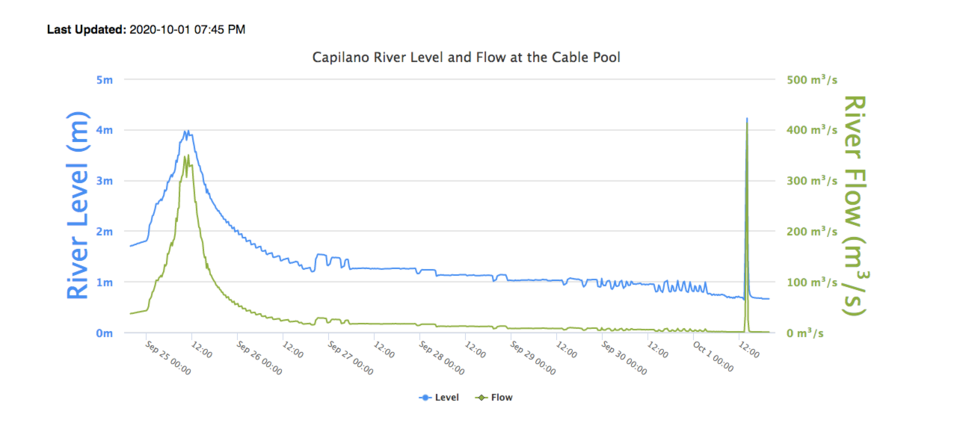 "That's a fact we know that happened yesterday. We know that the water flow, the very high and rapid rate of water flow happened because the gate lowered," said Dobrovolny.
So far, however, officials say they don't know why.
At the time, Metro Vancouver staff was doing maintenance on both the gate and on the controls that operate the gate. So far there's no indication of whether the error was human, mechanical or related to software or other systems that send signals for the gate to be raised and lowered.
In normal circumstances the gate can be raised and lowered either manually or automatically, said Dobrovolny.
"My experience from over 33 years working with infrastructure is that when a major failure like this occurs, it generally is a combination of both human error and system error malfunction," he said.
As part of the investigation, staff will be interviewed, records will be checked and mechanical equipment will be examined, said Dobrovolny.
Dobrovolny said the gate will likely remain locked throughout the winter as the investigation works to "clearly and unequivocally determine what went wrong."
There is no warning system in place at the dam that would alert the public with a siren or horn in the case of an unexpected release of water from the dam, said Dobrovolny.
He said Metro Vancouver would look at all recommendations "to see how we could improve safety there."
But he added any warning system would have to be something that could alert people throughout the Capilano River, not just at the dam.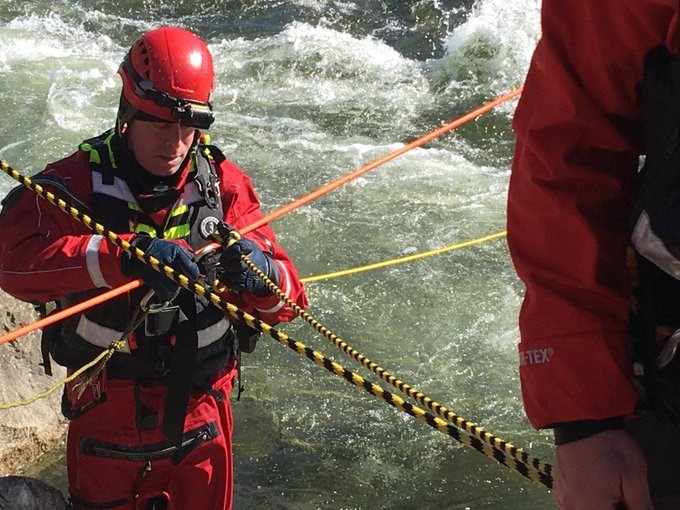 Dave Steele, owner of Highwater Tackle in North Vancouver, said he thinks such a warning system should be in place on the Capilano River.
"This is a prime example of why," he said. "It's a dam operated river. That would have saved lives."
This week – a short time after the first fall rain – is the busiest week for fishing on the Capilano, said Steele.
After the first rain, the salmon come into the river, he said. "Fishermen wait all year for that."
Highwater Tackle has been incredibly busy in the past week, selling tackle to anglers all heading up to fish the Capilano, he said.
But even experienced anglers could not have expected the wall of water that came rushing down the canyon at them yesterday, said Steele.
"You're not going to expect that river to come up over six vertical feet," he said.
Apparently there was an unplanned and possibly accidental opening of the gates at the Cleveland Dam. Unconfirmed reports of a malfunction, which opened the gates from the Capilano Reservoir, sending a massive amount of water downstream with no warning. pic.twitter.com/Rj9NoOblkN

— Mike Hanafin (@MikeHanafin) October 2, 2020
Hiker Mike Hanafin was at the river, eating lunch on a rock just south of the Cable Pool and watching people fishing Thursday afternoon, when suddenly "We could just hear it, this roar of water coming from upstream," he said. Hanafin said he looked up and "There's this massive wave coming downstream."
Hanafin said the water looked like photos of tsunamis he's seen.
"It was just water that won't stop coming. Within three or four minutes the river was three metres deeper than it had been."
Hanafin said the five anglers near him all managed to scramble to safety.
But their gaze soon turned to where the river bends just below them. "Where we were we had warning," he said. "There were anglers down there and they wouldn't have known."
Keifer Baker was fishing on the river near the highway bridge with two family members when he heard a noise that sounded like thunder.
"We just heard rumbling. It sounded like thunder," he said.
"Suddenly white water was mixed with what looked like chocolate milk coming down the river. It looked like half a football field of water coming down the river," he said.
Baker said his group had less than a minute to grab their fishing gear and run up the bank to safety, leaving their fish behind.
"It all happened so quick," he said.