If you want to wear the hallowed red North Shore Rescue parka, you have to master two years of training and join the team. For those who aren't so committed, luckily, there's now a next best thing.
North Shore Rescue has partnered with Vancouver-based Ole Originals to begin selling branded apparel to help fund the volunteer rescue team.
Stacy Hall, head honcho of Ole Originals and also a trail user and supporter of NSR, approached the team two months ago with the idea. Team leader Mike Danks said he was immediately reminded of the late Jay Piggot, a longtime friend and North Shore Rescue volunteer who died of cancer in 2017.
"Jay and I had been working on developing some shirts we were hoping to sell for quite some time," he said.
They started out with kids' shirts emblazoned with "Future Team Member" that they would distribute to kids when doing outdoor safety talks.
"Stacy's idea of making a shirt that would benefit North Shore Rescue kind of ignited that vision or dream again that Jay and I had."
Hall produced several variations on the design, which North Shore Rescue's social media followers voted on to select a winner. The logo shirts for men, women and youth, as well as a onesie for tots, take a deliberate vintage feel.
"It looks awesome. The initial design is based off our logo. It's got the same circle. It's got the Lions in it. It's got the ocean. They tried to make it as close to our logo without being our logo, as possible, and still have a cool look to it."
The team had to be cautious about how their brand is used more widely, Danks said. They didn't want just anyone wearing a North Shore Rescue logo to be confused with being an actual member. But, on the left shoulder of the new garments is the declarative "I ♥ North Shore Rescue."
"It's very subtle, which I think is going to work out really well," Danks said.
Under the agreement, North Shore Rescue will get a 25 per cent cut from all sales of the new North Shore shirts.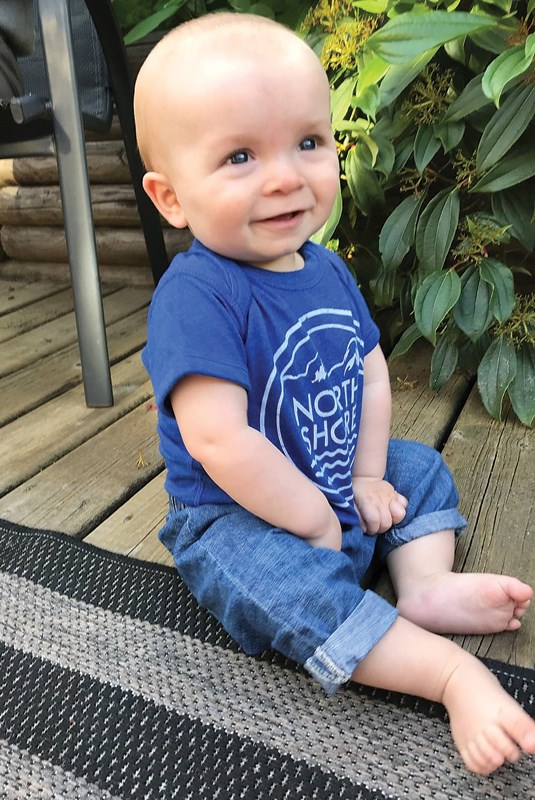 The first opportunity to buy one of the $38 shirts comes on Saturday in the Cypress Mountain parking lot, near the finish line for the annual Rotary Ride for Rescue. After that, they'll be available at oleoriginals.com and at Hall's Granville Island shop Make, with some other retailers likely to follow.
Danks said he was not aware of any other search and rescue outfit using apparel sales to help fund their operations, equipment needs and training, but he added, he sees potential for partnership with Ole to last for years.
"I think it's a really good fit and I look forward to this being, hopefully, a long-term relationship that brings revenue in on a consistent basis for North Shore Rescue," he said. "But in order for that to happen, we need the support of the community to purchase these cool shirts."
And, Danks noted, Father's Day is coming.
"Every dad should have one," he said.