Both BC Liberal Leader Andrew Wilkinson and North Vancouver Seymour Liberal candidate Jane Thornthwaite have publicly apologized to NDP candidate Bowinn Ma for sexist comments made by Thornthwaite in a retirement roast Zoom call.
Comments by Thornthwaite made during a video of a $100-a-ticket online roast for retiring Liberal MLA Ralph Sultan held Sept. 17 sparked outrage after they were posted on Twitter on Saturday by Mo Amir, who hosts a B.C. political and pop culture podcast. The online roast was attended by Liberal Leader Andrew Wilkinson and several caucus members.
In the widely circulated video clip, Thornthwaite at one point starts talking about Ma, the NDP candidate and incumbent for North Vancouver-Lonsdale.
"Bowinn is a very pretty lady, and she knows that she's got 'it,'" Thornthwaite says as the rest of the group giggles.
Thornthwaite goes on to describe an event where Ma and Sultan were sitting next to each other on a couch.
"Bowinn would be right up, right up next to him, cuddling, cuddling, cuddling, a little bit of cleavage there. And Ralph would be enthralled with her," she said.
Those who watched the video clip were quick to call out Thornthwaite's comments over the weekend.
B.C. Green Party Leader Sonia Furstenau called the Liberal candidate's comments "appalling."
I'm not going to editorialize this.

Rather, I'd like to hear from women on how they feel about this clip.

I'm sharing because a woman reached out to me and asked me to do so (her email in below tweet).#bcpoli pic.twitter.com/AiDwFmBT7F

— Mo Amir ॐ This is VANCOLOUR (@vancolour) October 11, 2020
On Monday, Ma responded to the video, describing the comments as having "sexualized" her interactions with Sultan and being "a deeply uncomfortable characterization of my efforts to extend kindness across partisan lines."
As a woman who is an engineer and has worked in male-dominated industries, "I am sadly no stranger to casual sexism," Ma said in a statement she released on the weekend. "It is a burden that women should not have to bear while they are simply trying to live their lives and do their jobs."
Ma added Wilkinson had a "lot to answer for" in terms of setting the tone for what was acceptable within his caucus.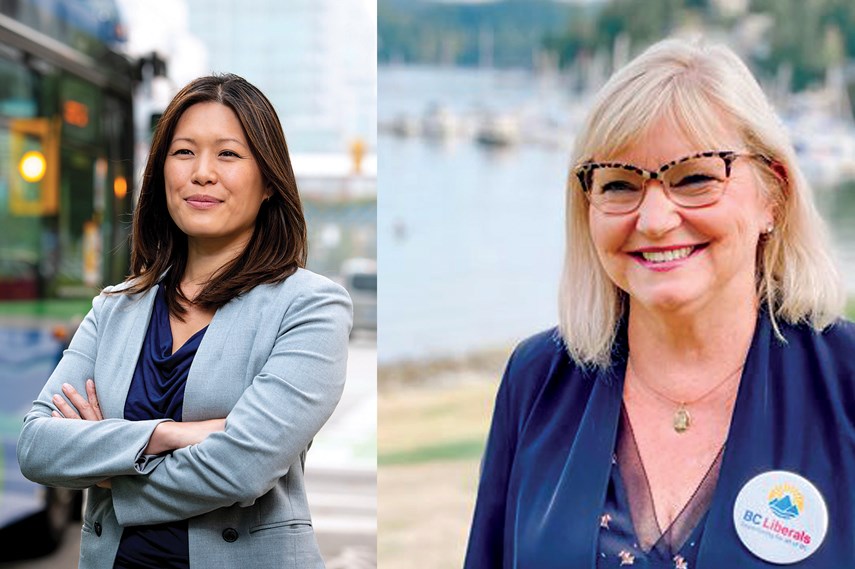 NDP Leader John Horgan called the video clip an example of "blatant sexism" and "systemic sexism" that everyone should learn from.
"This video, this blatant sexism that was allowed to pass, is a teachable moment for all of us," said Horgan.
On Tuesday, Wilkinson responded to the brewing scandal.
"Many of us were embarrassed to the point of being appalled," the Liberal leader told reporters Oct. 13. "This episode should never have happened."
"I want to apologize to Bowinn Ma," Wilkinson said.
"Many of the people who were at Ralph's retirement event thought Jane's comments were in extremely bad taste," Wilkinson said. "The embarrassment was immediate."
He said he wished he could have intervened without embarrassing Sultan.
On Sunday morning, Thornthwaite tweeted a response: "I have huge respect for all women who push through glass ceilings. I'm one of them. So is Bowinn Ma."
Thornthwaite acknowledged soon after in another Twitter post that her comments "fell flat and were inappropriate," and said she apologizes "unreservedly." She added, "I commit to doing better moving forward."
I wish to add this. The comments I made at the roast for my colleague Ralph Sultan fell flat and were inappropriate. I unreservedly apologize for making these comments. I have reached out to Bowinn Ma to apologize to her directly as well. I commit to doing better moving forward.

— Jane Thornthwaite (@jthornthwaite) October 11, 2020
Thornthwaite also posted a statement on Facebook saying she deeply regretted her comments.
Ma acknowledged in an interview with the CBC on Tuesday that Thornthwaite had called her and left a message apologizing and said she had accepted that.
On Tuesday, Vancouver Sun columnist Vaughan Palmer pointed to the contrast in Thornthwaite's reaction when in 2011 former NDP MLA David Schreck accused then Premier Christy Clark of showing "cleavage" in the legislature.
At the time, Thornthwaite said it was disheartening that women still get scrutinized far more closely on their appearance than men do.
"I don't hear anybody making any negative comments – or any comments for that matter – about what men wear," she said at the time. "I guess that means we have a long way to go for women."
Thornthwaite reportedly apologized again Tuesday morning while attending an event organized by Capilano University students.
According to CBC reporter Justin McElroy, at the event, Thornthwaite described her comments in the video as "stupid and insensitive," adding "I'm embarrassed about it. It doesn't reflect who I am."
Jane Thornthwaite, speaking at a Capilano Students Association event right now, apologizes again about her remarks on Bowinn Ma during a roast last month.

"I'd just like to say that they were stupid and insensitive and I'm embarrassed about it. It doesn't reflect who I am."

— Justin McElroy (@j_mcelroy) October 13, 2020
-with files from Jeremy Hainsworth; Canadian Press; Cindy Harnett/Times Colonist