Residents who live in condo towers near the Lower Lonsdale waterfront say their fundamental beefs with a plan by Seaspan Shipyards to expand its dry-dock operations next to the city's public and commercial Shipyards District haven't been addressed by the company.
Last year, Seaspan Shipyards applied to the Port of Vancouver to expand its operation by adding two new dry docks and a work pontoon to current operations next to the city's Shipyards District.
The proposal involves pushing the existing careen dry dock 40 metres further away from the shore. A new 100-metre dry dock and 55-metre dry dock would then be added, extending about 55 metres west of the current dry dock, towards Burrard Pier. Up to four cranes would be installed on the new mid-sized dry dock.
Seaspan has said the dry-dock expansion is needed to consolidate all of the company's ship repair work at the Vancouver Drydock site, while the Seaspan Shipyards site at the foot of Pemberton Avenue becomes fully dedicated to building large ships.
The expansion is set to create an extra 100 ship repair jobs, according to the company.
Waterfront residents voice concerns
But since the plans were first revealed last year, a number of waterfront residents have voiced concerns the plan would negatively impact their lives, with increased noise and light from an expanded dry dock.
Many have called on Seaspan to reconsider their plans to extend west and instead expand east, away from residences.
In 2022, the port asked Seaspan to conduct further public consultation specifically on measures proposed by the company to mitigate concerns of residents.
That consultation started in June and wraps up this week, with a final deadline for community input, which can be submitted online, this Wednesday, Sept. 14.
But so far, nearby residents say their biggest issue – a desire to see the dry dock expand to the east, rather than the west, remains outstanding.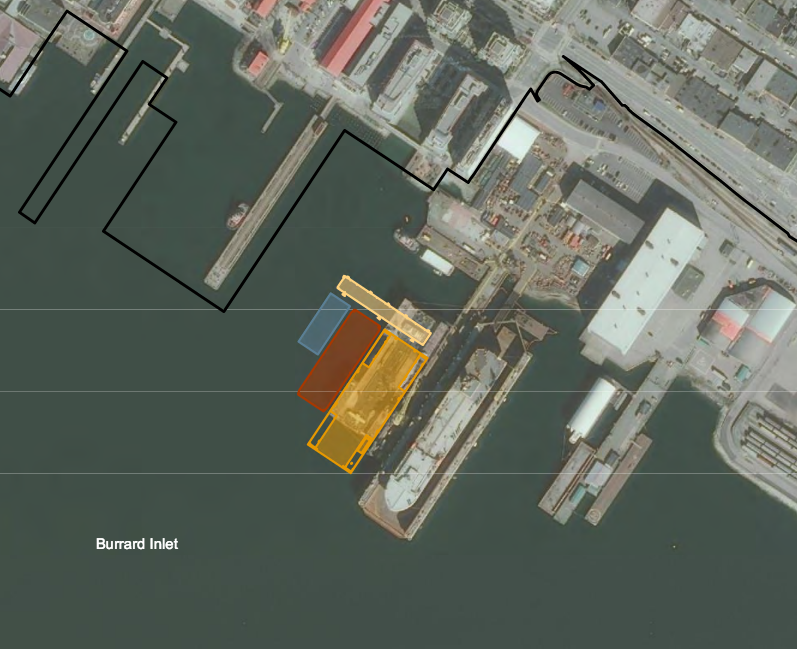 Nothing significant changed in proposal: residents
"Nothing significant has changed," said Chris Thorson, a resident who lives in the waterfront Cascade building who has attended several meetings between Seaspan and community stakeholders this summer.
"We're not anti-Seaspan," said Thorson. "We want to see Seaspan be successful as a business."
But the proposed location of the dry-dock expansion remains a huge sticking point, he said.
Recently, Thorson said some residents have raised the idea of moving even one of the new docks further east in the plan, to provide more of a noise buffer.
At a stakeholders meeting earlier this summer, Al Parsons, who lives in the Trophy building on the waterfront, said residents remain disappointed that Seaspan isn't giving more consideration to moving the dry dock eastward.
So far, the latest round of public consultation has been "yet another attempt at ignoring our biggest and greatest concern," he said.
Moving east 'not feasible,' says Seaspan
In an interview with the North Shore News last year, Paul Hebson, vice-president and general manager of Seaspan's Vancouver Drydock, said the main problem with moving the new dry dock to the east is that Seaspan is using its "W" building on-shore to manufacture components for its shipbuilding operation and needs to have water access via a barge to offload those twice a month. Having enough space for barges to manoeuvre safely is a key consideration, according to Seaspan, as well as "direct access to the dry docks via a service pier for equipment weighing upwards of 20 tons," said spokeswoman Ali Hounsell, in a statement.
To use that area to the east would require demolition and reconstruction of an existing pier and construction of a bridge between the two areas.
"The sites to the east were determined not to be feasible" based on "operational needs and requirements," she said.
Among the measures Seaspan has promised to deal with, the company has committed to using "dark-sky-friendly" lighting and to put up lighting shields for lights facing residential towers. The company has said it will also advise the community if high-noise-generating work is taking place outside of regular working hours. The company has also promised to measure noise both during and after construction as well as air particulate emissions.
Thorson said while those measures are welcome, most are "just basic things they should be doing" regardless of expansion plans.
He added waterfront residents are also concerned about the port authority's future ability to properly monitor whether Seaspan is living up to its commitments.
Shipbuilding and repairing has been going on on the North Vancouver waterfront for over 100 years.
Wednesday, Sept. 14, is the final day for the public to submit comments to Seaspan about its application through a community survey.
So far, there's no word from the port authority on when a final decision will be made on the project.
jseyd@nsnews.com
twitter/com/janeseyd