Flags flew, the national anthem was sung and spray from a ceremonial bottle of champagne misted politicians and dignitaries Wednesday as Seaspan Shipyards celebrated the launch of its second Coast Guard fisheries vessel Wednesday, the Capt. Jacques Cartier.
"This is a historic fleet renewal," said Minister of Fisheries and Oceans Jonathan Wilkinson, MP for North Vancouver. "It's time we put in place the resources to commit to renewal of the fleet."
The Jacques Cartier is the second of three offshore fisheries vessels being built by Seaspan for the Coast Guard under a $687-million fixed-price contract to replace existing ships that are nearing the end of their lifespan.
Like the other fisheries vessels, the 63-metre Jacques Cartier will work on monitoring of fish stocks and the impact of climate change as well as being equipped for emergency environmental response and search and rescue missions. Each ship will have four on-board labs for use in scientific research along with modern acoustic survey equipment.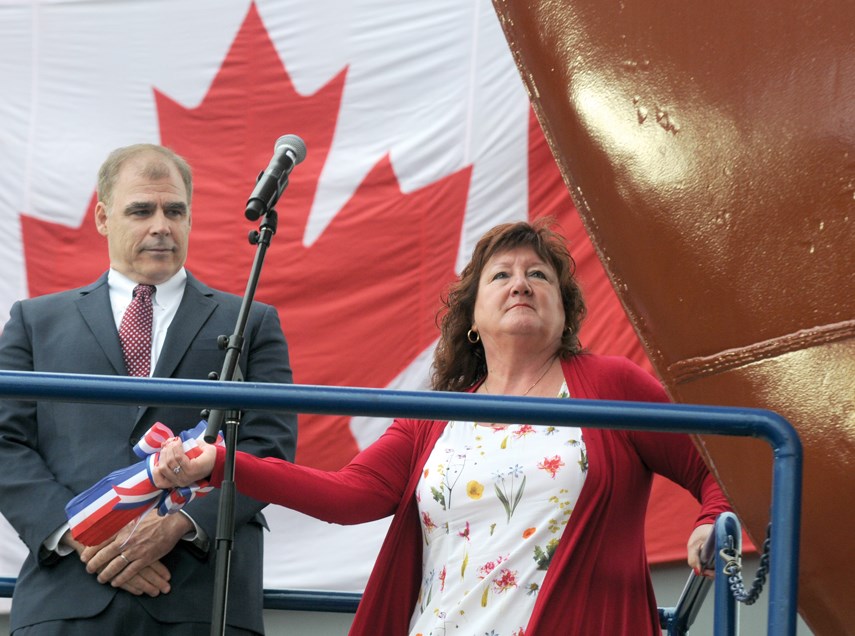 At 90 per cent complete, the Jacques Cartier was to be floated out of the shipyard Wednesday night and taken to Seaspan's nearby Vancouver Drydock where finishing work on the ship will take place. The ship will be delivered to the Coast Guard this winter, following sea trials, according to Seaspan.
Later this month, the first Coast Guard ship built at Seaspan, the Sir John Franklin, will also be delivered to the government, 18 months after a similar official launch.
Construction of the first ship was marked by a steep learning curve, including hull welding defects that had to be corrected. That ship was completed both late and over budget – a cost that Seaspan absorbed under the terms of its contract.
"No shipbuilding program is without its challenges and we've had ours," CEO Mark Lamarre – who joined Seaspan Shipyards as its chief executive officer in July – told the crowd.
But Seaspan officials said the company has learned from its early mistakes.
The federal government's announcement last month that 16 more Coast Guard ships will be built at Seaspan at a cost of $15.7 billion is "a clear vote of confidence in our shipbuilders, in our supply chain and in our company," said Tim Page, vice-president of government relations, adding that the Coast Guard is Seaspan's "most important long-term customer."
The announcement of the 16 additional ships provides an important message, said Lamarre. "A commitment to predictable future work is also necessary for us to invest in our people, infrastructure and technology," he said Wednesday.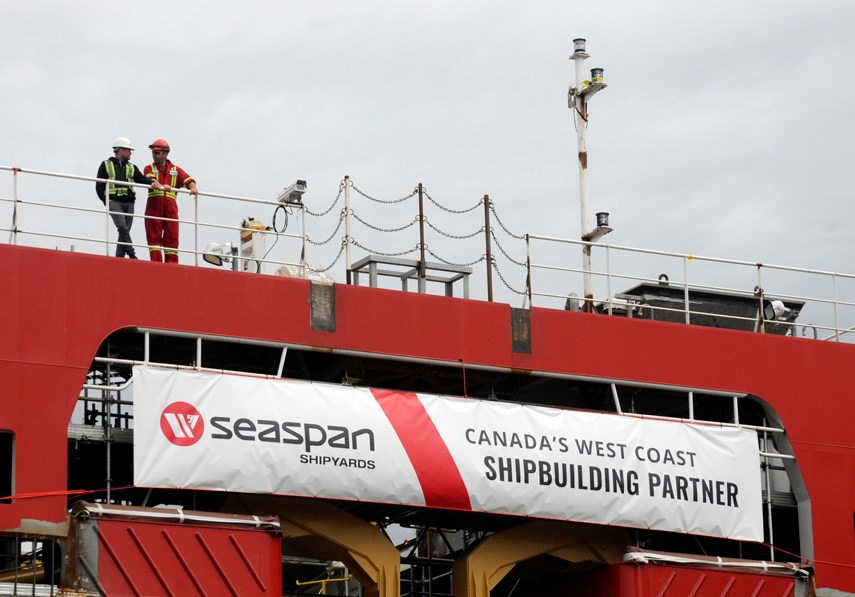 Seaspan is the largest manufacturing employer in the Lower Mainland, noted B.C. Labour Minister Harry Bains, and a critical driver for skilled jobs and economic activity in the marine industrial sector.
Those comments come as the federal government has announced plans to open up the national shipbuilding program to a third shipyard – generally expected to be Davie Shipyard in Quebec - and the possibility that shipyard may get some work previously promised to Seaspan.