Four months since one of North Shore Rescue's core members was diagnosed with a rare form of cancer, things are going "really well" for Jay Piggot.
The December call to "rescue the rescuer" triggered an avalanche of community goodwill from not just his teammates and friends but the surrounding community, who donated more than $100,000 to a crowd-funded trust for the Piggot family so he could face his treatment without financial worries.
The community's contributions have put him on the right footing for his rigorous treatment, Piggot said.
"It's been phenomenal. We haven't had to worry and that's been a significant part of me living a non-stressful life," he said, acknowledging it's not an advantage every family facing a cancer crisis has.
He's been in chemotherapy two weeks at a time for three months, and seeing multiple oncologists, specialists and surgeons. His last scan in January showed no growth in the tumour at all, which was a good sign. He's due back in on Wednesday for an MRI.
"The plan is, obviously, surgery. We just need the tumour to shrink a little bit. That's the only thing because it's in kind of a dangerous area (near the liver)," he said. "If all goes well, I'll be in surgery in the next couple of months and get this cut out of me and back to my normal life. That's the goal."
"Normal" is something Piggot has been striving for, and for the most part, finding, despite "feeling like crap" three days a week from chemo.
"Every day, I truly live. I make the cancer live by my rules. I don't live by its," he said. "I take my kids to school and I go bike riding with them and take Max to lacrosse and live a normal life, even when I don't feel well."
Unfortunately for Piggot, participating in backcountry rescues isn't feasible right now because of how quickly the chemo tires him out. He helps the team where he can, although not joining them in the field has been a big loss for Piggot.
"I really know how professional athletes feel if they get injured and they are sidelined for a number of months," he said. "I get it."
But he's still a regular at North Shore Rescue meetings and training sessions.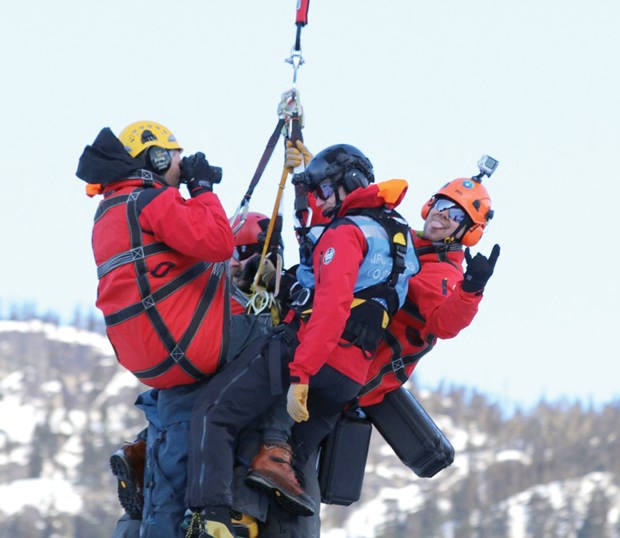 Piggot recently joined the rest of his teammates in training to use their new five-person long-line rescue harness, a tool that could drastically speed up rescues of multiple subjects in remote country.
Although his doctors questioned whether it was safe for him to be dangling 200 feet down from a helicopter, Piggot responded with some dark humour. If he fell from the helicopter or long line, he said, a tumour would be the least of his worries.
And raising funds for the team that helped raise so much for him is still on the agenda. Piggot is planning to be front and centre for the team's annual Tim Jones Legacy Fund fundraiser, a pub night scheduled for Saturday, April 23 at Seymour's Pub in North Vancouver.
"It takes a lot to hold me down," he said
Tickets for the event are $25 and can be obtained by emailing tjlegacyfundraiser@gmail.com.