Though it's already well used in the lexicon of backcountry rescuers and adventurers, the second pump of Mount Seymour will soon be officially renamed Tim Jones Peak.
Premier Christy Clark announced the tribute to the late North Shore Shore leader at the team's rescue base on Friday evening, just one day after the third anniversary of Jones's death.
"Tim participated in more than 1,400 missions and he helped more than 1,600 people. He risked his neck every time to make sure those 1,600 people got home safe. ... When we lost Tim, we lost a real British Columbian hero," Clark said, comparing Jones to Terry Fox. "Today, I'm proud to say the wilderness Tim Jones loved so much will bear his name forever. Part of Mount Seymour, Tim Jones Peak, will stand long after all of us are gone."
The peak was a special place for Jones. It's where the North Shore Rescue team cabin is. It's where he used to hike with his husky Abbi and it's where he was hiking back from when he suffered a fatal heart attack in January 2014.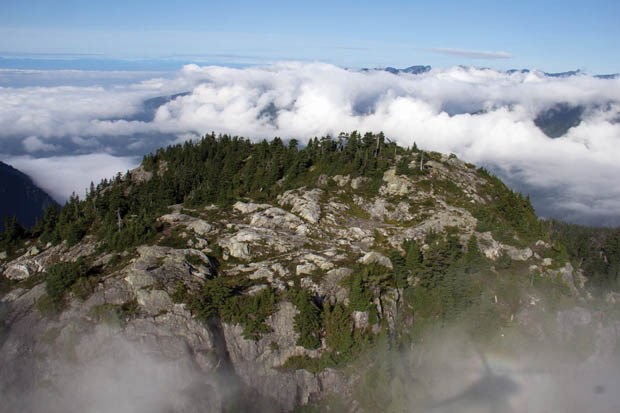 Clark said the province will pass legislation in March to legally change the name of the mountain and establish a memorial to rescue volunteers who have lost their lives in the line of duty. Along with the renaming, the province has paid for a special plaque to be placed on Tim Jones Peak as well as a new helipad to aid the team in their rescues.
The tribute was warmly received by the Jones family, who were on hand for the announcement.
"I don't believe that my dad could ever have imagined that his simple obsession for helping people through his rescue work could lead to such a significant honour, but it has -- and our family is so thankful for this recognition of his service," said his daughter Taylor. "Our family will hike and ski to Tim Jones Peak frequently and be reminded of how lucky we were to spend part of our lives with such a caring, empathetic, compassionate and adventurous father who has left such a positive legacy of volunteerism."
Jones's son and North Shore Rescue teammate Curtis said his father's presence is still felt on Mount Seymour, by the family and by his team.
"If he were here today, he would be unbelievably proud of this honour. I know this. That said, he would also be a little annoyed with us NSR members for spending so much time honouring him and that much less time out improving trails, educating the public, tending to our equipment or most importantly, advocating for sustainable funding for search and rescue," he said, prompting some laughs from the gathered dignitaries. "He has been immortalized on a mountain that he loved, a mountain that he saved countless lives on, on a mountain that claimed his life while he worked to further the mission of North Shore Rescue."
On the matter of funding, North Vancouver-Lonsdale MLA Naomi Yamamoto, also the minister of state for emergency preparedness, said the province is currently reviewing a long-term funding proposal from the B.C. Search and Rescue Association. And in 2016, the province put up an extra $10 million in funding for the 85 volunteer search and rescue teams in B.C.
Current rescue team leader Mike Danks said the public can join in honouring Jones's legacy by following the advice he was keen to hand out.
"We'd like to invite you to visit Tim Jones Peak, but if Tim were here, he would tell you: 'Let somebody know where you're going and let them know you're going to my peak and what time to expect you back,'" he said.
The formal request to rename the second pump to Tim Jones Peak came from retired BC Parks employee and North Vancouver resident Mel Turner.
Jones is now the second North Shore Rescue member to have a mountain peak named after him. In 2015 the province named Mount Mathieson, 90 kilometres north of Powell River, in honour of Brent Mathieson who died in 2002.