The Polygon Gallery is officially open to the public.
After being in the works for nearly three decades, the new 25,000-square-foot facility, billed as Western Canada's largest photography-focused gallery, opened its doors Nov. 18.
For those involved in the process of getting the former Presentation House Gallery moved to its new shining beacon of a structure at the foot of Lonsdale Avenue, it was a long time coming.
"As early as the early '90s … there was a concentrated effort of the staff and the gallery to find a new home," explained director and curator Reid Shier at a media tour for the new gallery last Tuesday.
"They thought that would take a couple of years."
Presentation House Gallery was founded in 1976, functioning as a community art space at its longtime location at Third Street and Chesterfield Avenue.
In the early 1980s, gallery staff made the decision to focus specifically on photography.
"There was a kind of devoted exercise in re-thinking what the gallery could be and it adopted a mandate to show photography, which at the time was not deemed to be as privileged a medium for artists as it is now," Shier explained.
If photography was a more scoffed at art form back then, today's Polygon Gallery shows just how far appreciation for the medium has come.
The $18-million facility is nestled mere steps away from Lonsdale Quay. The spacious, light-filled building features two floors and several large presentation spaces for displaying photography and other mediums.
The building was first designed in 2012 with help from Patkau Architects. The City of North Vancouver voted to approve the gallery's new home at the foot of Lonsdale in 2014.
Shier said the new building was very specifically designed to fit into the property at 101 Carrie Cates Court in a way that didn't obstruct Lower Lonsdale's signature views of Burrard Inlet.
"You'll note this ground floor glass atrium, which the Patkaus were very specific about making that as people, pedestrians, walked down Lonsdale and came across Carrie Cates (Court) that they weren't met with this kind of monolithic structure," he said.
While the design of the building isn't meant to evoke a monolith, Polygon Gallery's inaugural exhibition in the new space is certainly colossal, with Shier noting in a curatorial statement that it's the most ambitious project in the gallery's history.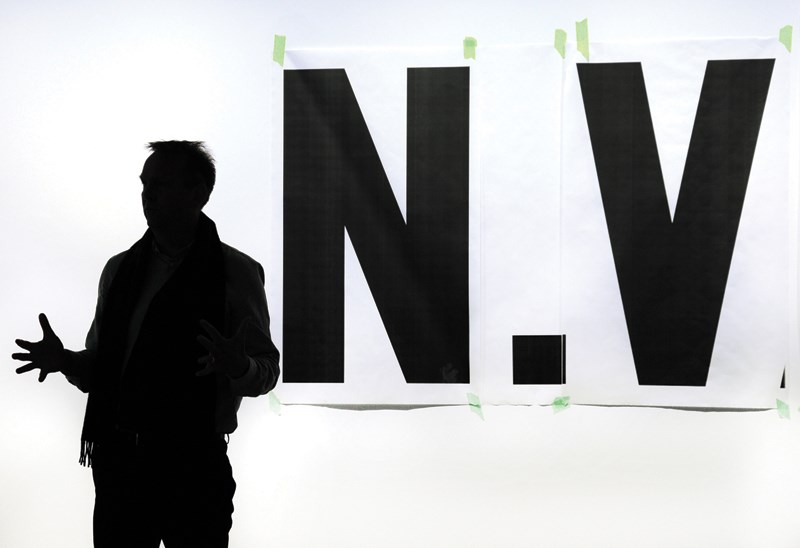 The N. Vancouver exhibition, on display until April 30, 2018, brings together more than 15 regional artists, mainly working in photography, to present pieces specifically on the theme of the gallery's hometown and surroundings.
"It's really important to me that the first exhibition in this new building really reflected a view of our hometown of North Vancouver but also the North Shore and its long history," Shier said.
Some featured photography of note includes works by Jeff Wall and Greg Girard. Their work examines the intersection of industry and the area's natural beauty, with Girard's photos focusing on the "visual grandeur" of North Vancouver's sulphur and mineral piles and Wall's "Coastal Motifs" showcasing a stunning shot of Lynn Peak juxtaposed with industry.
"That's a theme that echoes through a lot of this work, is all of those tensions around land and ownership and use that have continued to be part of a conversation," he said.
Other additions include a powerful display plastered along the gallery's stairwell designed by Nisga'a artist Jordan Abel that borrows words from Western novels about territory, land and ownership and repurposes them to form a concrete poem that takes the shape of Burrard Inlet.
A video installation by Deep Cove artist Jeremy Shaw, filmed in North Vancouver a decade ago, takes an impressionistic look at youth "Straight Edge" culture. The film is being projected on two large screens in another room.
While the displayed photography and art pieces are impressive, in equal measure is the space itself.
"Through pure blind luck and through our reputation we weren't deprived of too many things at the older space," Shier said. "But our capacity to show the kind of work you're seeing here was limited in the sense that we had no environmental infrastructure. … On a very basic level, this gallery allows us to show all the artwork we can possibly imagine."
The three levels of government each donated $2.5 million to fund the gallery, in addition to sizable private donations.
The initial funding for the gallery was a $4-million boost from the Audain Foundation and Polygon Homes in 2014.
Polygon Homes chairman, art collector and philanthropist Michael Audain said he was thrilled the gallery's new space finally matches the strength of its reputation for outstanding photographic art exhibitions.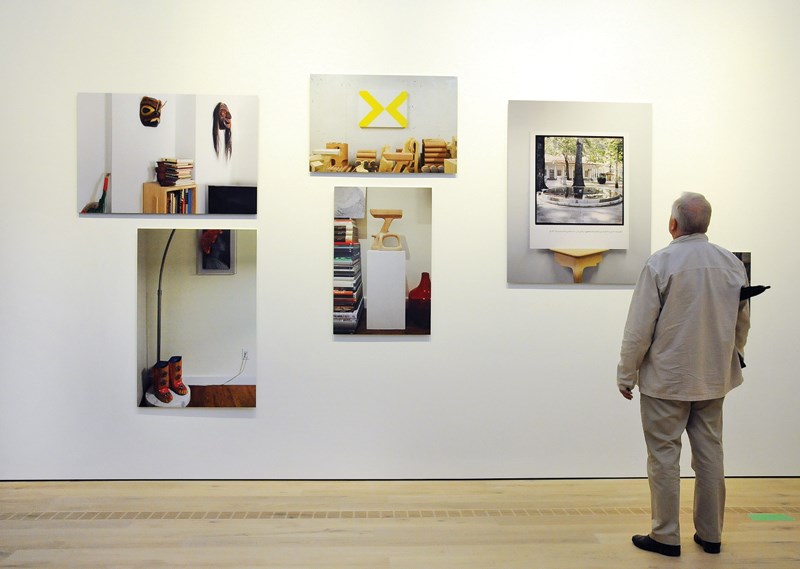 "It's going to be a museum of international reputation, the art that they will be exhibiting will be amongst the most important photographic art in the world," he said. "As far as I'm concerned it couldn't be a better home."
While N. Vancouver in large part deals with the North Shore and the region's changing landscape, the same could be said for the opening of Polygon Gallery itself and its addition to the changing landscape of Lonsdale.
Shier introduced a work by artist Myfanwy MacLeod that depicted a one-eighth scale re-creation of Captain Vancouver's Discovery ship, the first ship that moored off of Point Grey in the late 18th century. Although the visual model of the ship is impressive, it displays a sleight of hand: the piece is actually a re-creation of the ship from years later after it was decommissioned and moored on the Thames River, used as a prison hold at a time when prison space was lacking in London.
In other words, times change – and so do art galleries, art work and the spaces wherein they're contained.
"It starts to speak to one of the themes of the show, which is how history unravels and how it's never one fixed thing."
Visit thepolygon.ca for exhibition times and gallery information.