The province's Independent Investigations Office has been called in to review officers' conduct during Wednesday's police takedown on the Capilano River Bridge.
Police arrested a suspect after a 70-kilometre police pursuit ended with a crash on the bridge.
According to the Fraser Valley Traffic Services division of the RCMP, the incident began as a routine traffic stop on Highway 1 near Bradner Road in Abbotsford around 1 p.m. on Feb. 26 when officers pulled over the driver of a black Nissan with expired Ontario licence plates.
As they ran his ID through the police records system, they found he was wanted on six outstanding warrants in from Ontario.
The situation escalated quickly when the officers attempted to place him under arrest.
"My understanding is that the suspect punched our officer and then the scuffle ensued, which resulted in the man stealing our police officer's keys," said Staff Sgt. Janelle Shoihet, RCMP E Division spokeswoman.
Police agencies from across the Fraser Valley and Metro Vancouver tailed the small black car from a distance as the suspect driver made his way westward. There were no safe opportunities to either box the car in or lay down a spike belt.
"You have to weigh the risk of conducting a high-risk traffic stop in the middle of Highway 1," Shoihet said. "There have to be a whole bunch of safety considerations when you're trying to conduct a traffic stop like that."
But a typical North Shore traffic slowdown on the Capilano Bridge gave members from Vancouver Police Department, West Vancouver police and the RCMP's dog section the opportunity they needed to force the suspect vehicle into the median and block its escape from behind.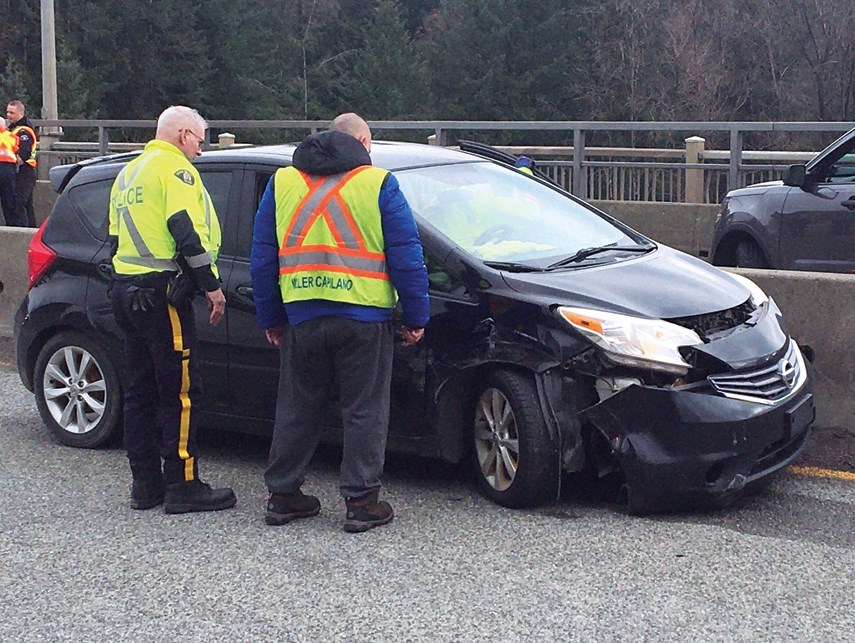 Several officers and a police dog then seized the suspect. He was later taken to Lions Gate Hospital.
The IIO is because the police k9 bit the suspect hard enough that surgery was required to close the wound.
The takedown resulted in Highway 1 being closed in both directions for more than an hour.
As of Thursday morning, Shoihet said no new charges had yet been sworn against the man, who is from West Grey Township in Ontario.
Warrants for his arrest there relate to incidents police say include uttering threats, dangerous operation of a motor vehicle, failing to stop for police, flight from police, assaulting an officer and resisting arrest.
"Thankfully, our officer suffered only minor injuries," said Insp. Todd Balaban, E Division Traffic Services spokesman. "It also goes to show there really are no routine traffic stops, or calls."