Two pods of orcas that gave a thrill to whale watchers in North and West Vancouver are part of trend that's seen Biggs whales spotted in more areas close to shore around the Salish Sea, say whale experts.
"Every year we're seeing more of these whales," said Gary Sutton, a whale researcher with Ocean Wise Conservation Association who has also worked with the Department of Fisheries and Oceans to track and catalogue individual whales in B.C. waters.
Last week, local kayakers off West Vancouver had a close encounter with a pod of six orcas near Eagle Island, which swam within about 15 metres of their kayaks.
On Tuesday, several North Vancouver residents were also treated to the sight of a pod of orcas in Burrard Inlet off Whey-ah-wichen - Cates Park, swimming towards Indian Arm.
Phil Weir said he and his wife were walking in the park when someone pointed out the whales to them, just offshore. "They were mainly swimming along and diving a bit, sometimes blowing," he said. Weir said he watched the whales for about 20 minutes, including watching one whale dive in front of the Westridge oil tanker terminal in Burnaby.
Weir said that was a poignant moment.
"We live in the area and I'm very supportive of the groups that have been trying to stop the pipeline expansion," he said. "I definitely thought of that when I saw the whales.
Whale sighting a 'wonderful gift'
"It was a wonderful gift to see this and for us to be able to be there. We saw them as good as anyone would ever see them from a whale watching boat."
Carol Coleman was also out for a walk in Whey-ah-Wichen - Cates Park Tuesday morning when she spotted the pod of between five and seven orcas.
One large whale in the group had a long dorsal fin, she said.
Coleman said she also saw a calf swimming beside its mother.
While she's seen whales from the deck of a ferry once or twice before, Coleman said she's never seen them this close to shore in North Vancouver.
"These were so close and in their natural environment. It was awesome to see it," she said.
Coleman said she frequently takes photos of wildlife but it's difficult to predict when such a moment's going to happen.
"When you go looking for wildlife, you never find it."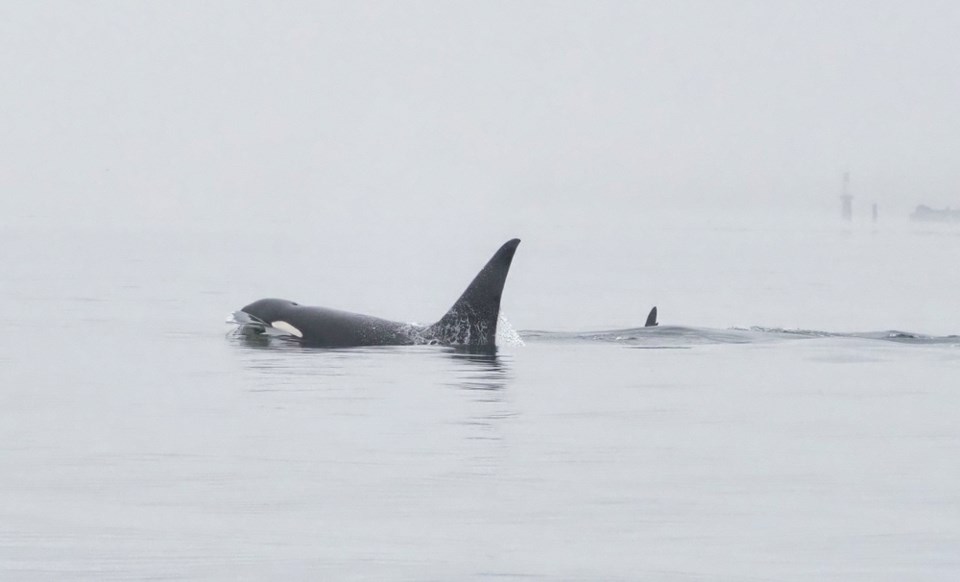 Sutton said both groups of whales spotted off the North Shore are Biggs killer whales, which used to be known as transient killer whales.
Scientists decided to change the name, he said, because the transients aren't really transient. "Their whole lives are spent on the coast," he said.
Biggs whales are mammal hunters, primarily eating seals and sea lions, and as those populations stabilized in south coast areas "these animals have really become the new residents," he said.
Biggs whales travel the whole length of the coast in search of food, but in recent years have tended to spend at least part of their time in inland waters of the South Coast, he said.
The whales tend to travel in family groups, and there are particular families that seem to prefer particular areas, he added.
Both groups spotted Biggs whales
Sutton, said the whales that appeared off West Vancouver last week and North Vancouver this week appear to be different family groups.
One of the spouting whales off West Vancouver, for instance, appears to be a "teen" whale identified as part of the T90 family group, said Sutton. "He's got this unique hook-shaped dorsal fin."
"So he would he would be there with his mother and his two younger siblings."
The T90 family group is more typically seen in the Strait of Georgia between Campbell River and Alert Bay, said Sutton. "They like to hang out along the Sunshine Coast as well."
The matriarch of that family can also be recognized by a scar on her dorsal fin, caused when U.S. scientists tagged the whale in the past with a satellite tracking device, said Sutton.
The whales appear to have been finishing off a successful hunt, judging by behaviour in the video taken by kayakers, said Sutton.
"They're prey sharing. So they're, tearing up a seal and sharing little bits with each other."
The other group spotted off Whey-ah-Wichen - Cates Park this week included a family known as T86As, a family of four whales, and another family known as T124Ds including a mother and her three calves, one of which was born in late 2021 or early 2022, said Sutton.
It also included a single male whale known as T117A.
The T86 family travel "the full extent of the range" said Sutton. They do spend a lot of time off the B.C. coast, but also spend time off Glacier Bay in Alaska during the summer months, he said.
Another whale family known as the T101s, a mother and her two sons, will often come into the Vancouver area, he said.
Biggs whales travel will easily cover "up to 100 miles in a day" said Sutton. "They're always moving."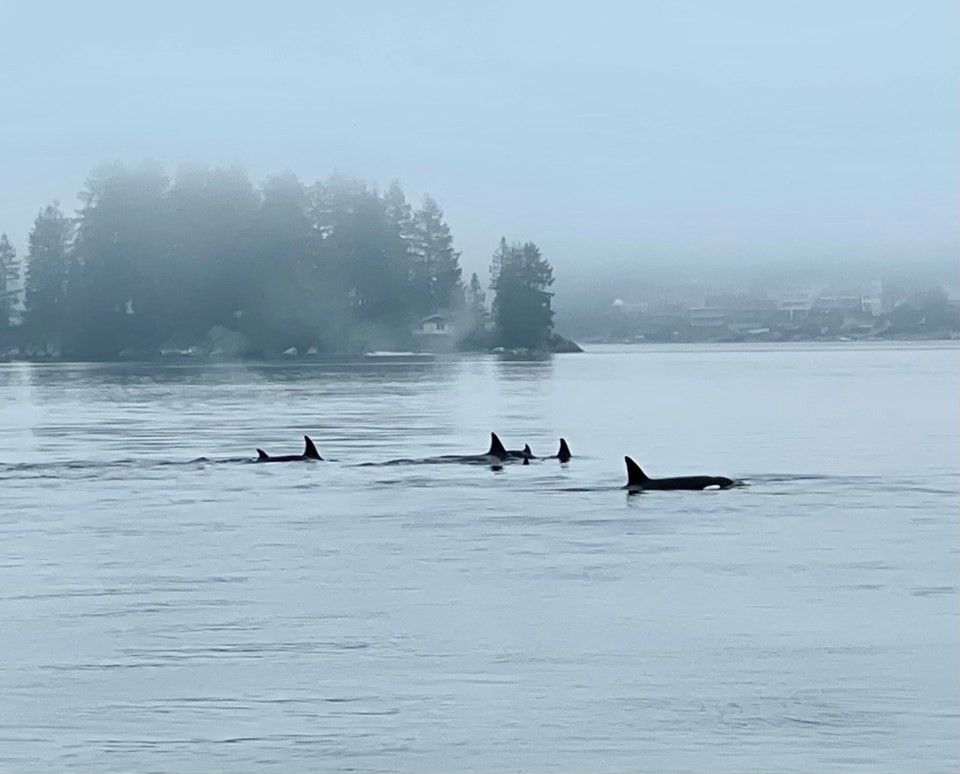 Biggs whales tend to have a bulkier head and more pointed dorsal fins than southern resident whales, said Sutton. The "saddle patch" behind their head is also solid white. Biggs killer whales tend to travel in smaller family groups and speak one language up and down the coast, said Sutton.
Resident whales are salmon-eaters, tend to travel in larger pods of 20 to 40 whales, and have unique languages and dialects, said Sutton.
Biggs killer whales are listed as threatened while resident whales are listed as endangered.
Biggs whales more likely to be seen than residents
Lance Barrett-Lennard, a whale researcher with the Raincoast Conservation Foundation, said in the past, Southern resident killer whales were much more likely to be seen around the Vancouver area, but that isn't the case anymore.
Biggs have become much more common sightings, he said, "particularly over the past five years."
Resident orcas are spending more time at the western mouth of the Strait of Juan de Fuca, he said, likely because its easier for them to find salmon there.
Biggs whales, on the other hand, appear to have discovered the healthy seal population in south coast areas.
Once they've found a good area for hunting, the whales are likely to return, he said.
Burrard Inlet is 'noisy' for whales
Burrard Inlet does present some challenges to whales, he said.
For one thing, it's very noisy, even underwater. "It's not a very welcoming environment if you're an acoustic animal."
"You can you drop a hydrophone over the side (of a boat) and as soon as you get into the Inner Harbour, it's incredibly noisy," he said.
Whales also have to watch out for boat traffic.
The good news is that unlike Southern resident whales, which currently number just 73 animals, the population of Biggs whales is increasing every year. Currently there are about 400 of the whales.
Barrett-Lennard leads a team of researchers from both Raincoast and Ocean Wise who track Northern resident killer whales by drone in North Coast waters in the summer. Sometimes they also spot the Biggs whales with the drone, he said, and "they are consistently very fat compared to resident killer whales" – a sign of healthy animals. "A fat whale's a happy whale."
Barrett-Lennard said while people sometimes worry about getting too close to the meat-eating Biggs whales, especially if they are in kayaks or swimming, the whales do not appear to be a threat to humans, despite thousands of close encounters.
"They don't seem to see people as food," he said. "We're just not on the diet."